MS Dhoni tricks Sanjay Manjrekar during the toss of the IPL Final
The Indian commentator found himself being on the receiving end once again.
Updated - May 27, 2018 9:35 pm
2.8K Views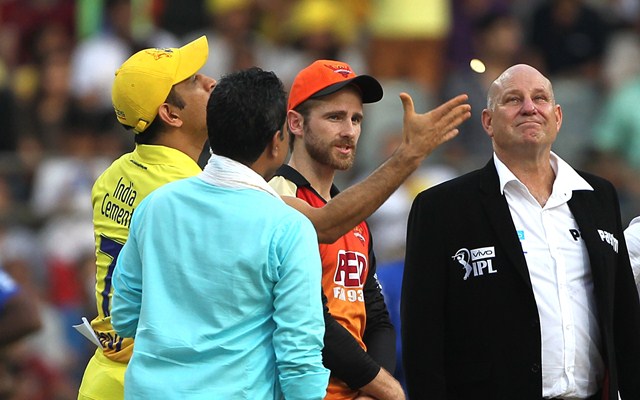 Follow us on Telegram
After fighting out opponents in the league stage of the tournament, Chennai Super Kings and Sunrisers Hyderabad were in the finals of the tournament. CSK beat the Sunrisers Hyderabad in the first qualifier to get a direct entry in the finals while SRH had to face off Dinesh Karthik-led Kolkata Knight Riders to enter the finals.
Nerves are always high in the high-pressure situations. On a cricket field, a tournament final is always a high-pressure scenario with the respective captains of the side being massively under the pump. However, when the two captains took the field for the toss, it looked as if Sanjay Manjrekar who was doing proceedings of the toss more nervous than the captains with MS Dhoni having a little banter with Manjrekar.
It was MS Dhoni who tossed the coin which resulted in heads which match referee Andy Pycroft confirmed. However, confused Manjrekar was not sure who called heads, so he asked Dhoni If he called heads. Dhoni answering Majerekar, pointing towards Williamson said that "he called tails." Sanjay Manjrekar still looking clueless and asked Dhoni if he called heads to which smiling Dhoni once again replied pointing towards Williamson "he called tails."
The conversation:
Manjrekar: "You called heads"
Dhoni: "No, he called tails"
Manjrekar: "Yes, you called heads"
Dhoni: "No, he called tails!"
Manjrekar dumbfounded
Confused looking Manjrekar then enquired Dhoni if he has won the toss. "You have won the toss, right," asked Manjrekar to the CSK skipper. He asked Dhoni to stop fooling around.
Notably, Dhoni is known for his witty remarks during his press conferences as well. During the press conference ahead of the finals when Dhoni was asked why he hasn't bowled Harbhajan too much in the tournament. Dhoni made a witty remark replying the question when he said that "I have a lot of cars and bikes in my house. I don't ride all at a time."
Interestingly, Dhoni was involved in a similar toss drama during the 2011 World Cup final where the coin was flipped twice because of confusion.
[interaction id="5b0a74ea5c924ce96d007536″]
Follow us on Google News