Mushfiqur Rahim – One man for all seasons
Updated - Feb 13, 2017 10:43 pm
77 Views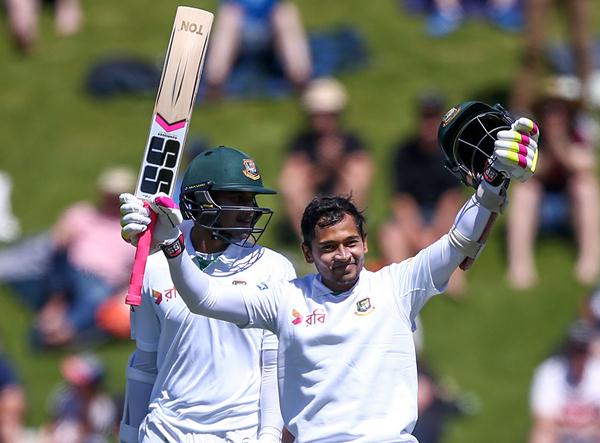 Bangladesh appeared to be in dire straits when their top order batsmen followed each other to the dressing room. But then came Shakib Al Hasan, Bangladesh's "Knight in shining armour" who was providing resilience, putting up a brave front while the pint-sized man was helping him on the other end. Naturally, Shakib was the aggressor for most of their table-turning partnership, but Mushfiqur Rahim was unequivocally useful and perhaps, the biggest reason for bringing an uncertainty about the result of the match even after India set ahead of them a tall first inning total.
It was because of the efforts of Shakib (82 off 103) and eventually Mushfiqur's heroics (127 off 262) that pushed Bangladesh to a fighting total of 388. His knock may be associated with all words good even if it didn't come off quickly. He maintained his composure against some terrific Indian fast bowling and got along with the team's tail to post a decent total.
Mushfiqur loves to score runs against this particular opposition. He averages 62.80 vs India, which is the best against any team in Tests. Plus, the ear-to-ear grin on his face after he registered his century speaks volumes of how much it meant to him. Not to forget his various speeches (and, tweets) involving India. And maybe, just maybe, that was a motivation to register his fifth Test hundred.
He departed 10 overs after that, making himself Ashwin's historic 250th wicket. It was a good knock by Bangladesh's most dependable batsman. He is an integral and reliable middle-order batsman and usually involved in match saving/winning partnerships when the top order fails to fire otherwise.
I heard the commentators agree that he is too good a batsman to bat as low as No. 6, and had he batted up the order, he could have registered a double ton like Virat Kohli. Very debatable that but a possibility is always wider spread than reality.
Most people would argue that it was an irresponsible way to state things because they made the batting position look like an inseparable aspect for a player scoring a century or double century. Karun Nair batted at No. 6 and scored a triple ton. David Warner is scoring centuries repeatedly as an opener, but would you associate that with his brilliant performance or to his 'advantageous' batting position? But that's a different discussion for a different post.
It is something to ponder about. Firstly, Rahim has the responsibility of the many roles he is assigned. He captains, he keeps and he bats. And he is technically on the field all the time. He had kept wickets for 166 overs in this match and batted for nearly 45 overs in the first innings. After his 262-ball stay on the crease, he was given about 10 minutes to unwind and do the glove work for another 35 overs.
A lot of wicketkeeper-captains in the past have done justice to the multiple responsibilities, yes. But it's important to note that he has been the pillar of the Bangladeshi batting lineup for years now. If the pillar tumbles, the fall of the entire foundation is inevitable.
So, would it be fair to ask him to take some more responsibility and come up the order when he's doing just fine at No. 6? His 159 at Wellington came at No. 6 too. He battled on despite a finger injury and some blows on the body and head from the bouncers darted in by the Kiwi pacers. The current position gives him the little time off the field, a much-needed space to unwind, cater to himself, back himself up mentally before he is on his toes for a whole day. A weary captain and wicketkeeper can't do much, can he?
Interestingly, his wicketkeeping in the match was under the scanner too. His failure to stump despite two attempts when Wriddhiman Saha was way out of the crease. And, this missed stumping ensured Saha continued and went on to register his second Test century. On Day 1, an edge from Cheteshwar Pujara off Kamrul Islam Rabbi's delivery fell short of Soumya Sarkar at first slip. But it was a catch meant for Mushfiqur because the ball was never going to carry to slip.
The added responsibility would perhaps also result in shaky leadership. We saw glimpses of it today. For instance, aggressive field set ups for Virat Kohli when the bowlers were unable to bowl the correct lines. And when aggressive fields were the need, the fielders were left loose. There's a lot he needs to look at regarding his captaincy and draw inferences from the results since all their recent tours.
When you see his responsibilities not being executed properly, can we really expect him to take the demanding job of a No. 4? He will have some centuries, as the commentators predict, but is that what Bangladesh really need?