Narendra Modi recalls Kumble's bowling in West Indies, Laxman-Dravid's partnership to motivate students
Modi was interacting with the students during his 'Pariksha Pe Charcha' at Delhi's Talkatora Indoor Stadium
Updated - Jan 20, 2020 7:44 pm
204 Views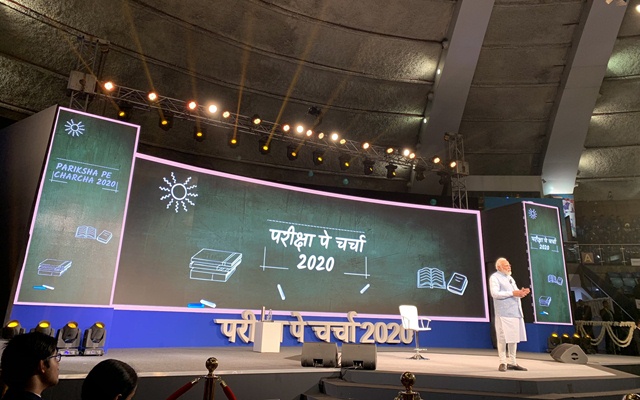 Follow us on Google News
Prime Minister Narendra Modi recently met school students ahead of their board examinations to boost them. And during his 'Pariksha Pe Charcha' at Delhi's Talkatora Indoor Stadium, the prime minister also spoke about some great feats accomplished by Indian cricketers in the past to motivate the students and instill positive thinking in them.
Modi spoke about former spinner Anil Kumble's bowling with broken jaw during a Test match in the West Indies in 2002 and the epic partnership between VVS Laxman and Rahul Dravid in the famous Test match in Kolkata the year before. While Kumble ended up claiming the wicket of the great Brian Lara in the Test played in Antigua, Laxman (281) and Dravid (180) joined 376 runs in the second innings against the Kangaroos to help India beat them despite following on.
While responding to a question asked by a student from Rajasthan named Yashashri who wanted to know what to do if the board examinations turned the students' mood off, Modi said, "We can add enthusiasm to every aspect of life. A temporary setback doesn't mean success will not come. In fact, a setback may mean the best is yet to come," according to Economic Times.
Laxman-Dravid's partnership saw India winning despite following on
Narendra Modi then cited the example of the match-winning partnership between the two former batsmen. "Do you remember the India-Australia test series in 2001? Our cricket team was facing setbacks. The mood was not very good. But, in those moments can we ever forget what Dravid and Laxman did. They turned the match around," the 69-year-old said.
The 171-run victory registered by Sourav Ganguly's India over Steve Waugh's Australia ended their 16-win streak in Tests. Modi was yet to become the chief minister of Gujarat then. He then spoke about Kumble's heroics in the Caribbeans. "Similarly, who can forget Kumble bowling with an injury. This is the power of motivation and positive thinking," the BJP leader, who had then become the chief minister for the first time, said.
Kumble was hit on his chin during the batting and it was a big blow. But the fighter in 'Jumbo' refused to leave the battlefield and came out with his face bandaged. He bowled 14 overs and took the wicket of Lara. He did not play the full game though and the match was drawn.
Follow us on Telegram