Never felt I should leave RCB just because I haven't won the IPL: Virat Kohli
Indian skipper Virat Kohli has been a constant in the RCB camp since 2008 and now has been leading the side since 2013.
Updated - Apr 9, 2021 4:50 pm
912 Views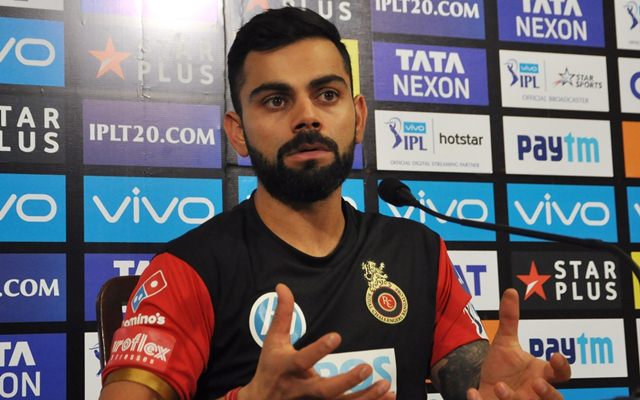 Follow us on Telegram
Since the inception of the Indian Premier League (IPL) in 2008, Royal Challengers Bangalore (RCB) has been one of the most-talked-about teams owing to its's massive fanbase. However, it is still a mystery that how the Bangalore outfit doesn't have even a single trophy in their cabinet. The team has reached the finals as many as three times but has always failed to cross the finishing line.
Indian skipper Virat Kohli has been a constant in the RCB camp since 2008 and now has been leading the side since 2013. Not winning an IPL title to date has placed Kohli under major scrutiny and he has been often advised to join any other franchise. However, the Indian skipper has repeatedly said that after devoting so many years to the Men in Red and Gold, he can't think about playing for any other team.
Speaking about the Challengers, Virat Kohli reckoned that the team boasts of having one of the massive fanbases, and people love RCB for always playing their heart out and entertaining them with a different brand of cricket. When asked about his 13-year long association with the team, the 32-year-old reckoned that the care, respect, and enjoyment he feels while playing for RCB can't be recreated anywhere else.
"There are a couple of other teams who have great fan bases but I think we are a team who get a lot of support and adulation wherever we play because we play a certain brand of cricket. We will play our heart out, we might not be composed enough in many difficult situations in the past but there has never been a shortage of passion, commitment, intensity," Virat Kohli said in a video uploaded on RCB's Twitter handle.
Virat Kohli elaborates his bond with RCB
Further during the interaction, the Delhi-born revealed that the camaraderie between him and Royal Challengers Bangalore is natural and organic as neither he is forcing the management to keep him nor the management has any pressure of retaining him every time in the auction.
"A lot of fun on the field and I as an individual have never felt that I wanna move away from the system just because I haven't won a title. That happens because things have been so organic, this cannot be created anywhere. This cannot be manufactured in a way that people are forcing me to play, and I am forcing the management to keep me, there has never been a conversation like that.
"So, things have been very organic. The respect, the care, and the enjoyment I feel here, I don't think I can recreate anywhere else. The experience has been magical," Virat Kohli concluded.
Virat Kohli Interview Part 2

Captain Kohli and clarity of thought go hand in hand! Watch him talk about opening the batting, regaining his Midas touch, having Sanjay Bangar in the camp and his unbreakable bond with RCB, only on @myntra presents Bold Diaries.#PlayBold #IPL2021 pic.twitter.com/3g4IxQY8ve

— Royal Challengers Bangalore (@RCBTweets) April 9, 2021
Follow us on Google News