New Zealand become the 7th and the slowest team to 100 Test wins
Australia is the fastest to 100 Test wins while England is the first.
Updated - Feb 24, 2020 7:53 am
4.1K Views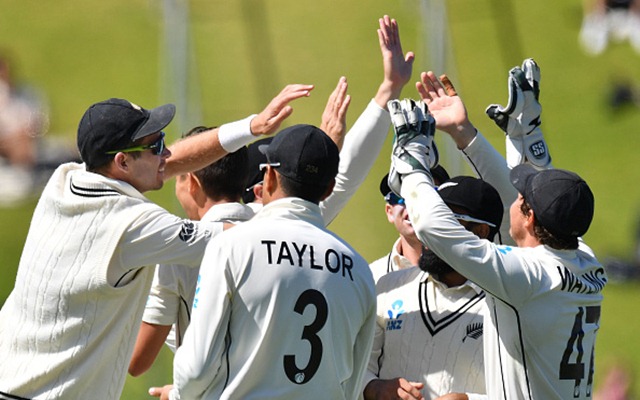 Follow us on Telegram
New Zealand ended India's 7-match winning streak in the World Test Championship. By registering a 10-wicket victory in the first of the two Tests, they have only just taken a 1-0 lead. This Test was special for them in many different ways. The Wellington game was the 100th Test match for their veteran cricket Ross Taylor. He became the first player to play 100 games in each of the three formats. Moreover, to make things even more special, New Zealand has also registered its 100th Test win.
But, New Zealand is the slowest team to reach this milestone taking 441 games. Having made their first appearance in Test cricket in 1930, the Kiwis have taken nearly 90 years to get there. They are the seventh team to get to 100 Test wins and the team with the worst W/L ratio. Out of a total of 441 matches, the Kiwis lost 175 and thus their W/L ratio is 0.571. They also witnessed 166 draws while none of their games finished in a tie.
Teams with 100+ Test wins:
New Zealand and India are the only teams that took over 400 games to register 100th win
Australia, having made their Test debut in 1877, played 830 Tests and won 393 games. They took the least games to reach 100 Test wins. In 1951, in their 199th match, they reached the milestone. Their W/L ratio is highest amongst the teams with over 100 Test wins at 1.754.
England is another team that made its Test debut in the same year but has played over 1000 Test matches thus far. The Brits were the first team to get to 100 Test wins in their 241st game in 1939. In 1022 games so far, they won 371 and lost 304 as the W/L ratio is 1.220.
South Africa and Pakistan are the only two teams apart from the above mentioned who have won more games than they lost. They took 310 and 320 games respectively to win 100 Tests. The Proteas made their first appearance in 1889 and featured in 439 games. They finished with wins on 165 occasions while they lost 150 matches. Pakistan, on the other hand, made their debut after independence in 1952 and played 428 games till date. The side won 138 games while they lost 130 matches.
Coming to India, the side played 541 matches since 1932. They won 157 and lost 166 thus resulting in a W/L slightly less than 1. India is another side that played over 400 games to get to 100 wins. In 2009, they reached the milestone in their 432nd Test. The mighty West Indies is another side that has played over 500 Tests. In 545 games since 1928, they finished on the positive side of the result in 174 matches and couldn't get over the line on 195 occasions. West Indies registered their 100th win in 1988 in their 266th game.
Number of matches teams have taken to complete 100 Test wins: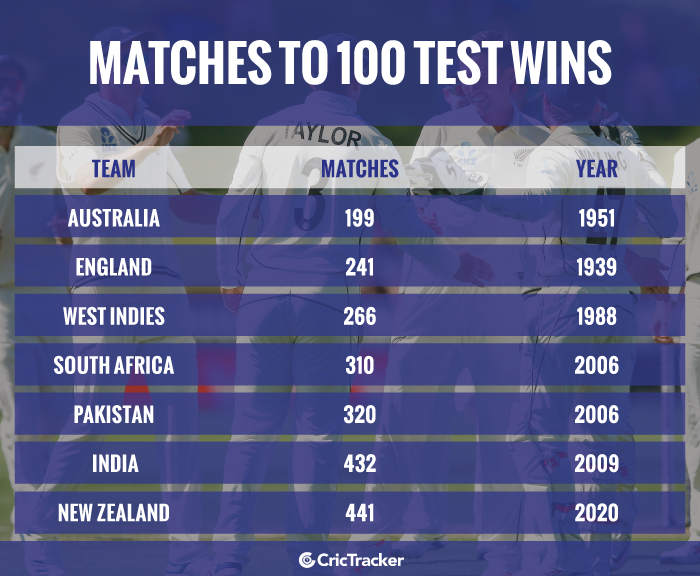 Follow us on Google News