New Zealand vs India, 2019: 3rd T20I – Statistical Highlights
All the major stats and numbers recorded during the T20I series-decider in Hamilton.
Updated - Feb 10, 2019 6:41 pm
1.6K Views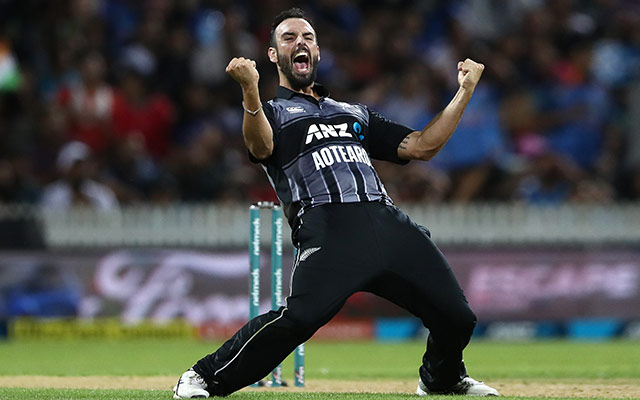 India's long tour in Australia and New Zealand came to an end with them losing the T20I series to the Kiwis after going down in a thriller at the Seddon Park. After choosing to bowl first, Indian bowlers were hit all over the park by the hosts. Colin Munro's 40-ball 72 played a crucial role in taking them to a big total of 212/4. India had contributions from all batsmen in the chase but no one from the top order could convert their start. As a result, the visitors fell four runs short of New Zealand total after scoring 11 runs from the last over where they needed 16.
All the major stats and numbers recorded during the T20I series-decider in Hamilton:
A rare defeat for India:
1 – For the first time in their T20I history, India lost a 3-match T20I series. They won nine of their previous ten bilateral T20I series where they played three matches and drew in one. In all those previous ten series, India won the 3rd and final game of the series.
---
8 – This is India's 8th defeat in 11 matches against New Zealand in T20I cricket; the most for them against any team. India lost seven T20Is against Australia thus far.
---
10 – This series defeat is first for India in T20I cricket since losing the one-off T20I to Windies in 2017. India featured in ten T20I series/tournaments since the defeat and won in eight and drawn two prior to this series against New Zealand.
---
13 – Number of sixes Indian batsmen hit during this game; the joint 2nd most by any team in a losing cause. New Zealand hit 18 sixes during the Auckland T20I against Australia last year in which they lost while defending a total.
---
A high-scoring series:
56 – Number of sixes hit during this series; the most in any bilateral T20I series. The previous highest number of sixes during a bilateral T20I series were 55 during the Afghanistan-Ireland series in 2017.
---
589 – The 589 runs aggregated by New Zealand in this series are the 2nd most by any team in a 3-match T20I series. The highest series aggregate for a team in a 3-match T20I series is 591 runs by South Africa in the 2015 home series against Windies.
---
1098 – This series aggregate of 1098 runs is the 2nd highest in a 3-match T20I series. The 2015 series between South Africa and Windies witnessed an aggregate of 1121 runs. Among all bilateral series, only Bangladesh–Zimbabwe series (1306 runs) in 2016 of witnessed more runs which was a 4-match series.
---
A collective effort from the batsmen:
6 – As many as six Indian batsmen scored 20 and more during this game. This is only the 2nd instance of six players scoring 20 and more in the same T20I innings. England had six players scoring 20+ during the 2013 Auckland T20I also against New Zealand.
---
9 – New Zealand's top four and five different batsmen of India scored 25 and more runs in this game. This is the first time nine different batsmen scored 25+ in the same T20I match.
---
208/6 – Vijay Shankar finished as the top scorer for India in this game with 43. India's total of 208/6 is the 3rd highest T20I total where no batsman scored a fifty. Australia scored 221/5 against England in the 2007 Sydney T20I with the highest score of 48 while England made 214/7 with the best score of 46 against New Zealand in the 2013 Auckland T20I.
---
A tour without a century for India:
8 – India played eight matches on this tour of New Zealand without any player scoring a century. These are the most number of games India played on a single tour without an individual hundred. India featured in six ODIs during the 1997 series against Pakistan in Canada. One of the ODIs during the 5-match series in 1997 was played again on reserve day due to rain.
---
A rare miss for DK:
1 – This defeat was the first for India in T20Is with Dinesh Karthik unbeaten while chasing. In 13 T20I innings for India in chases, Karthik got dismissed on three occasions and India lost in all the three. He remained unbeaten on nine instances before this game with India winning in each of those nine.
---
A tough series for Indian bowlers:
131 – Runs Hardik Pandya conceded in this T20I series; the most by an Indian in a bilateral T20I series. Khaleel Ahmed's 122 runs and Krunal Pandya's 119 runs in this series find the 2nd and 3rd places in this list. During the series against Australia last year, Krunal and Khaleel conceded 117 and 116 runs respectively; the previous 1st and 2nd most conceded by an Indian in a T20I series.
---
A milestone game for MS Dhoni:
300 – MS Dhoni became the first Indian to feature in 300 Twenty20 matches. This game was the 298th match in this format for Rohit Sharma; the 2nd most T20 appearances by an Indian.