New Zealand vs Sri Lanka, 2018: 2nd Test – Statistical Highlights
All the major stats and numbers recorded from the New Zealand's victory in the Christchurch Test.
Updated - Dec 30, 2018 12:07 pm
66 Views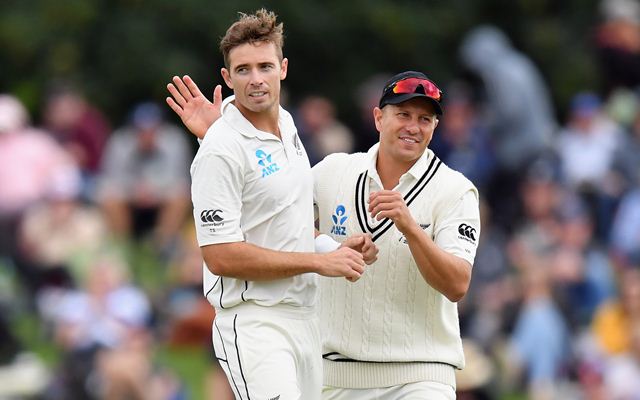 New Zealand registered yet another Test series win as they defeated Sri Lanka by a record 423-run margin in the series-deciding Test in Christchurch. The first match of the series ended in a draw thanks to a fight put on by the Sri Lankan batsmen and a washed out final day. New Zealand posted 178 in the first innings with help of Tim Southee's 68.
Sri Lanka in response bundled out for 104 due to a brilliant spell of bowling from Trent Boult. Tom Latham and Henry Nicholls' 150s helped the Kiwis to post 585/4 in their 2nd innings and set a target of 660 in front of the Lankans. In the chase, Sri Lanka bowled out for 236 by losing their last three wickets in 14 deliveries on the final day.
All the major stats and numbers recorded from the New Zealand's victory in the Christchurch Test:
A first for New Zealand:
1 – For the first time in their Test history, New Zealand won four consecutive series. They defeated Windies 2-0 and England 1-0 during the 2017/18 home series and trumped Pakistan 2-1 in UAE before facing Sri Lanka t home.
New Zealand won three consecutive Test series in three different periods; 1985-1986, 2005-2006 and 2013-2014.
---
Mendis only next to Kohli:
1023 – Runs Kusal Mendis aggregated in Test matches in 2018. He is only the 2nd player after Virat Kohli (1322) to score 1000 Test runs in 2018. Mendis has a batting average of 46.5 in 12 Test matches with three centuries and four fifties.
---
Biggest run-margins:
423 – Prior to this game, New Zealand never won a Test match by more than 300 runs. Their previous biggest win in terms of runs was 254 against Zimbabwe in the 2016 Bulawayo Test.
---
423 – The 423-run defeat in this game is also the biggest Test defeat for Sri Lanka in terms of runs. Their previous biggest loss in the format by runs was 304 against India in the 2017 Galle Test.
---
Southee's rare all-round double:
3 – Tim Southee scored 68 runs and picked three wickets on the first day of this Test match. Thus, he became only the 3rd player to score a fifty and take three and more wickets on the opening day of the game.
South Africa's Jimmy Sinclair (59 runs; 6 wickets) against Australia in 1899 and Jacques Kallis (54 runs; 4 wickets) against Zimbabwe in 2005 recorded such instances in Cape Town.
---
A memorable series for Latham:
889 – Number of deliveries Tom Latham faced in series; the 3rd most by any player in a 2-match Test series. Hashim Amla faced 1033 balls while Andy Flower faced 1021 deliveries in 2010 and 2000 respectively in the two-match series against India. The previous most for New Zealand was 887 balls by Brendon McCullum in the 2014 home series against India.
More numbers from Tom Latham's feats and New Zealand second innings: Stats: Trent Boult runs through Sri Lankan line-up with a fierce bowling spell.
---
Trent Boult runs through Sri Lanka in the first innings:
11 – Trent Boult became the first player in Test history to claim five wickets in the space of as few as 11 deliveries. The previous fewest was 12 balls by three different players – Monty Noble of Australia against England in the 1902 Melbourne Test, Jacques Kallis of South Africa against Bangladesh in the 2002 Potchefstroom Test and Kemar Roach for the Windies against Bangladesh earlier this year.
---
4 – Sri Lanka's No.8, 9, 10 and 11 bagged ducks in the first innings which is only the 4th such instance in Test history. England's bottom four registered ducks in the 4th innings of the 1994 Melbourne Test against Australia and also in the 4th innings of the 2005 Lord's Test against the Aussies. Windies' 8-11 had ducks during their 1st innings of the 2013 Wellington Test against the Kiwis.
More numbers from Boult's spell and Sri Lanka's collapse: Stats: New Zealand bats out Sri Lanka to set a 660-run target in the Christchurch Test.