No 5-star hotel for Pakistan in England; players staying in a 3-star hotel
Players were not even allowed to move outside even for food.
Updated - Jul 16, 2020 2:56 pm
27.3K Views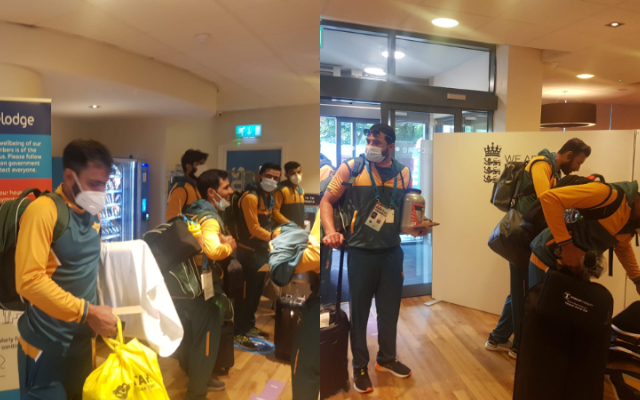 The Pakistan team arrived in England earlier this month, to prepare for their upcoming series against the current World champions, England. They are currently at phase two on their England tour. This is their first international series since the COVID-19 break.
The general audience mostly believes that the professional Cricketers enjoy bountiful lives, especially on an overseas tour. But the case of Pakistan players is quite different now as they are made to stay in a 3-star hotel in England to create a bio-secure environment for them amidst the coronavirus pandemic.
Food served to the respective floors for Pakistan players
As per a report from Cricket Pakistan, the team was forced to stay in a 3-star hotel in Worcester during their 14-day isolation period and were not even allowed to move outside even for food which was served to their respective floors as they couldn't dine together. The only probability of outdoor activity was during their training sessions.
However, the players have arrived in Derby this week for phase two of their tour plan. According to the report, they moved to a Travelodge in Derby which is also a 3-star hotel but now there will be a change in plans as the players are allowed to dine-in together as there are no other guests staying at the Travelodge except the team and the support staff.
They are also allowed other activities like playing indoor games but in their respective rooms. The team will be staying in the city till 30th July. Additionally, while their stay in Derby, Pakistan will also play two intra-squad matches that will last four days each. The first will take place from July 17 to 20, while the second will begin on July 24.
The green shirts are scheduled to play three Tests and three T20 Internationals against England, with the first Test starting on August 5 and the T20I series beginning on August 28. While Azhar Ali will lead Pakistan's Test side, Babar Azam will lead the side in the T20I series.
On August 1, the Pakistan team is scheduled to travel to Manchester, which is where the first Test against England will take place. To deal with the restrictions imposed due to the pandemic, England and Wales Cricket Board (ECB) has picked Manchester and Southampton as hosts of all international fixtures this summer as both grounds have a hotel attached to the stadium.