Not female Sachin Tendulkar, she is her own Mithali Raj
I want nothing more than to see Mithali Raj, and her almost two-decade-old journey flash right in front of me to remind me that one particular woman devoted her life to the game.
Updated - Jul 13, 2017 12:46 am
137 Views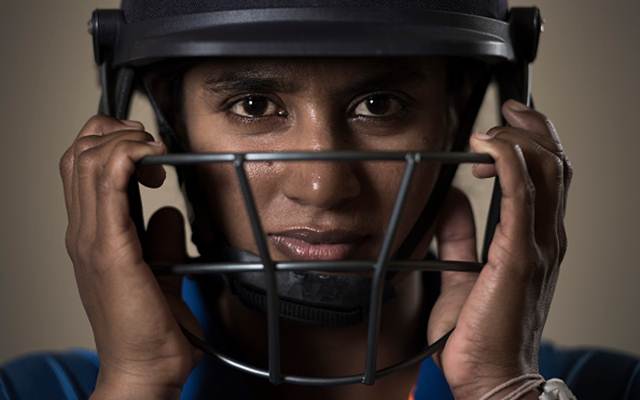 Follow us on Telegram
She reads Rumi's poetries waiting for her chance to bat, scores a match-winning 71 after that, boasts a record of 7 consecutive 50s in but has no airs about it, quotes Beyoncé in her Twitter bio, uses hair clips as bookmarks, hits sexist remarks from journos out of the park, brings up an exclusive milestone with a straight six; cool as ever and does no fancy celebrations when she bags the world record.
Her team-mates are up on their feet to applaud, but she does not celebrate, only accepts the pat on the back by her partner on the other end. She is no "female Sachin", she is Mithali Raj, the captain of the Indian Women's team; The Greatest Of All Times and most importantly, one of a kind.
She was 17 years old when she made her debut on June 26, 1999, and immediately impressed as she registered a century on debut against Ireland, being among the only five women in cricket history to have scored one on debut, till date. 18 years hence, it's evident that "she works just as hard for every run as you'd expect a debutant to", as the title of an ESPNcricinfo feature on her said.
Though she admitted in 2014 that being captain or not does not matter as long as she is playing for the country, her team-mates and every youngster who has taken inspiration from her has closely seen her dedication and devotion for Indian cricket since the time she became captain in 2005, and they could not have asked for a better leader.
Even on the day that had Mithali Raj written all over it, when she became the first woman cricketer to cross the 6000 ODI runs milestone and became the highest run scorer in ODI history, and when she registered her 49th fifty, she was cool as ice when she was asked about it. No airs, no over-excitement in the tone, just proper focus on a must-win game and her eyes on the World Cup.
Consistency
She scored 214 runs in Test cricket when she was 19 years old, and it's a pity that Test cricket for women is not a frequent sight anymore because it would only make the experience of watching Raj with the willow better. Except for years 2002, 2007 and 2011, she has consistently managed a batting average of over 40. The year 2010 was particularly memorable for her when she averaged a staggering 143.50 after having scored 4 fifties in consecutive innings in the five-match series against England women at home.
Defining longevity, she is going strong even today as she averages a mammoth 78.85 in this year so far.
She has scored a total of 552 runs in 15 ODI matches this year that includes 8 fifties as well. Her overall average in ODIs is 51.37 and she takes no opposition lightly as her numbers are a testament to that. Her average has never dropped below 33 against any opposition except against Australia and New Zealand where she averages relatively lower as 33.08 and 38.90 respectively. But having an average of over 30 against these quality bowling sides pretty much speaks volumes for itself.
Overseas or not, the conditions are hardly a barrier in the way of her consisting batting, she averages 55.30 at home with 2,323 runs in her name in 71 ODIs and has not let her reputation with the stats drop even outside home, she has scored over 3,600 runs in 111 ODI matches at an average of 49.13; almost 50. So, be it in India or outside, she loves the responsibility of not only captaining the side but also of keeping the batting order together.
As much as she is indifferent to records, they love her. The internet is now filled with her stats and it's difficult to fit them all in one piece, but what I personally admire is how she is a match-winner for the team. Mithali has played the anchor role for years now, but mind you, she will subject you to carnage if you make a mistake.
She has 5 ODI centuries, she remained unbeaten in each and they all ended in a winning cause. India has won 105 out of the 182 matches she has played for them till date and she averages a staggering 75.72 in those matches. Over 15 calendar years since her debut, she has averaged over 40 in ODIs.
Interestingly, she has these numbers despite not being a hard hitter. Her role as the anchor only gets better when you come to terms with the fact that she has only been dismissed for a duck four times. She has made more than 50% of the team's runs nine times, and 36 times her contribution has been at least a considerable 35%. She has the most not outs in Women's ODI and also averages second best in chases only behind Meg Lanning.
Numbers aside, I admire the confidence that she has brought to Indian cricket, precisely for the fairer sex. So many established as well as aspiring women cricketers look up to her, for her devotion and perseverance. It hasn't been a walk in the park for her, failure has come her way often. India has crashed out of big tournaments under her but never has she faltered in terms of grace and humility.
Cricket is a religion in our country and we love to attribute the greats of the game to demi-gods, kings and princes but if you really ask me, I want nothing more than to see Mithali Raj, and her almost two-decade-old journey flash right in front of me to remind me that one particular woman devoted her life to the game, defying all odds despite the existing notions of patriarchy and misogyny, walking past through the barricades of inequality and standing tall with the rise-fall-and rise again ride of her own.
She may be playing her last World Cup, and she will probably be leaving without a silverware. But, to me that makes it even more an interesting story to remember because when you step outside to face the grim reality of the world, you will remember to take one step at a time, like she emphasised on focusing one game at a time; give what you do your 100% and continue to do so, without making the reward your sole concern.
To give her best is what Mithali Raj did over the years, and she deserves more credit than she gets because she has made a mark in the field, one that will be etched in his history, with or without the Cup.
Follow us on Google News