'Official NightHawk for England Cricket' - Stuart Broad changes his Instagram bio after Edgbaston Test
'Broad was going out with half an hour left to play to try to literally slog,' said Ben Stokes.
Get every cricket updates! Follow us on
Lately, there has been a significant and massive change in the English Test team's approach. Ever since Brendon McCullum took over the head coach role and Ben Stokes took the captaincy charge of the red-ball team, the team has maintained its winning streak. The duo started their campaign by defeating New Zealand by 3-0 and then went on to defeat India in the rescheduled final match of the five-match series in order to level it at 2-2.
The team appears to have entered a new age where the traditional way of playing Test cricket has entirely transformed. An aggressive and fearless mentality has been instill by the newly appointed head coach in order to make the longer format seem more engaging and thrilling.
England have successfully chased targets of over 250 in all their last four Tests. They batted quickly, similar to how teams bat in the white-ball format. It has been affectionately dubbed "Bazball," which sounds like baseball but actually refers to Brendon McCullum's approach, who batted aggressively during his playing days.
And it appears that the English squad has now given the word "Nightwatchman" a new name in Test cricket as well. Stuart Broad's Instagram profile indicates as much, at least. The seasoned speedster modified his Instagram bio to read "Official NightHawk for @englandcricket" after the team's seven-wicket triumph in Birmingham against India.
Here's the screengrab of Stuart Broad's Instagram page!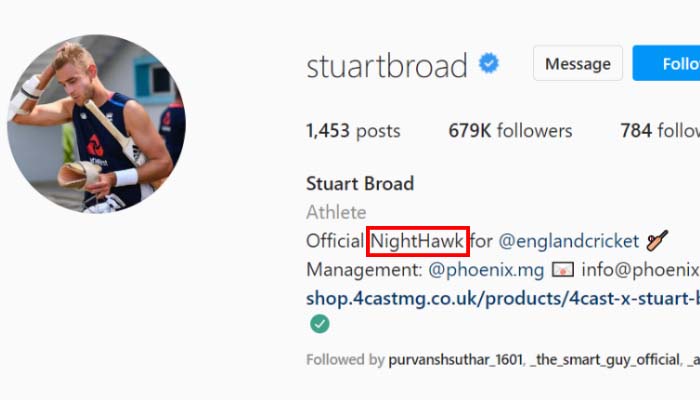 We called it 'Nighthawk', that was Stuart Broad: Ben Stokes
The duties of a nightwatchman have been extensive for many years. As a side loses a wicket or is given the opportunity to bat at the hour of stumps, they typically send a lower-order batter to preserve the wicket and play defensively, standing there like a wall so that the main batters could resume the following day. However, given England's recent propensity for scoring runs in Test matches, it wouldn't be surprising if they began referring to nightwatchmen as "nighthawks".
Meanwhile, skipper Stokes won't be surprised with the change in Broad's Instagram description. "He might get 30 off 10 balls or 0 from 1. We are looking at every situation we are going to find ourselves in and what the positive thing to do is. For example, we renamed what the nightwatchman is all about. We called it 'Nighthawk.' That was Broady. He was going out with half an hour left to play to try to literally slog. That's where we are at the moment, it's awesome," said Stokes in a presser.