'One of Australia's cricketing legends' – Hugh Jackman pays heartfelt tribute to Dean Jones
Former Australian pacer and Jones' colleague Brett Lee tried CPR twice on him, but it was of no use.
Updated - Sep 27, 2020 7:40 pm
424 Views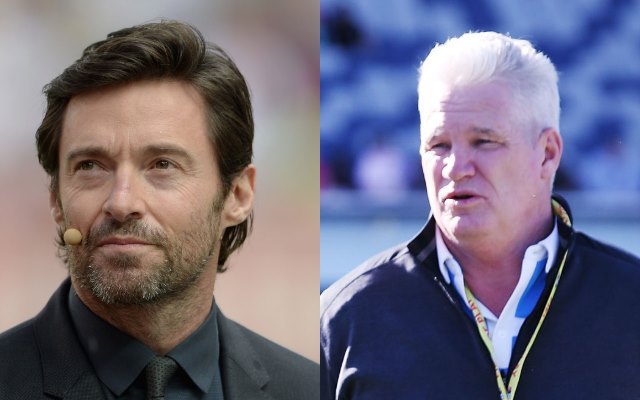 The sudden death of former Australian cricketer and commentator Dean Jones has created a great void in the cricket fraternity. He was at his hotel in Mumbai when a massive heart attack became the reason for his death.
While preparing for a Dugout shoot ahead of a match between Royal Challengers Bangalore and Kings XI Punjab, he collapsed suddenly. Former Australian pacer and his colleague Brett Lee tried CPR twice on him, but it was of no use.
The people around the world are pouring messages to pay him tribute and are mourning the irreparable loss. In the same light, famed Australian actor and producer Hugh Jackman came forward to pay him a heartfelt tribute. He posted a heartwarming note on his Twitter account to mourn the loss of the great cricketer. Jackman is widely known for playing Wolverine in the X-Men series.
Jackman posted on his Twitter- "We mourn the loss of Dean Jones- one of Australia's cricketing legends! There are so many memories, but the 200 in Madras with a stomach illness, showed his grit, determination, and courage. Thinking of Dean's family and friends at this very sad time."
— Hugh Jackman (@RealHughJackman) September 26, 2020
Dean Jones' wife also releases statement
The death of Jones has come as a huge loss for the cricketing world, especially when he was involved in the commentary panel of the current Indian Premier League (IPL). In the latest turn of events, Dean Jones' wife, Jane Jones, also came out to release an official statement.
Apart from expressing her gratitude to all people who supported them in difficult times, she mentioned special thanks to Brett Lee. Lee's efforts to revive Jones were commendable, but the attack was so massive that he couldn't return to life.
"My girls and I are devastated and saddened beyond belief to hear of Dean's death in India. My beautiful husband, the love of my life, has lived his life with every bit of energy at his disposal, and he leaves an enormous gap in our lives, which can never be filled.
He leaves us with so many wonderful memories that will last forever. We are overwhelmed by the scale of the response to the news of his death and we will forever be grateful for that. We want to especially thank and acknowledge Brett Lee's tireless efforts to keep Dean alive," said Jane Jones.