'Only my captain can tell you why I haven't played more games' – Mohammad Rizwan takes a sly dig at skipper Imad Wasim
Mohammad Rizwan played just two games out of ten games so far in PSL 2020.
Updated - Mar 16, 2020 1:32 pm
10.3K Views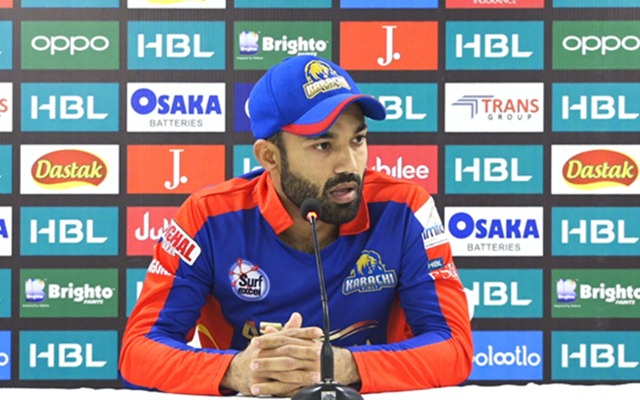 Pakistan spin-bowling all-rounder Imad Wasim had recently passed some surprising remarks on wicketkeeper-batsman Mohammad Rizwan as the latter harshly treated by the franchise despite his credibility. The Karachi Kings skipper conceded that Rizwan would get a chance to play for the team should he fits in the team composition.
In a perplexing statement, Imad Wasim made it clear that Rizwan can't come in Karachi Kings' playing XI while also adding that he is one of Pakistan's top wicket-keepers. Rizwan might be a regular feature for the Pakistan national cricket team across formats but Imad Wasim said that they can't help him out if he doesn't fit the bill.
Instead of backing his countryman, Wasim said that there are overseas players and positions in the batting order. By taking all these factors into account, Imad Wasim said he doesn't think Mohammad Rizwan is fitting in the batting order anywhere right now. This goes to show why Rizwan is not getting chances to play for the team.
Mohammad Rizwan has featured in only two games so far
Mohammad Rizwan played just two games out of ten games so far. He got a chance to play in the very first match of the tourney for Karachi Kings against Peshawar Zalmi, which Karachi Kings comprehensively won the by 10 wickets. He was also good behind the stumps by taking a couple of catches.
However, he warmed the bench since the first game and Chadwick Walton was preferred for the next eight games. Finally, his second appearance came on Sunday's encounter against Quetta Gladiators. Needless to say, Mohammad Rizwan probably got the chance to play because Karachi had already booked their berth in the semifinal.
After the game came to a close, Mohammad Rizwan took a dig at captain Imad Wasim while addressing the reporters at the post-match press conference. "Only my captain can tell you why I haven't played in more games as I am doing my best. They are saying I am a top-order batsman but when there could be a chance for me to play, I am not given that chance," he said.
It's disappointing if the situation is like this in your 2nd or 3rd PSL. Everyone knows I'm the keeper for ODI, T20I & Test sides but I'm not getting a chance in PSL. The captain has to look at the combination so only he can explain why I'm not getting chances," Rizwan added.