Opportunity for Virat Kohli to claim No.1 spot in the Test rankings
Amongst the batsmen, both England and India have five each inside the top-50.
Updated - Jul 30, 2018 3:10 pm
992 Views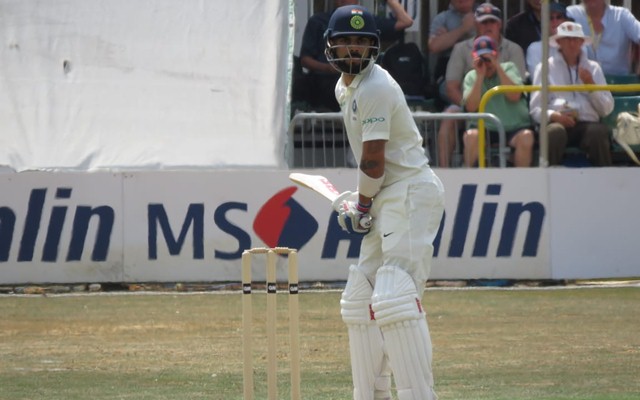 The followers of the most challenging format of the game will also be keeping a close watch on the ICC Test Player Rankings as India captain Virat Kohli will look to snatch the coveted number-one position from Australia's Steve Smith, while England fast bowler James Anderson will aim to defend his number-one ranking.
Kohli trails Smith by 26 points and will have to produce a string of strong performances to leapfrog the Australian, while Anderson will also need wickets to either defend or consolidate his top spot.
Apart from Kohli and Anderson, both the sides comprise players who feature prominently in the Test player rankings who, during the course of the series, will be hoping to make upward movements. This makes the upcoming series a perfect recipe for entertaining, interesting and enthralling red ball cricket.
Amongst the batsmen, both England and India have five each inside the top-50. From England, Joe Root is ranked third (48 points behind Kohli), Alistair Cook 13th, Jonny Bairstow 16th, Ben Stokes 28th and Moeen Ali 43rd, while India's Cheteshwar Pujara is sixth, followed by Lokesh Rahul 18th, Ajinkya Rahane 19th, Murali Vijay 23rd and Shikhar Dhawan 24th.
Amongst the bowlers and besides Anderson, Stuart Broad is the other bowler who features inside the top-30 in 12th position.
In contrast, India boasts six bowlers inside the top-30, including two spinners in Ravindra Jadeja (third) and Ravichandran Ashwin (fifth), and four fast bowlers, namely Mohammed Shami (17th), Bhuvneshwar Kumar (25th), Ishant Sharma (26th) and Umesh Yadav (28th).
India's left-arm spinner Kuldeep Yadav, who caused problems for the England batsmen in the ODI series, is ranked outside the top-50 in 56th position.
The Test player rankings will now be updated following the conclusion of the Edgbaston Test, while the Test team rankings will be updated following the conclusion of the fifth and final Test at The Oval.
Series schedule
1-5 August – 1st Test, Edgbaston
9-13 August – 2nd Test, Lord's
18-22 August – 3rd Test, Trent Bridge
30 August – 3 September – 4th Test, Hampshire Bowl
7-11 September – 5th Test, The Oval
ICC Test Team Rankings (as on 30 July, before the start of England v India Test series):
| | | |
| --- | --- | --- |
| RANK | TEAM | POINTS |
| 1 | India | 125 |
| 2 | South Africa | 106 |
| 3 | Australia | 106 |
| 4 | New Zealand | 102 |
| 5 | England | 97 |
| 6 | Sri Lanka | 97 |
| 7 | Pakistan | 88 |
| 8 | West Indies | 77 |
| 9 | Bangladesh | 67 |
| 10 | Zimbabwe | 02 |
| 11 | Afghanistan | 00 |
| 12 | Ireland | 00 |
ICC Test batsmen ranking
Rank          Player                         Team       Points      Avge                Highest Rating
    1             Steve Smith                 Aus          929         61.37             947 v SA at Durban 2018
    2            Virat Kohli                    Ind          903         53.40              912 v SA at Johannesburg 2018
    3            Joe Root                       Eng         855          52.28              917 v Aus at Trent Bridge 2015
    4            Kane Williamson         NZ           847          50.35             893 v Aus at Perth 2015
    5             David Warner             Aus          820         48.20              880 v NZ at Perth 2015
    6            C. Pujara                       Ind          799          50.34             888 v SL at Nagpur 2017
    7             D. Karunaratne            SL            754!        37.28            754 v SA at Colombo (SSC) 2018
    8            D. Chandimal                SL            733          44.96            755 v Win at St Lucia 2018
    9            Dean Elgar                    SA            724          41.05            784 v Aus at Johannesburg 2018
   10           Aiden Markram           SA            703*      47.27              759 v Aus at Johannesburg 2018
Selected rankings
Rank          Player                      Team         Points       Avg       Highest Rating
  13           Alastair Cook            Eng              686         45.65       874 v Ind at Kolkata 2012
  16           Jonny Bairstow        Eng              670          38.40      772 v SA at Old Trafford 2017
  18           Lokesh Rahul            Ind              661*       40.86      761 v SL at Pallekele 2017
  19           Ajinkya Rahane.      Ind              645          43.17      825 v NZ at Indore 2016
  23          Murali Vijay              Ind              624          40.69      747 v SA at Bengaluru 2015
  24          Shikhar Dhawan      Ind               618          43.93     627 v SL at Kolkata 2017
  28          Ben Stokes               Eng              601          34.85      664 v Win at Lord's 2017
  43          Moeen Ali                Eng              537          32.40     655 v SA at Old Trafford 2017
  57           Dawid Malan         Eng              465*        29.00     505 v Aus at Sydney 2018
  61           Jos Buttler             Eng               456*       35.00      494 v NZ at Headingley 2015
Bowlers (top 10)
Rank         Player                   Team  Points Avge   Highest Rating
   1             James Anderson                  Eng         892         27.23    896 v Win at Lord's 2017
   2            Kagiso Rabada    SA            882         21.71      902 v Aus at Port Elizabeth 2018
   3            Ravindra Jadeja                  Ind          866         23.11      899 v Aus at Ranchi 2017
   4            Vernon Philander               SA            826         21.54     912 v Ind at Johannesburg 2013
   5             R. Ashwin              Ind          811           25.34    904 v Eng at Mumbai 2016
   6            Pat Cummins       Aus          800*!    23.81     800 v SA at Johannesburg 2018
   7             Trent Boult           NZ           795          27.84    825 v Eng at Lord's 2015
   8            Rangana Herath                  SL            791           27.95     867 v Zim at Harare 2016
   9            Neil Wagner        NZ           765          28.26    785 v Win at Wellington 2017
  10           Josh Hazlewood Aus          759          26.84    863 v Ind at Bengaluru 2017
Selected ranking
Rank   Player             Team  Points Avge   Highest Rating
  12           Stuart Broad        Eng         742          28.89    880 v SA at Johannesburg 2016
  17            M. Shami               Ind          696         28.90    703 v SA at Johannesburg 2018
  25           B. Kumar               Ind          620*      26.09    626 v SA at Johannesburg 2018
  26          Ishant Sharma    Ind          582          35.52     671 v Win at Dominica 2011
  28          Umesh Yadav      Ind          577           34.94    578 v SL at Nagpur 2017
  31           Ben Stokes            Eng         545*       33.83    596 v Win at Lord's 2017
  34          Chris Woakes       Eng         509*      34.45    609 v Pak at The Oval 2016
  36          Moeen Ali              Eng         492         40.68    633 v Win at Edgbaston 2017
  43          Jasprit Bumrah  Ind          369*      25.21     373 v SA at Johannesburg 2018
  56           Kuldeep Yadav   Ind          273*      20.77     293 v SL at Pallekele 2017
All-Rounders (top five)
Rank   Player             Team  Points Highest Rating
   1             Shakib Al Hasan                  Ban         420        489 v Aus at Mirpur 2017
   2            Ravindra Jadeja                  Ind          394        438 v SL at Colombo (SSC) 2017
   3            Vernon Philander               SA            370         379 v SL at Galle 2018
   4            R. Ashwin              Ind          365         493 v Eng at Mohali 2016
   5             Jason Holder       Win         354 /*   355 v Ban at Jamaica 2018