Painting England red, one Jos Buttler at a time
Buttler is perhaps the most important figure in the England side at the moment.
Updated - Jun 29, 2018 5:05 pm
141 Views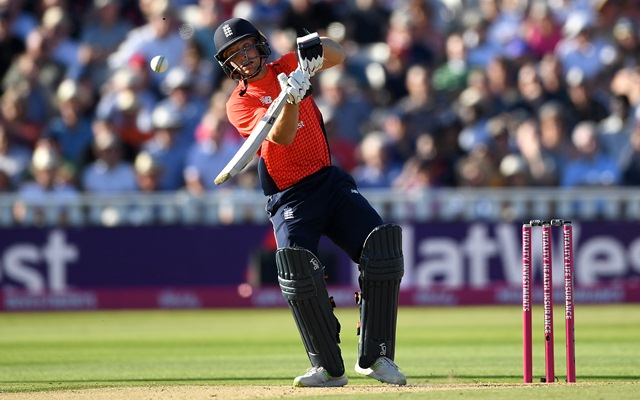 Tim Paine brings the field in. Finch, Agar, Head. All of them. The whole nine yards. Marcus Stoinis takes one last look. And so too does Jos Buttler. "Great drama. Great scenes," screams David Lloyd from the commentary box. Nobody can sit still. Buttler eventually takes a few steps down the track. He taps into a bit of a crack before turning away. Jake Ball signals to him. But he is in no mood to have a chat.
He straightens his helmet, taps his gloves and is ready to bat once again. Justin Langer cannot watch. He has had enough of this series. He wants to start afresh. And so too does Tim Paine. But there is a lot on the line. One run to win. For the Aussies – a win is paramount. They have seemingly just picked themselves from the civil war that tore apart the cricket team.
They do remain a formidable force. But they are hurting. And quite badly at that too.
Stoinis runs in. This time he pitches it up. And all Jos Buttler does is push it through. Nine times out of ten, Ashton Agar would stop the ball. This time he doesn't and it's a boundary. "Jos Buttler!" Lloyd screams once again. He is on his feet. "Absolutely magnificent," he continues. A tear or two arises. A 26-year old Buttler is ecstatic as he should be. Its 5-0 to England, quite a coup as well as one would think for Eoin Morgan and his band of merry men.
A likeness towards Magical Both
It was interesting a few minutes earlier when the hosts were at 8/114. The punters would have certainly fancied the Aussies. Tim Paine had his tail up. He could sense victory. However, as Buttler waged the lone war against the likes of Kane Richardson and Marcus Stoinis, the good folks of Manchester and the punters began reliving the memories of Ian Botham.
Botham's Ashes, aka the Ashes of 1981 saw him bat with the lower order not once, but twice. He eventually led them to victory, but the manner in which he did it earned him the 'Talk of Manchester'.
What was even more interesting was the fact that he had slammed a century with the next top score coming from the duo of Alex Hales and Adil Rashid who contributed 20 runs apiece.
Their dominance has shown. Of course, against a weakened Australia, but dominating no less. Experts have already begun discussing England's probability of success in the 2019 World Cup. And why not? They have come close to winning it in the past, but have never really had their hands on the ivory silver of the trophy. And neither have they had a chance to taste the feeling of winning it as well.
Aside from the fact that they are playing on home soil, Morgan now has a formidable unit to boast of. Alex Hales, Jonny Bairstow, Jason Roy, and several others, one man stands at the absolute core of it all.
When Jos Buttler burst onto the scene, he was lanky, scrawny, and everything you would not associate to a sportsman. A cricketer no less. The desert storm has just passed through the Dubai sports complex as a 21-year old Buttler made his way out to bat. The situation was ideal for him to flaunt his colourful batting strokes – those that would put the likes of Mike Atherton, Andrew Strauss, and Brian Close to shame.
Unfortunately for the exhausted Buttler, it was the year of Saeed Ajmal. Before he was barred from his illegal action at least. And he was dismissed for naught – a far from ideal start to an ODI career. Quite similar to that of the erstwhile Indian skipper MS Dhoni who was run out in his first match against Bangladesh.
However, as things stand, Buttler is one of the most important players in the side. Donning the gloves for England may be a thankless job, but the last ten times he has walked out with the bat in his hand, he made things happen. Eight of these ten innings have come with him donning the Three Lions across his chest.
But this is not all that makes him a special batsman. Statisticians have come and gone with theories on deciphering a method to Buttler. There was the odd social media analyst who came up with the magical words 'F**k It' on the handle of his bat. Perhaps it does get him ticking, but that is not all.
Analysts have crunched the numbers and have come up with less than ideal numbers. Less than a thousand runs in Test cricket and a less than 40 average in ODIs is a supremely average player. Yet, the stuffed shirts behind the terracotta desks at the ECB have persisted with him. If he were Indian, the BCCI would have discarded him long before the yo-yo Test would have swallowed him back into domestic cricket.
He is a special batsman. A special player. Analysts, Statisticians, and maybe even MBA admission counsellors can view his numbers. Yet, that would be the reflection of the cricketer Buttler is. He doesn't have a method to his batting. Perhaps the two magic words etched on his bat provides the solution to everything we need to know about him.
Numbers do not matter in the modern-day game
With 20 Test matches to his name, a Test match century continues to elude him. Perhaps because the manner in which the Brits are playing at the moment. People such as Mike Atherton and David Lloyd like to cringe at this. And one simply cannot blame them. Statisticians who crunch the numbers of the game without reason have missed the point when they use these numbers to judge players.
It would seem as though Buttler plays a brand of cricket used very lavishly by the likes of Kedar Jadhav and perhaps even Dwayne Bravo. It's simple – Improvised cricket. He uses the bottom hand to punch the ball to the fence at will. Or maybe hoick it in such a manner that it floats a couple of inches behind the third man or Long on.
Adding a bit of colour to English cricket
For the first time in many years, it would seem as though England can finally boast of a cricketer who is suited for the shortest format of the game. When one thinks of the typical England batsmen, people begin thinking Colin Cowdrey. Or maybe even Ian Bell. It does not matter as long as the side he plays for wins.
However, one thing he has done for English cricket is the simple fact that he has managed to add a bit of colour to the archetypical England cricket, something that certainly will not go unnoticed.
The question is how much colour can Buttler paint for the England squad for the upcoming series against the Indians.