Pakistan players to continue wearing the same design sweaters they wore against Ireland
Traditionally, the Pakistani players have worn sweaters that had a green stripe running through the neck line.
Updated - May 25, 2018 9:03 am
139 Views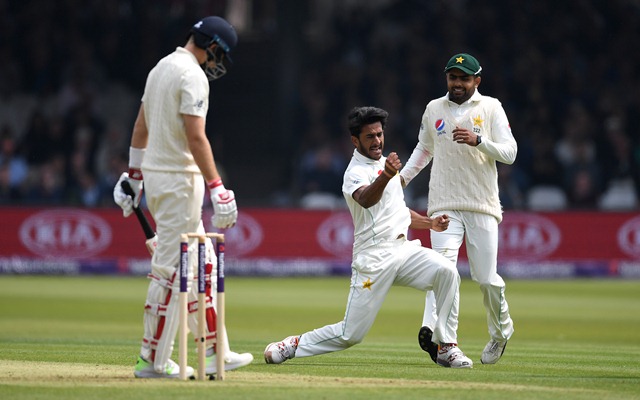 Team Pakistan is a very pleased side at the moment. They have made an excellent start to their tour of England. After their win against Ireland in Malahide in the historic Test, the visiting side has extended their good run on the English soil as well. On the first day of the first Test at Lord's, the visitors bundled out the hosts to a score under the 200-run mark. Later, they showed great grits with the bat as well.
While the on-field performances of team Pakistan has been highly impressive, there have been issues that has bothered their critics of the field. Recently, the players were warned by the officials to not wear smart watches. In another story, the outfit of the Pakistani team has been under some discussions.
Traditionally, the Pakistani players have worn sweaters that had a green stripe running through the neck line. But this stripe was missing on the sweaters that the team wore against England. Now, the designers have confirmed that the team will continue to wear the same design that they wore against the Irish side.
"The same designed sweaters will be used for this series against England", Ali A Jafri, the Director at AJ Sports, responsible for the new designed sweaters, was quoted as saying by the Kashmir Times.
'Case of personal disliking'
It is worth noting that this issue with the sweaters was spotted by former cricketer Wasim Akram. Akram believed that this was against the traditional Pakistan cricket practice. Commenting on the same, the manufacturers have remarked that all designs have been passed by the PCB. And as far as Akram's remark is concerned, they have labeled it to be a case of personal disliking.
"AJ Sports would like to respond to media reports and coverage pertaining to Pakistan team sweaters which arose after respected Wasim Akram tweeted objecting to missing green trim on sweaters. It must be noted that AJ Sports acts upon decisions and approvals from Pakistan Cricket Board (PCB) and not on its own discretion," Jafri remarked.
"Although AJ stands by PCB's decision but it cannot be held responsible for any designs and related issues as it is PCB's ownership and right. The design in question does not breach any cricketing laws and/or rules for clothing. At most, it can be an issue of personal like and dislike," he added further.
For the latest cricket news, follow CricTracker.