The part of India that will be supporting Bangladesh against India
A small portion of the capital of West Bengal is ready to support the tigers.
Updated - Jun 15, 2017 12:10 am
12K Views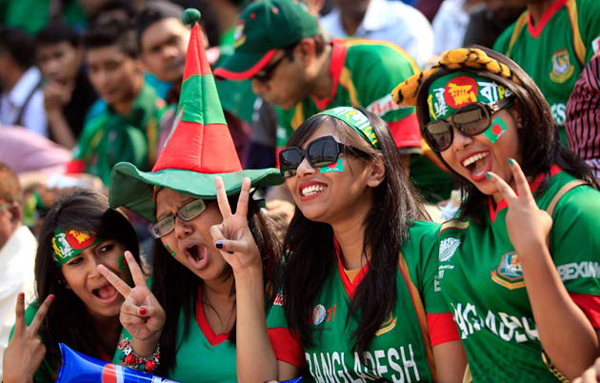 Pakistan has pulled out a major upset in the first semi-final of ICC Champions Trophy 2017. They have knocked the hosts and potential favorites England out of the competition. On Thursday, 2 Asian teams will face each other. India will take on their neighbors Bangladesh at Edgbaston, Birmingham on the second semi-final.
While it is not tough to guess the favorites, but going by the nature of the eight edition of the prestigious competition, it will not be too wise to pre-assume outcomes.
When the 2 neighbors face each other, nerves are bound to get the better of the fans. The banter begins at the social media websites. It has begun this time as well. The picture that stole the limelight was one uploaded by a Bangladeshi Facebook user where the Indian flag was draped in a dog. India is waiting to give to befitting reply on the 22 yards.
Mini-Bangladesh at Kolkata
Ahead of the mega clash, how many of us are aware of the fact that a certain portion of Kolkata will be backing the Tigers? Go to a few places in Kolkata like Marquis Street, Sudder Street and free School Street, and you will be confused whether it is India or Bangladesh. That portion of the capital of West Bengal is populated by Bangladeshis. All the hotels and hospitals in this region are filled with people from the neighboring country.
They flock here for treatment, as they believe that Kolkata is the best place to find top quality treatment at a low rate. But they are ready to forget where they are on Thursday, as they will be sitting in front of their TV sets, cheering for the men in green.
"It is a strange feeling to be in Kolkata when India and Bangladesh will be playing such an important match. Everybody back home will be glued to the television to support the nation. I will support my team from Kolkata though," said Pinny Ahmed, a resident of Bangladesh's capital Dhaka, while speaking to the Times of India.
Zayadaul Ahsan Pintu, a Bangladeshi citizen who is in Kolkata currently working on an assignment, feels that Bangladesh is ready to take on the challenge. "Bangladesh has tasted blood. Nobody thought that Bangladesh will come this far but our players showed their hunger for success. They chased a reasonably good target against New Zealand," said Zayadaul.
Hence, one can easily find an essence of Bangladesh, in this small portion of the metropolitan city in east of India.