'People are passing nasty comments about my sister' – Viral cricket fan Shobhit Pandey who went viral during Kanpur Test
He is irritated with all the attention.
Updated - Nov 27, 2021 12:24 pm
6.4K Views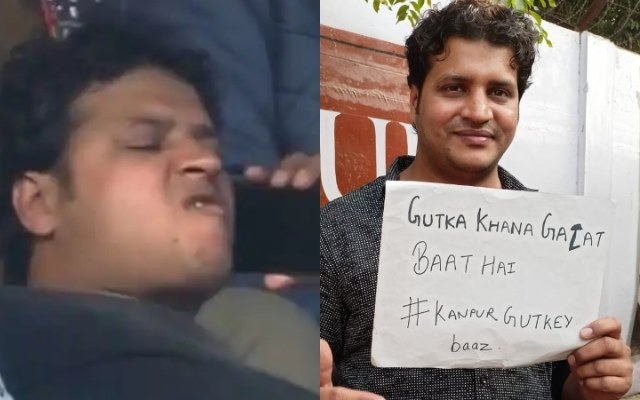 Follow us on Telegram
It doesn't take much time for anything to go viral these days thanks to social media. This is what has happened with Shobhit Pandey, a cricket fan, whose video went viral on the first day of the ongoing Test between India and New Zealand. In the video, he could be seen chewing something which many assumed as Gutkha and the girl sitting besides him was his sister also hogged the limelight due to it.
Shobhit is a resident of Maheshwari Mahol in Kanpur and was seen in the stadium on the second day of the Test as well. This time around he was seen sitting with a placard which read, "Eating tobacco is a bad habit", in Hindi. He had become a meme material a day before with even Wasim Jaffer tweeted his picture.
However, while speaking to the media, Pandey cleared he was not eating tobacco at all and was talking to his friend when the cameraman spotted him. "First of all, I would like to clarify that I wasn't eating tobacco. I was eating betel nut and was on call in with my friend, who was also watching the match in the same stadium but in a different stand.
"It was just a call of almost ten seconds and it went viral. My friend whom I was talking to was the one who broke the news to me that the video has gone viral. It went like a fire," he said according to Hindustan Times.
Irritated with all the attention, says Shobhit
Shobhit Pandey though is not worried for the reason his video has gone viral. He stated he isn't embarrassed at all as he didn't do anything wrong, however, is worried for his sister as a few people are busy passing 'not so good' comments about her. He is also not liking all the attention he is getting ever since the video has gone viral.
"I didn't do anything wrong, that is why I am not scared or embarrassed about this. I am just concerned that some people are passing nasty comments about my sister. And on the other hand, I am getting numerous calls from media houses and other people regarding the whole scenario and now I am getting irritated," Shobhit added.
Follow us on Google News