Peter Siddle picks his ultimate opponent XI with two Indian cricketers
Peter Siddle picked two lefties as opener.
Updated - Apr 22, 2020 10:29 am
1.6K Views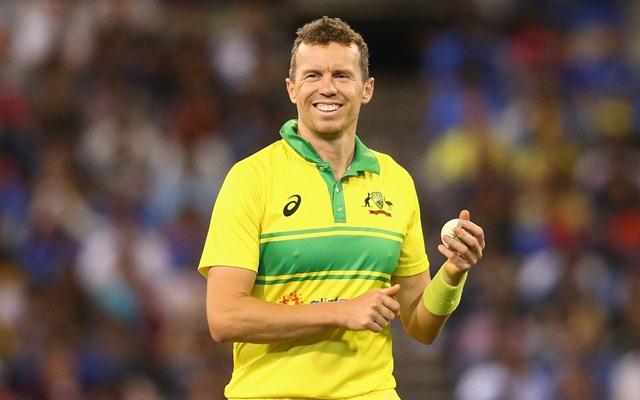 Amid Coronavirus outbreak, the cricketers have become active on social media and they are following a trend of giving out their preferred XIs in respective formats based on different scenarios. Earlier, Wasim Jaffer, Shane Warne, Aakash Chopra, Azhar Ali and others gave their own XIs. Now, Peter Siddle, the former Aussie pacer joined the bandwagon and formed a perfect opponent XI in international cricket.
Earlier, this year, the 35-year-old announced his retirement from all forms of cricket. After playing for Adelaide Strikers, in Big Bash League 2019-20, he hung his boots. The former player was a menacing bowler, who ended his career with 243 international wickets in his column. At the moment, Peter Siddle is spending a good time with his family while in quarantine due to Coronavirus.
After Aakash Chopra and Shane Warne, now Peter Siddle comes out with his XI
Recently, in a video posted by cricket.com.au, he picked his best opponent XI. The former pacer picked Graeme Smith and Alastair Cook as his preferred set of openers. He also said these two players are quite great when it comes to opening the batting. Even, they hold brilliant leadership skills as well.
The 35-year-old included former Sri Lankan skipper Kumar Sangakkara as the main batsman in order to bat at the number three position followed by Sachin Tendulkar at four and AB de Villiers at number five. Afterwards, he picked Jacques Kallis as the main all-rounder in his side.
"Two lefties… obviously great players… very good captains in their own rights. But yeah, otherwise tough opponents whenever we came up against them. Kumar Sangakkara at No.3. He is not the wicket-keeper of the side and that is why he is batting at three," said Siddle.
As per Siddle, the former South African cricketer is a well-established bowler, who has almost the same number of wickets as of Brett Lee. And, there can be no questions raised on his batting skills. He then included the former Indian skipper, MS Dhoni, in his side for the slot of wicketkeeper-batsman.
"I nearly forgot to put this man in the team but Jacques Kallis comes in at No.6. If you are a bowler you will be very happy with his stats. If you are a batter you will still be very happy with his stats. He has got almost the same number of wickets as Brett Lee," Siddle added.
Peter Siddle, who himself was a lethal bowler, picked a fierce bowling trio that comprised of James Anderson, Stuart Broad, and Dale Steyn. Meanwhile, Rangana Herath, the former Sri Lankan spinner was given the responsibility to lead the spin-bowling for the team. The former pacer included Ben Stokes, the prolific all-rounder from England as the 12th man of his team.
Siddle opponent XI: Alastair Cook, Graeme Smith, Kumar Sangakkara, Sachin Tendulkar, AB de Villiers, Jacques Kallis, MS Dhoni, Stuart Broad, Dale Steyn, Rangana Herath, James Anderson. (Ben Stokes as 12th man)