'Play hard or go home' – Yuvraj Singh on being mocked by Harbhajan Singh for wearing a specific t-shirt post 2007 WC exit
Yuvraj Singh recalls a hilarious incident during the 2007 WC; names the funniest cricketers he has played with.
Updated - Jun 10, 2021 2:16 pm
688 Views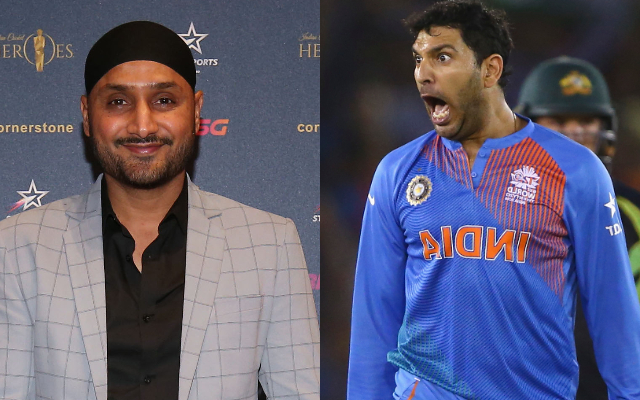 Former India allrounder Yuvraj Singh recalled a funny incident involving his teammate and close friend Harbhajan Singh during the ICC Cricket World Cup 2007. India endured a horrific run in the global event against West Indies as they failed to get past the group stage. The team under Rahul Dravid was heavily criticized and the players had to endure brickbats from the fans for such an embarrassing performance.
Bangladesh stunned India and knocked the Men in Blue out of the tournament. During that time, news had also come regarding the potential rift between head coach Greg Chappell and few members of the team which kind of not helped their cause either.
Recalling an incident while speaking on "22 Yarns with Gaurav Kapur", that occurred during the 2007 World Cup, Yuvraj Singh spoke about how he dealt with the shock result.
"I remember me and Bhajji (Harbhajan Singh) were almost hiding after the 50-over World Cup because we didn't qualify. We were like 'Punjab nahi jaana yaar, chittar khaane hain' (Don't want to go back home to Punjab, we will get a beating). Remember hiding in England and after a while, we went back home. I remember wearing a T-shirt which said 'Play Hard or Go Home' and I was wearing it on the flight. Bhajji asked me to change it because we are going home! 'People will attack you if anyone saw you wearing this t-shirt,' he said," Yuvraj revealed.
Yuvraj Singh reveals the funniest cricketers he has played with
After India were ousted from the global event, players such as MS Dhoni, Virender Sehwag, Dravid's families were not sparred as angry fans attacked their home with stones and burnt their effigies. The former all-rounder explained how the former off-spinner's advice helped him while returning home.
"It made complete sense! Referring to my t-shirt he said 'What Play Hard, you aren't doing that? You are the one Going Home!'. I agreed with him and changed my t-shirt. We then went back to India secretly. It was a tough time, we were getting a lot of flak. But couldn't do anything about it," Yuvraj pondered.
Further, Yuvraj Singh was asked who were the funniest cricketers he played with, the former southpaw answered Ashish Nehra and Harbhajan Singh. Yuvraj also went as far as saying that Nehra would be have been the highest-paid comedian after Jim Carrey if he was not shy in front of the camera.