Players don't endorse BCCI's idea of neutral venues in Ranji Trophy
Updated - Jan 17, 2017 9:26 pm
40 Views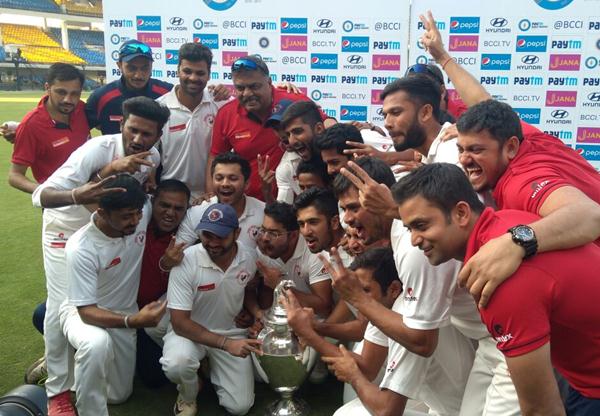 Follow us on Telegram
To make the Ranji Trophy more competitive and remove the concept of home advantage, BCCI had decided to organize matches at neutral venues from the recently concluded 2016-17 season. Teams until the last season used to take utmost advantage of the home conditions and prepared pitches that suited their strengths.
It seemed to be a good initiative early on but after the tournament ended, the top players have opened up about how the move has resulted in a failure due to the disinterest of the host associations. Rajat Bhatia, the all-rounder from Rajasthan team has expressed his displeasure over the decision.
"The idea was good but the implementation was third class. Most host associations did not show interest in organizing matches for other teams. The facilities were poor, be it providing us with good wickets, adequate balls or serving decent food. It could have been handled much better", he was quoted as saying by Indian Express.
"The system was introduced to stop teams from taking undue home advantage with games often finishing inside two days. But the quality did not improve even though games were held at neutral venues", the 37-year-old added."
He cited the game between Rajasthan and Assam which was hugely dominated by fast bowlers and his team won by an innings and 8 runs. The game had finished in three days. He raised questions over the pitch in Vizag where the Test match was to be played between India and England few days after the Ranji game.
"Take our match against Assam in Vizag for example. The wicket was not fit enough for a first-class match and therefore the match was over well inside three days. And it was just two weeks before an international match. The groundsmen did not have much to say when we asked them why we were made to play on such a poor surface," he said.
He also claimed the idea to be a good one if only it was executed better. There is certainly a lot of scope for improvement in the execution of the plans as it was just the first time something of that sort was established.
"I think it was a very good idea especially after you had introduced pink-ball cricket in Duleep Trophy. It was held at a neutral venue (in Greater Noida) but crowd turned up. The BCCI could have done the same with Ranji Trophy. You got to promote it the right way, otherwise, there is little point in doing something new," added Rajat.
Gujarat allrounder Axar Patel raised another concern over the scheduling of the tournament as the games were spread to all parts of the countries and there was limited time between the games which meant the players were traveling for an extensive part.
The left-arm spinner said, "Scheduling was a big problem. Sometimes there was just a three-day gap between games and we had to travel to places which were not easily accessible, which meant we had to spend a lot of time on the road in buses."
The crowds that turned up was very low as compared to last seasons as none of the home players were involved in the games. "What is the point of having matches in places where nobody comes to see us play? At least we had a decent turnout when we were playing at home. I hope we go back to the home and away format next season", the 22-year-old added.
Another top domestic player who showed concerns over the neutral venues is Tamil Nadu skipper, Abhinav Mukund. He was worried about the nature of pitches that was on offer and stated that it is important for teams to play at home.
"No one actually gives a damn about the wickets that are being prepared. Everyone's playing safe, which is why people are scoring more than 1000 runs, and I don't see many spinners coming into play. I don't like this concept mainly because of the fact that there's no continuity. You play throughout the year in one condition,­ it's really important to play at home", he said.
Follow us on Google News