Poonam Yadav- From slaying sexism, overcoming self-doubts to now bamboozling the opposition for fun
Adversity does not faze her one bit; for if it had, she wouldn't have been playing cricket for India.
Updated - Feb 25, 2020 11:37 pm
303 Views
Poonam Yadav's 4-19 broke the back of the Australian batting unit and paved way for a sensational come-from-behind Indian win in the curtain-raiser of the ICC Women's T20 World Cup 2020 in Sydney. 
And, as I write this, I can't help but wonder what would have been had the spunky 28-year-old precocious talent had decided to bow down to the pressures of the society?; what if she had bowed down to the prevalent sexism and to those who ridiculed her for being a girl who had this unrelenting desire to play this beautiful game?; what if her father had not motivated her to keep pursuing her dream when seeds of self-doubt had begun to creep in her mind?
Yadav was coming back from a shoulder injury and initially, she struggled for control in the first over and dished out a number of full-tosses which Alyssa Healy duly dealt with. But, adversity- of greater proportions as compared to this- have always tended to bring out a beast in Poonam. Adversity does not faze her one bit; for if it had, she wouldn't have been playing cricket for India.
What if she had fallen prey to sexism remarks hurled at her during her childhood days?
Poonam Yadav represents every young girl of an obscure rural place in India. Her unrelenting dream was to one day play for her country; she wanted to break stereotypes that have plagued this society that cricket is a man's game and girls do not belong there; she wanted to break this thinking; she wanted to prove that the only prerogative of a girl/women- as decided by the society- isn't limited to just taking care of the house and the family; she wanted to make a name for herself as a torch-bearer for Women's cricket.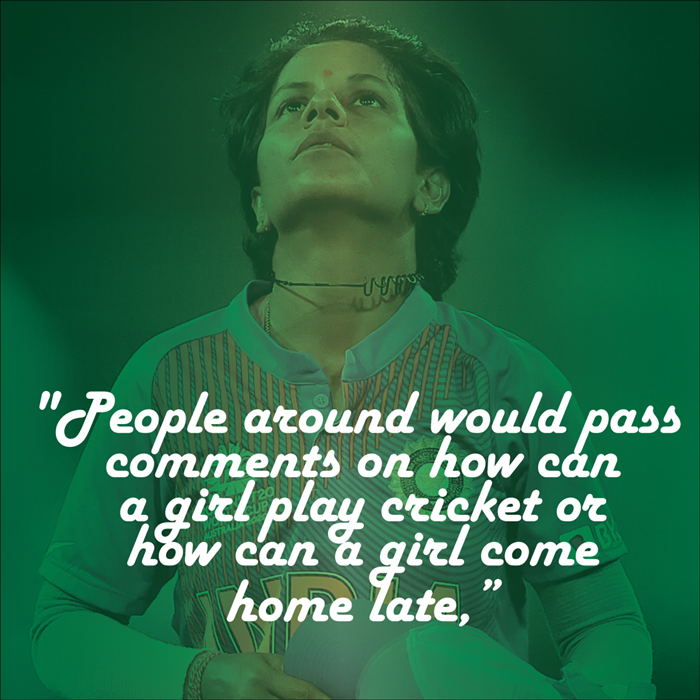 Despite facing constant sexist remarks for being the only girl amidst a group of boys playing cricket; despite being ridiculed for her short height; despite battling constant concerns from her family regarding her safety, Poonam Yadav's ambition and her desire to take up cricket kept growing with every passing day.
Even her father- a retired army officer- was not in favor of a girl playing cricket or pushing towards pursuing her dream. But Poonam didn't relent.
What if her father had not read the note that Poonam had left for him?
Poonam's coach Manoj Kushwaha was one of the major reasons why her father finally relented to her daughter's dream. But, with absolutely no facilities for girls available in her district, Yadav had to move to Agra where she honed her skills at the Eklavya Sports Stadium. It was here where her desire to one day representing her country got a massive fillip when she interacted with senior cricketers like Dayalan Hemalatha.
But, a few years later in 2009-10, Yadav's inconsistent form had begun to take a toll on her mindset; seeds of self-doubt had begun to befuddle her thought-process and to such an extent that she even decided to leave a note for her father- stating her decision to give up her dream of playing cricket.
But, as luck would have it, an year later, her sister-in-law found the note in a book and showed it to her father, and his advice proceeded to give a new lease of life to Yadav's ambitions.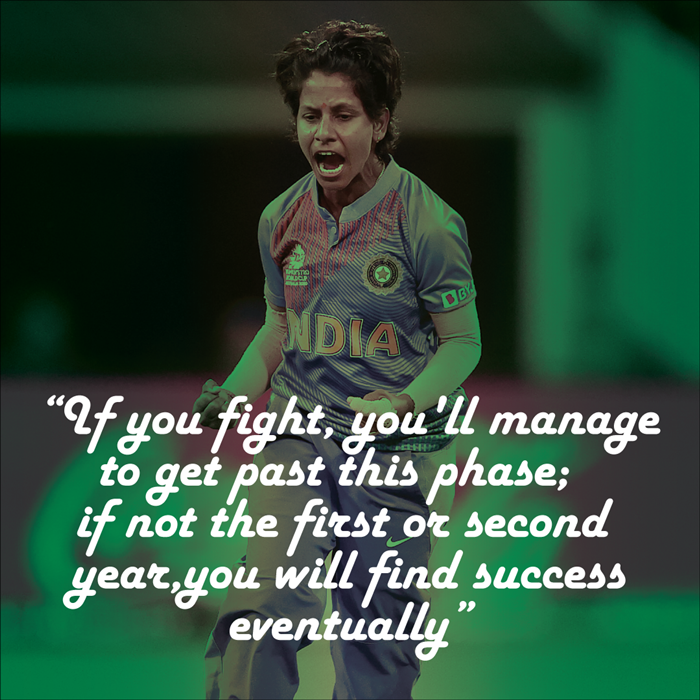 It was these words of wisdom that proved to be a fillip in Poonam's life and three years later in 2013, she made her debut against Bangladesh and hasn't looked back since then.
Emerging as the leader of the spin-attack in the 2017 50-over World Cup to receiving the prestigious Arjuna Award
The Women in Blue reached the finals of the 2017 showpiece event in England and one of the reasons for it- apart from their batting, of-course- was Poonam Yadav, who emerged as the spearhead of their imperious bowling unit. In 9 games at the World Cup, the precociously talented leg-spinner claimed 11 wickets at an average of 26.
She was once again at her best in the last edition of the T20 World Cup where he finished as the leading wicket-taker- 8 wickets in 5 games at an average of 15.75- for India and the joint fourth-highest overall. Poonam is also the leading wicket-taker for India in T20I cricket- 89 wickets in 63 games at an average of 14.23 and a miserly economy of 5.60.
On August 29th, 2019, Yadav became the 11th woman cricketer to be conferred with the prestigious Arjuna Award and as she spearheads India's campaign in the ongoing T20 World Cup, the mind can't help but wonder: What if?