Professor Deano's solution for Sri Lanka batsmen facing 'Branderson'
Updated - Jun 8, 2016 12:47 pm
31 Views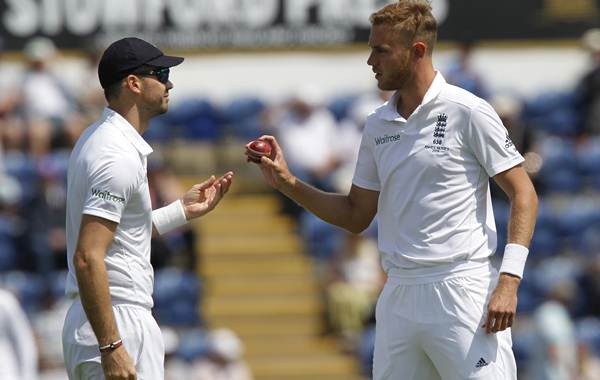 A couple of days back, an interesting Tweet ran across my profile. The scrolling stopped as I glanced at the Tweet. It was former Australian batsman Dean Jones aka Professor Deano. Right then, I realized why everyone had called him Prof. A fan, visibly with the best interests of the Sri Lankan batsmen obviously, had asked the former Aussie why the Lankans found it difficult to face Anderson and Broad aka 'Branderson'.
@ProfDeano Sir why it is so difficult to face Jimmy and Broad in England especially in Test matches

— Vadiraj A.K (@Vadiraj_ak) June 6, 2016
It was a valid question given the circumstances Angelo Mathews and his men had found themselves in. Sri Lanka toured England, brimming with optimism. However, as it, the case with most touring teams, dealing with James Anderson and Stuart Broad can present somewhat of a problem.
However, as Andy Zaltsman said, Sri Lanka played Anderson's and Broad's with the confidence and skill of a watermelon playing piano, and with similar results. Going into the second Test at Durham, Sri Lanka's batting lineup looked fragile, albeit, in the same way, a delicate china vase looks fragile after it has been sat on by a Rhinoceros. At the moment, words cannot describe the Lankan side. Discombobulated? Even that is an understatement.
Batsmen techniques of today are not the same of the past. Big bats, flat tracks.. Have deteriorated some techniques https://t.co/8DOvmXi6fM

— Dean Jones (@ProfDeano) June 6, 2016
The reply from Dean Jones was quite candid, to be honest. Having played in the 80's and 90's Jones suggested that the flatness of the surface in limited overs' cricket has changed some of the batting techniques. Although many of the present generation hasn't seen much of the past players, it certainly gives one something to think about.
In a plethora of highlights packages, it is clear that batting techniques have certainly changed over the years. Of course, it is just a highlights package, something that doesn't tell you the situation. However, it does show you the technique a batsman employs while batting.
Colin Cowdrey, one of the true gentlemen of the game had a short stance and a low backlift. The way he held his bat seemed as though was walking in a park. This would later go on to be termed as 'lazy elegance'. Anything on the pads would be flicked off Cowdrey's sandshoes to the fence. When Colin Cowdrey is put alongside someone like a Virat Kohli or a Kevin Pietersen, the difference in the stance is there for all to see.
Although it cannot be quantified which of the batting stances are better, the flatness of the pitch may well have something to do with it. Now, in Cowdrey's 20-year cricketing career, he has faced the meanest of bowlers on the worst of wickets. And by worst pitches, I mean some of the worst for the batsmen.
In 1974-75, Mike Denness, the England captain at the time invited Cowdrey to come down to Perth to do battle with the Aussies. In spite of stating that he couldn't turn down the challenge, I highly doubt that Mr. Cowdrey had any idea what he was getting himself into. His lazy elegance was simply no match for the raw pace and fire of Jeff Thomson and Dennis Lillee. 'Dad's Army' ran across the front pages of all the heralds and tribunes in Australia.
"Good morning, my name is Cowdrey'. That is perhaps one of the best lines to be used in cricket to this day. Yet, that didn't save him from Thommo, who would have hit him at least a dozen times before dismissing him. He was 41 and had made his first tour of Australia 20 years earlier!
An interesting analogy towards modern day batting is the 'AB de Villiers box'. Although he is nothing like that in the IPL or any T20 tournament for that matter, his approach to batting inside the box is something commendable. Not because it can help in facing both pacers and spinners, but it can be applied to any batsman in the world. In fact, I really don't know a batsman who doesn't use this.
Although Dean Jones has suggested that a 'deterioration' in batting techniques over the years, I don't quite agree with him. Of course, I am no expert, but a deterioration in technique certainly cannot yield the number of runs modern-day batsmen seem to be scoring at the moment.
In the context of the Sri Lanka series, many believe that patience is the key to surviving. Of course, there will be some wickets that fall to the pace and swing of James Anderson and Stuart Broad. However, Kaushal Silva enumerated to one and all that the patient batting approach to the game is something desirable. Dinesh Chandimal's century is another example of using patience to a batsman's advantage. That said, Angelo Mathews and his men will be hoping for the same when they take on each other at Lords on Thursday.