'Proud of him' – Brian Lara backs Virat Kohli's decision to quit RCB captaincy
Virat Kohli's decision to quit RCB's captaincy has come as a surprise to some. He also quit the T20I captaincy of India.
Updated - Sep 20, 2021 1:49 pm
1.6K Views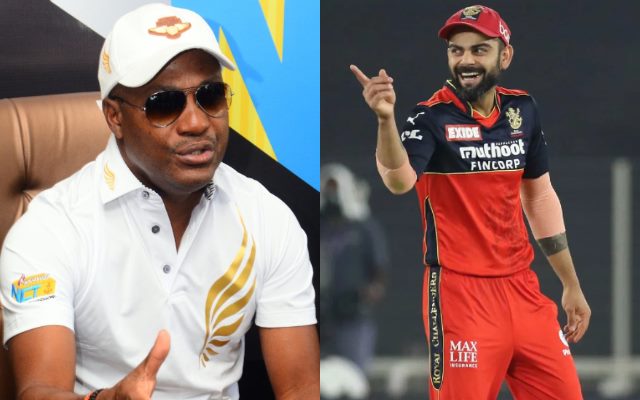 Follow us on Google News
Virat Kohli's decision to leave Royal Challengers Bangalore's captaincy has come as a surprise to some. But some of the other experts have said that once Virat Kohli left the T20I captaincy of the Indian team, it was only about time when he quit the role for his franchise. Meanwhile, former West Indian captain Brian Lara has backed him for his decision. 
While announcing his decision, Kohli explained that he wants to focus on batting and helping RCB win a title. Going by what he already said during his announcement to quit the T20I captaincy, Kohli highlighted that he wants to lead India in Tests and ODI with better focus. Lara appreciated Kohli's decision and the way he delivered it.
"I mean, it's pretty straightforward. He has said it as clearly as possible. He wants to understand his workload and keep committing to the responsibility he has. Very well put together (his statement)," Brian Lara told Star Sports. Lara further noted that captaining and playing in all three formats is pretty difficult because there are three formats now, but during his time it was two. The former legendary batter said it was quite clear to him why Kohli would do such a thing. 
Proud that someone at the height of his career makes this decision: Brian Lara
"I totally understand. It's 3 formats of the game. When you go back, it was just Test cricket and the 50-over format. Now he is playing every format of the time. There has come a time when he feels 'listen, I need to take a step back and maybe focus on Test cricket and the 50-overs format of the game and allow somebody else to take the responsibility (in T20s)'. To me, it's pretty clear," Lara said. 
Kohli's personal batting form hasn't been at its best in recent times. His centuries have dried up and there have been questions raised around the captaincy taking a toll on him. The Delhi-born batter also made a claim that he wants to play for RCB till the time he retires. Lara also noted that he is proud that someone of Kohli's stature could make a decision like this. "Proud of someone who is at the height of his career and makes a decision such as this," Lara added.
Follow us on Telegram