Punjab CM "not in favour" of Navjot Singh Sidhu hugging Pakistan Army chief
Even the BJP has criticised Sidhu for doing that.
Updated - Aug 19, 2018 6:15 pm
924 Views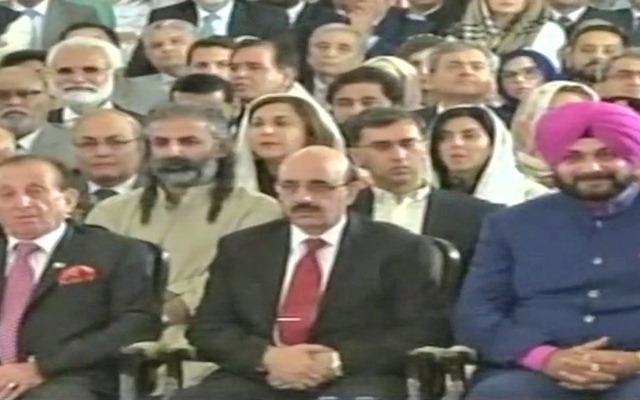 Retired Indian cricketer Navjot Singh Sidhu travelled to Pakistan on an invite to attend the swearing-in ceremony of former Pakistan cricket team captain Imran Khan as the 22nd Prime Minister of the country. Nothing that happens in these two nations can be controversy free and thus Sidhu's stay in Pakistan has also drawn him some flak.
During Imran's oath-taking in the national capital, Islamabad, Navjot Sidhu a minister in the Punjab state government hugged Pakistan Army chief and now the chief minister Amarinder Singh has said that he was "not in favour" of Sidhu doing that. The only Indian cricketer who accepted the invitation to attend the event has been widely criticised for the act even by other political parties.
It was wrong
"It was wrong for him to have shown affection towards the Pakistan army chief," Singh told news agency ANI.
The CM also mentioned that it was a personal invitation from Imran as the two know each other in a personal capacity and it had nothing to do with the government. "As for Sidhu being seated next to the PoK president, maybe he didn't know who he was," Amarinder added.
Earlier Sidhu had sought permission from the central government and was granted a 15-day visa by the Pakistan High Commission.
A video surfaced on social media soon after the swearing-in ceremony and one could see Sidhu there first interacting with Pakistan Army chief General Qamar Javed Bajwa holding hands and then hugged him briefly.
The Bhartiya Janta Party that is an opposition in the Punjab assembly termed it "shameful". "On one side, the Pakistan army is involved in attacking our soldiers at the border, and on the other, Sidhu is hugging the Pakistan army chief. Does this mean he is thanking him for killing our jawans?" asked Punjab BJP chief Shwait Malik.
Sidhu's defence
Sidhu in his defence said: "If you're invited as a guest of honour somewhere, you sit wherever you are asked to. I was sitting somewhere else but they asked me to sit there."
[interaction id="5b796197286232d9a1f41696″]