Quarantine Edition, Part 3: Impact of AB de Villiers over Hashim Amla's ODI career
Where does Hashim Amla stand in the list of all-time greats of ODI cricket?
Updated - Apr 18, 2020 3:56 pm
547 Views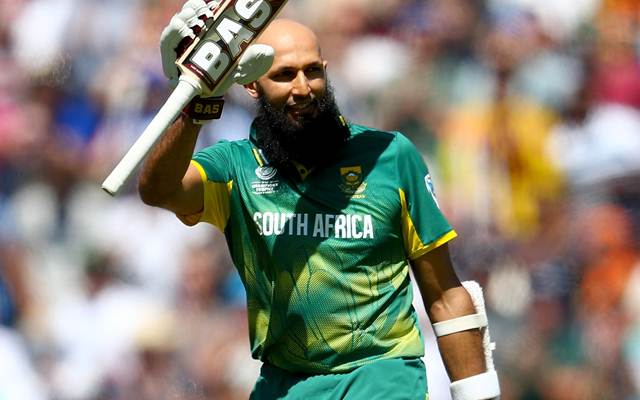 Hashim Amla is widely considered among the top 10 players to have ever played ODI cricket purely based on the records he created. The South African batsman remains as the quickest player to 2000, 3000, 4000, 5000, 6000 and 7000 runs in ODIs. Amla also holds the record for being the fastest to 14th, 15th, 16th, 17th, 18th, 19th, 20th, 21th, 22nd, 23rd, 24th, 25th, 26th and 27th centuries in this format. The impact of those records has helped Amla in masking many flaws through his 11-year long ODI career which he try to make a note in our Quarantine Edition.
One of the flaws was being less dominant while chasing unlike most of the top-order batsmen during his time. Hashim aggregated 2974 runs at an average of 41.3 in 79 innings while chasing. However, he scored 5139 runs in 99 innings while batting first which is nearly 2200 runs in 20 innings above his record batting second. As many as 17 players scored over 2500 runs while chasing since the start of 2008 (Amla's ODI debut year). But only Mohammad Hafeez (32.33) and Tamim Iqbal (35.96) have lower averages than Amla.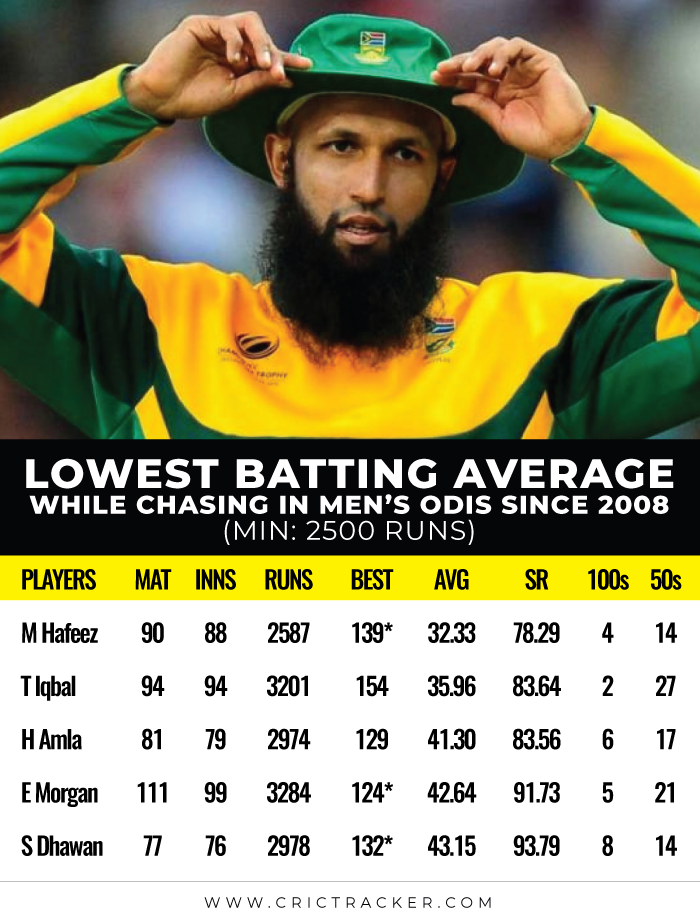 The major factor for his success while batting first could be due to less pressure of run rate. Amla, who mostly plays anchor role, has got the advantage of AB de Villiers batting in the middle-order. De Villiers, who is probably the greatest middle-order batsman in ODI cricket, has often helped South Africa add a ridiculous number of runs at the backend. Amla struck 21 centuries while batting first out in ODIs of which 19 came while AB de Villiers was in the playing XI and all those 19 tons resulting in victories.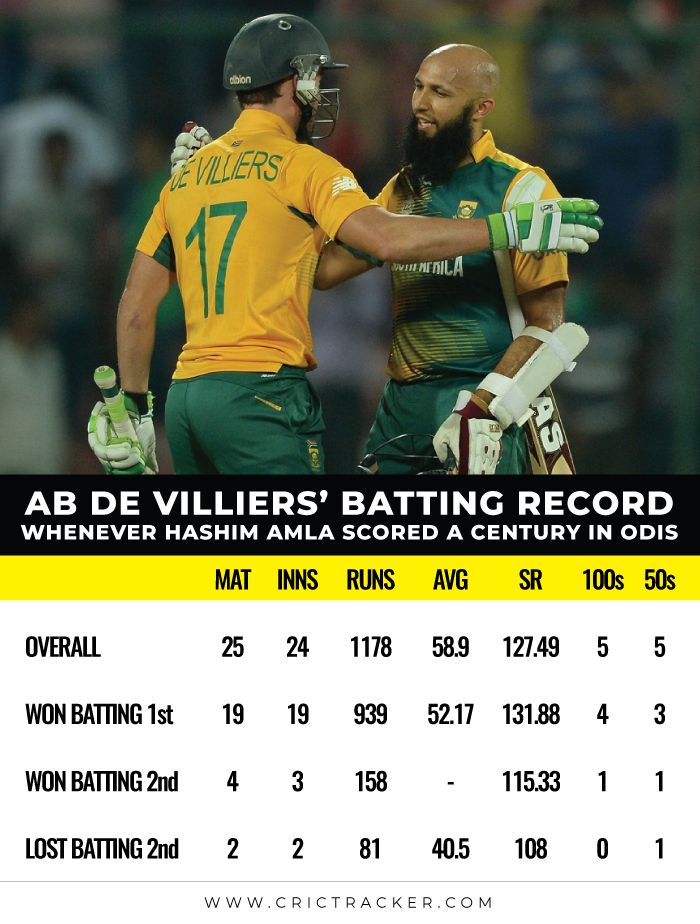 De Villiers scored runs a strike rate of over in those 19 ODIs when Amla got a hundred batting first. He aggregated nearly 1000 runs with the help of four hundreds and five fifties. In overall, the duo player 146 ODIs together in which Amla scored 7007 runs at an impressive average of 53.08. However, he got only 1106 runs at 34.56 in the 35 ODIs when De Villiers was not part of the XI. One could argue that most of those matches without De Villiers in the XI were towards the fag end of Amla's career.
But Amla's hundred against Pakistan in his last year does prove a point or two about ABD's impact. South Africa were 232/1 after 45 overs during the Port Elizabeth ODI at the start of 2019. Amla was batting on 93 from 106 balls at that stage which is a regular knock by the South African opener. Had it been AB de Villiers at one end, he could have seen the Proteas to 280 at least. However, in his absence, the hosts managed to finish with only 266/2; a total which was chased down with 5 balls to spare.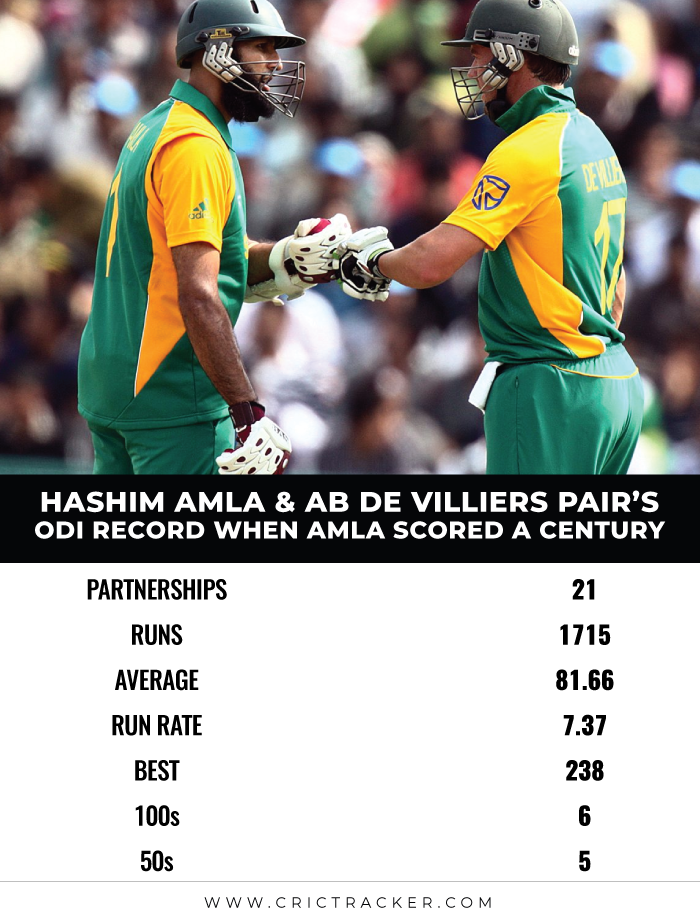 The ton was only time South Africa lost when Amla scored a century while batting first. The first 20 ODI tons during the first innings by Amla resulted in victories for his team. Another hole in Hashim Amla's ODI career is his performances during the ICC ODI events. Across the 25 matches against top 9 teams in ODI CWC and Champions Trophy, Amla scored only 809 runs an average of 33.7 and has got a strike rate below 80. He managed to score only one hundred which came against Sri Lanka in 2017 CT.
Amla did score a couple of tons in the ODI World Cups: vs Netherlands (2011) and vs Ireland (2015); both being associates at that time. In the respective editions, Netherlands and Irelands teams conceded 300+ totals more times than any other team. South Africa won both matches by huge margin 200+ runs. It is fair to say Amla is one of the best even ODI batsmen for the records he created. But his numbers in ICC events and the chasing record itself doesn't make a case of him being among the all-time ODI greats.