Quiz: How well did you follow Mumbai Indians in IPL history?
Test out your luck of following the MI team in IPL history.
Updated - Mar 25, 2021 4:22 pm
2.8K Views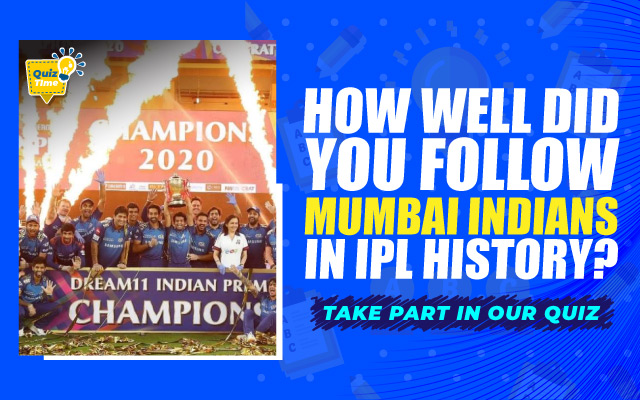 Mumbai Indians is easily the most successful team in IPL history. Their performance particularly in the last few years has been a very dominant one. Mumbai were the champions in IPL 2019 as well as 2020, and have won 5 trophies since 2013. They did not give an inch to the oppositions particularly in the last season where they were table-toppers at the end of the league stage. They won qualifier 1 and the final quite comfortably with both wins coming against Delhi Capitals.
Founded in 2008, the team is owned by Reliance Industries, through its cent per cent subsidiary IndiaWin Sports. Since the inaugural season, the team has played its home matches at Wankhede Stadium, Mumbai. In the first season, icon player status was assigned to five players and Sachin Tendulkar became part of Mumbai Indians with this status. The purpose behind assigning icon players was to make sure that the top players represented their respective city sides and increase fan support and interest among the locals.
Mumbai was led by Sachin Tendulkar in the first season where they ended up at the fifth spot in the league stage. They later degraded to the seventh spot in the next IPL. Finally in the IPL 2010, Mumbai had a massive improvement in their performance and played the final where they lost against CSK. The team got the third spot in IPL 2011 season.
In IPL 2012, Sachin Tendulkar said he would not lead the side, and Harbhajan Singh was made the skipper. Mumbai lost to CSK in the eliminator this year. For IPL 2013, MI bought Ricky Ponting in the auction and appointed him as the captain. However, Ponting failed to score runs with the bat and gave the captaincy reigns to Rohit Sharma midseason. Rohit led the team to the title this season beating Chennai Super Kings in the final.
Mumbai, later on, went on to win the title in 2015, 2017, 2019 and 2020 under the captaincy of Rohit Sharma. Since 2010, they have failed to qualify for the playoffs only 2 times in 2016 and 2018. One of the major reasons for their consistent performance is their core group of players. Star players like Rohit Sharma, Hardik Pandya, Krunal Pandya and Jasprit Bumrah have played a crucial role in their dominant show in recent years.
Test out your luck of following the MI team in IPL history!
If the quiz is not loading, click here
Follow us on Telegram