Rahul Dravid on Cricket's oral traditions
Updated - Sep 12, 2014 5:49 pm
26 Views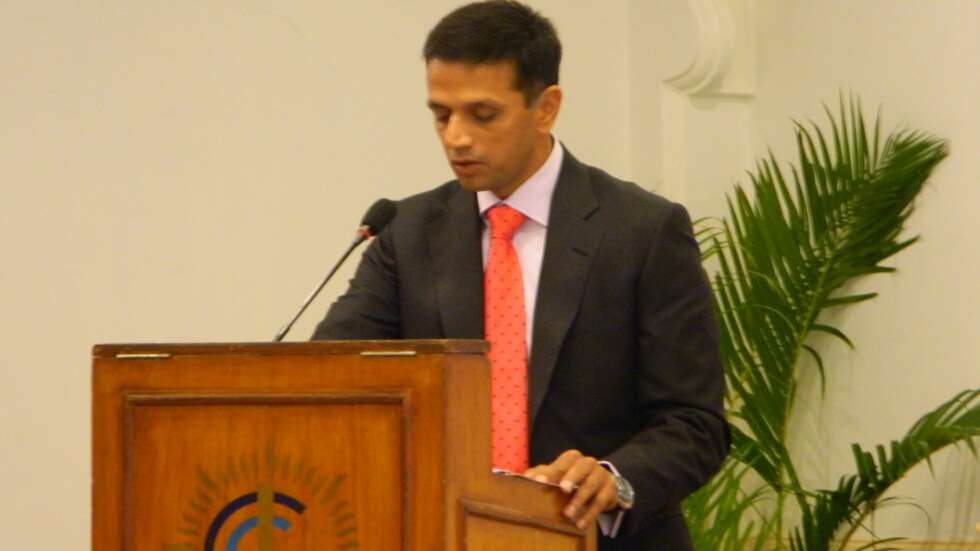 Follow us on Telegram
Rahul Dravid who is undoubtedly one of the greatest ambassadors of Cricket, a true Gentle Man in all sense. Speaking as a guest at the Dilip Sardesai memorial lecture at the Cricket Club of India to a crowd with mix of former cricketers, guests and the media. Dravid said, "All I know of Dilip Sardesai is through stories that I have heard of him. His partnerships with Eknath Solkar, him once kicking the ball to the boundary when he saw the batsmen were ready for the fifth run."
The lectures are being organized every year for six years now in memory of Dilip Sardesai a former Indian test player. Former captains and players Sunil Gavaskar, Kapil Dev, Sourav Ganguly and Ravi Shastri have delivered lectures in the past. Sardesai who is a re-known in the cricketing universe for his contribution to Indian cricket, helping the team do well in England and West Indies. Sardesai had played a key role in India's first ever test win in the West Indies way back in 1970-71 during which he hit a double ton and scored 642 runs. However, he is remembered as the architect of India's first Test series win in West Indies in 1970-71 scoring 642 runs.
On the oral traditions of cricket Dravid said, "My fathers' passion for cricket has brought me here, when I was small he took me to watch cricket and told me stories of players he had heard of. He told me of the 776 runs including 4 hundred's Sunil Gavaskar had scored in the West Indies. By all that he shared with me his love for cricket."
"My coach late Mr. K. K Tarapore who was a mentor to me even before the word mentor got popular. While I was still in school he took me under his wings. Tarapore sir was very particular about punctuality, also a player's freedom to express himself. Often he would pass on his experiences with me and helped me a lot growing more as a human than just a cricketer." Said Rahul
Rahul was reading a precisely written speech which was the first time a guest speaker had turned up with a prepared lecture which Dilip's son and re-known journalist Rajdeep Sardesai informed the audience. "There are many instances of me gaining so much of experience and knowledge form the oral traditions of cricket. This to me is also similar to the Guru-shishya parampara (teacher student relation). My Karnataka skipper Sayed Kirmani, Rogger Binny also his younger one Stuart Binny, Anil Kumble, Jawagal Sreenath have all taught me something or the other by transferring their knowledge and instances with me." Added Rahul
Starting it from there he brought it to present day crediting IPL for helping players get in touch with international, foreign players. He said, "IPL has helped a lot, it gives Indian players watch foreign cricketers, talk to them, share expertise, pick up their mind. In particular with the Rajasthan Royals set-up I have seen players like Ajinkya Rahane, Praveen Tambe develop as cricketers sharing thoughts with the likes of Shane Watson, James Faulkner and also keenly talk to me about all the aspects of the game."
I myself have huge faith and belief in the oral traditions of cricket myself; I consider it a great source of gaining knowledge. I talked to opposition batsmen on how they practiced and tactics to play in the conditions. Also took advice on taking slip catches from them." This is how Rahul ended his speech and walked back to his chair smiling to the applause of the over joyed guests.
Follow us on Google News