Ranji Trophy 2015-16: Quarter-final round up
Updated - Feb 7, 2016 2:33 pm
20 Views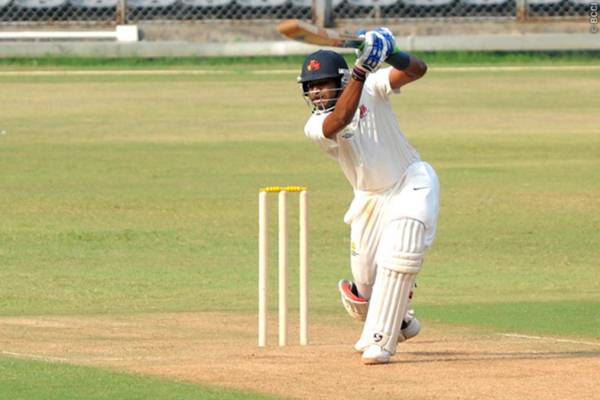 Follow us on Telegram
The Ranji Trophy has now reached its knockout stages. Bengal, Madhya Pradesh, Mumbai, Jharkhand, Punjab, Assam, Vidarbha and Saurashtra had advanced from the group stages which concluded on 1st December, to the quarter-final. The matches were exciting and teams registered massive victories. Saurashtra, Assam, Mumbai and Madhya Pradesh surged to the semi-finals after registering comprehensive wins in their respective games. The semi-final will start on February 13th.
Saurashtra maul Vidarbha, defeat them by innings and 85 runs:
Saurashtra won the toss and asked Vidarbha to bat first at the ACA sports complex, Vizianagaram. The decision paid off for as the bowling attack led by Jaydev Unadkat (5/70) bundled them out for just 151 runs in the first innings. In reply, Saurashtra posted 375 with the help of centuries from Sagar Jogiyani (130) and Sheldon Jackson (122). Vidarbha continued its lackluster performance in the match after they were once again bowled out for a paltry 139 runs. Jaydev Unadkat was yet the top performer for his team, helping them win by an innings and 85 runs. Vidarbha had done quite well to reach this stage but failed to compete against Saurashtra.
Brief Scores:
1st Innings
Vidarbha – 157 all out (Wasim Jaffer 41; Jaydev Unadkat 5/70)
Saurashtra – 375 all out (Sagar Jogiyani 130; Umesh Yadav 5/81)
2nd Innings
Vidarbha – 139 (Wasim Jaffer 48; Jaydev Unadkat 4/35)
Man of the Match: Jaydev Unadkat (Saurashtra)
Assam overcomes the Punjab challenge:
Assam and Punjab played out an intense contest where the momentum kept shifting from one side to the other. The Assam side was sent into bat first by Punjab. They got off to a decent start and put up a competitive 323 in the first innings. Punjab, in reply, were very dismal and could accumulate only 137 runs, giving away 186 runs lead to the bowling team. However, the determined Punjab bowlers then displayed a great bowling performance and wrapped up Assam for just 101 runs. Barinder Sran (5/43) and Siddharth Kaul (4/25) were the chief tormentors for the batting team. This made the match wide open with both teams having almost equal chance to win the game. But, as it happened, Arup Das (8/83) wrecked the Punjab batting line-up and dismissed them for 236, enabling Assam to win the game by 51 runs and advance into the semi-final.
Brief Scores:
1st Innings
Assam: 323 all out (Syed Mohammad 121; S Kaul 4/99)
Punjab: 137 all out (Mayank Siddana 80; Arup Das 3/41)
2nd Innings
Assam: 101 all out (Arup Das 31; Barinder Sran 5/43)
Punjab: 236 all out (Gurkeerat Mann 64; Arup Das 8/83)
Man of the Match: Arup Das (Assam)
Mumbai crushes Jharkhand by a huge margin:
Mumbai displayed a totally commanding victory over Jharkhand. The Jharkhand team simply could not withstand the powerful performance by Mumbai. Akhil Herwadkar (117) hit a fluent century to take Mumbai to 416 batting first. Jharkhand in reply could only muster 172 and gave away a huge lead to the 40-time champions. Mumbai then added on 245 runs n the third innings to set a total of 486 runs to chase for Jharkhand. However, Jharkhand was given no chance compete as Iqbal Abdullah (5/35) and G Bista (5/16) dismantled their batting line-up and bowled the out cheaply for 94 runs. Thus, Mumbai secured a massive 395 runs win and went one step closer from winning the title.
Brief Scores:
1st Innings:
Mumbai: 416 all out (Herwadkar 107; Nadeem 5/140)
Jharkhand: 172 all out (K Singh 43; Herwadkar 3/26)
2nd Innings:
Mumbai: 245 all out (Iyer 81; Quadri 5/62)
Jharkhand: 94 all out (Virat Singh 26; JG Bista 5/16)
Man of the Match: Akhil Herwadkar (Mumbai)
Madhya Pradesh defeats Bengal by 355 runs
Madhya Pradesh knocked out Bengal out of the Ranji Trophy after they beat them by a thumping 355 runs margin. Bengal won the toss and chose to bat first. Collective efforts by middle order batsmen Naman Ojha (64), Devendra Bundela (58), HP Bhatia (51) helped Madhya Pradesh post 348 runs in the first innings. Bengal was under par in reply and got toppled for just 121 runs by MP bowlers led by Ishwar Pandey (4/45). Puneet Datey (3/30) and C Sakure (3/38) were also equally effective. The MP side showed a much better batting performance in the third innings and went on to post a massive 560/9d on the scoreboard. Rajat Patidar (137) and HP Singh (139) struck brilliant centuries to aid MP reach a big total. Bengal had a mountain of runs to climb. They tried their best and showed a very batting show in the last innings. However, all their effort weren't enough as they could manage only 432 in front of the nearly impossible 787 runs target which was required to win for them.
1st Innings
Madhya Pradesh: 348 all out (N Ojha 64; V Singh 5/76)
Bengal: 121 all out (AR Eswaran 48; I Pandey 4/45)
2nd Innings:
Madhya Pradesh: 560/9d (HP Bhatia 139; V Singh 2/94)
Bengal: 432 all out (M Tiwary 124; I Pandey 4/93)
Man of the Match: Ishwar Pandey (Madhya Pradesh)
Follow us on Google News