Ranji Trophy 2016-17, Round 2, Day 3 – Review
Updated - Oct 15, 2016 1:02 pm
60 Views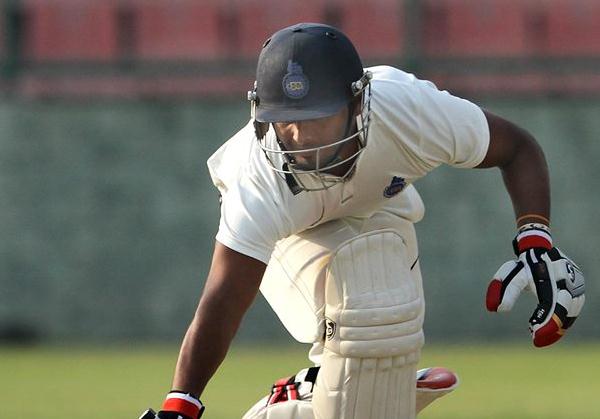 Follow us on Google News
The day 2 of the round 2 of Ranji Trophy 2016-17 belonged to the Maharashtra batsmen. Maharashtra skipper Swapnil Gugale and middle-order batsman Ankeet Bawane broke a 69-year-old record to create the highest partnership in Ranji Trophy history. The partnership was an unbeaten 594 – the second highest ever in first-class cricket. The day 3 of the tournament saw the bowlers making all the headlines.
Rajasthan pacers Pankaj Singh and Aniket Choudhary accounted for as many as 9 wickets to bundle out Assam for a paltry 69. Just the two bowlers used, and Rajasthan won the game by an innings and 8 runs. In the match between Kerala and Himachal Pradesh, Jalaj Saxena's five-for for against Kerala went in vain. Their batsmen let them down. Pacer Gurvinder Singh scalped 5/37 to restrict Kerala to 115 in their 2nd innings. HP batsmen achieved the target of 103 with 6 wickets in hand by the end of day's play.
Goa were let down by their dismal show in the first innings against Jammu and Kashmir. They managed to score 293 in their 2nd innings after being bowled out for 77 in the first. Eventually, they fell short by 118 runs as Parvez Rasool bagged the honors with 5/89 and the Man of the Match award. In response to Maharashtra's run rally of 635 runs, Delhi look good to settle for a draw with Rishabh Pant leading the fightback with an unbeaten 155.
Playing against Saurashtra, Odisha looked like taking at least a 300+ target but Deepak Punia dismantled the opposition's lower order inside 6 overs after Lunch. Deepak picked up his maiden first-class 5-fer. He picked up the last 3 wickets of Odisha in space of 4 balls. Odisha were bowled out for 169 with Subhransu Senapati top scoring with 57. By the end of the day, the match is equally poised with Saurashtra needing 107 more runs to win with 5 wickets in hand.
Among the other performers of the day, Tripura batsmen U Bose and Smit Patel struck timely centuries. Hyderabad's Mehdi Hasan bagged 6/93 against Haryana. Punjab's Manpreet Grewal picked up 6/36 against Madhya Pradesh.
Here is the round-up of all the matches in round 2 of Ranji Trophy 2016-17:
Group A
Railways v Tamil Nadu
Brief Scores: Railways need 331 runs to win
Tamil Nadu 121/10 in 42.2 overs (Rangarajan 36*, A Mukund 22, D Bansal 4/48, M Singh 3/31)
Railways 173/10 in 64 overs (Devdhar 47, Ghosh 46, Natarajan 4/51, Vignesh 2/31)
Tamil Nadu 452/8 decl.  in 132 overs (D Karthik 163, A Mukund 100, K Sharma 4/109,M Chaudhary 2/80)
Railways 70/0 in 25 overs (Wakaskar 44*, Shukla 26*)
Uttar Pradesh v Bengal
Brief Scores: Bengal lead by 86 runs
Bengal 466/10 in 139.2 overs (Easwaran 142, Tiwary 110, Kuldeep Yadav 5/115, Rajpoot 4/119)
Uttar Pradesh 410/10 in 112.4 overs (U Sharma 136, S khan 85, Gani 3/72Dinda 2/97)
Bengal 30/0 in 11 overs (Easwaran 21, Mondal 9)
Madhya Pradesh v Punjab
Brief Scores: Madhya Pradesh need 281 runs
Punjab 378/10 in 108.2 overs (Yuvraj 177, Gurkeerat 103, I Pandey 8/102, G Yadav 1/90)
Madhya Pradesh 247/10 in 87 overs (S Sharma 53, A Shrivastava 36, M Grewal 6/36, S Gill 2/77)
Punjab 175/9 decl. in 51.3 overs (Yuvraj 76, T Kohli 35, I Pandey 3/25, Sakure 2/39)
Madhya Pradesh 26/1 in 7.3 overs (Raghav 16, Shrivastava 2*, Gill 1/1)
Mumbai v Baroda
Brief Scores: Baroda lead by 303 runs
Baroda 305/10 in 86.1 overs (P Shah 66, D Hooda 46, Gohil 3/70, Thakur 2/82)
Mumbai 323/10 in 92.5 overs (Herwadkar 106, B Sandhu 64, I Pathan 3/30, Mangalorkar 3/75)
Baroda 321/5 in 86 overs (Devdhar 145, Hooda 66*, Deshpande 2/39, Herwadkar 1/33)
Group B
Maharashtra v Delhi
Brief Scores: Delhi trail by 259 runs
Maharashtra 635/2 in 173 overs (Gugale 351*, Bawne 258*, Navdeep Saini 2/44)
Delhi 376/5 in 94.2 overs (Pant 155*, Shorey 71, Sayyad 3/73, Mundhe 1/59)
Rajasthan v Assam
Brief Scores: Rajasthan WON by an Innings and 8 runs
Assam 195/10 in 84.2 overs (R Das 93*, P Das 40, P Singh 5/39, Nathu Singh 2/40)
Rajasthan 272/10 in 105.4 overs (Lomror 89, Menaria 44, A Das 4/53, K Das 3/50)
Assam 69/10 in 20.2 overs (R Das 16, A Das 14, A Choudhary 5/35, P Singh 4/26)
Jharkhand v Karnataka
Brief Scores: Jharkhand trail by 268 runs
Karnataka 577/6 decl in 172 overs (R Samarth 235, Binny 97, A Kumar 3/78, Nadeem 2/199)
Jharkhand 309/6 in 96 overs (Kishan 118*, S Tiwary 91, Mithun 2/54, Binny 1/48)
Odisha v Saurashtra
Brief Scores: Saurashtra need 107 runs to win
Odisha 228/10 in 80.5 overs (S Pattnaik 123, Poddar 21, D Jadeja 4/67, D Punia 2/36)
Saurashtra 186/10 in 67.3 overs (J Shah 64, C Jani 45, B Mohanty 4/58, S Pradhan 3/37)
Odisha 169/10 in 64.4 overs (Senapati 57, A Sarangi 32, Punia 5/39, Unadkat 3/40)
Saurashtra 96/5 in 52 overs (Jackson 43, Jogiyani 42*, D Singh 2/6, Pradhan 2/43)
Group C
Tripura v Services
Brief Scores: Tripura lead by 322 runs
Tripura 275/10 in 91.4 overs (B Ghosh 49, Y Singh 41, M Khalid 4/61, Pathania 3/71)
Services 233/10 in 82.5 overs (SU Yadav 101*, Pathania 34, R Datta 3/48, Mura Singh 3/58)
Tripura 280/1 in 79 overs (U Bose 152*, S Patel 104*, Pathania 1/37)
Andhra v Chhattisgarh
Brief Scores: Andhra trail by 73 runs
Chhattisgarh 394/10 in 126.4 overs (Khare 143, A Chauhan 123, Siva Kumar 4/61, Stephen 2/69)
Andhra 199/10 in 73.2 overs (P Kumar 62, Ravi Teja 30, P Rao 4/70, A Chauhan 2/39)
Andhra 122/4 in 65 overs (Bharat 57, Vihari 29*, A Mandal 2/19, Chauhan 1/7)
Goa v Jammu & Kashmir
Brief Scores: Jammu Kashmir WON by 118 runs
Jammu & Kashmir 227/10 in 70.3 overs (Rasool 82, ID Singh 67, Jakati 4/48, Yadav 3/43)
Goa  77/10 in 30.5 overs (Asnodkar 18, Kamat 16, Dayal 4/15, Nazir 3/10)
Jammu & Kashmir 261/10 in 61.3 overs (P Bisht 87, I Chauhan 64, Pandrekar 3/39, A Yadav 3/70)
Goa  293/10 in 92.1 overs (Dubhashi 78, Asnodkar 47, Rasool 5/89, Aziz 2/60)
Kerala v Himachal Pradesh
Brief Scores: Himachal Pradesh WON by 6 Wickets
Kerala 248/10 in 107.1 overs (Baby 60, Samson 47, R Dhawan 4/66, G Singh 2/42)
Himachal Pradesh 261/10 in 75.1 overs (P Chopra 60, S Verma 50*, Jalaj Saxena 5/76, Kareparambil 2/35)
Kerala 115/10 in 44.5 overs (G Singh 5/37, M Dagar 3/25)
Himachal Pradesh 103/4 in 25 overs (Dogra 27*, Chopra 21, Kareperambil 3/31, Warrier 1/17)
Hyderabad v Haryana
Brief Scores: Hyderabad trail by 38 runs
Hyderabad 191/10 in 82.5 overs (B Sandeep 44, Sumanth 35, Chahal 6/44, Pahal 2/31)
Haryana 331/10 in 130.4 overs (Bishnoi 73, N Saini 61, Hasan 6/93, M Siraj 3/50)
Hyderabad 102/5 in 46.3 overs (Anirudh 33, Kolla 19, Chahal 2/15, Pahal 2/23)
Follow us on Telegram