Ranji Trophy 2016-17: Round 9, Day 2 Review
Updated - Dec 8, 2016 2:54 pm
44 Views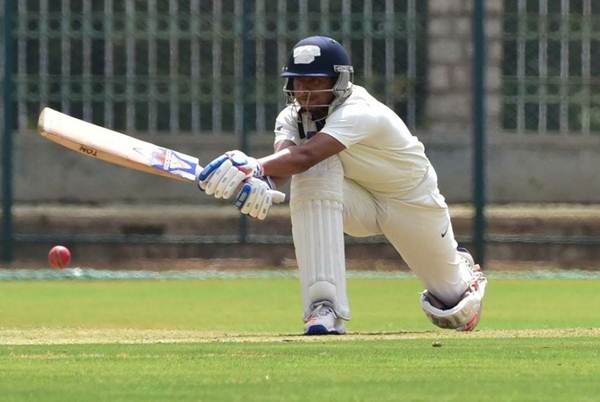 Ranji Trophy 2016-17 is moving towards the business end, with the quarter-finals round the corner, all teams are keen on beefing up their strengths. Yet another round of Ranji Trophy began yesterday. It was a close game between ball and bat on the day 2. Despite the close contest between ball and the bat, the scores at the end of day 2 suggest the dominance of batters with many centurions on the day.
Smit Patel scored a fighting century as Tripura bundled out for 178 against Haryana. Haryana, in their second innings, look strong at 186/4 kudos to a ton by Nitin Saini. Mayank Sidhana's 115 propelled Punjab to a mammoth total of 468 in the first innings against Mumbai. In the match against Baroda, UP tail enders Kuldeep Yadav and Saurabh Kumar scored tons. Baroda in response batted well with K Devdhar batting on unbeaten 120.
Shreevats Goswami was the star of the day with an unbeaten 225 for Bengal. Kushang Patel bagged 5/72 for Saurashtra against Delhi to restrict Delhi to 237. K Parmar scored an unbeaten ton for Saurashtra in response after that. Tanveer Ul-Haq's 6 wicket haul for Rajasthan against Vidarbha saw the latter being bundled out for just 116. Twin tons from Goa batsmen Sagun Kamat and Misal saw Goa post 380 against Himachal Pradesh. P Chopra led the fightback for HP with a solid unbeaten 144.
Samiullah Beigh bagged 5/94 for Jammu and Kashmir after Amandeep Khare scored 106 for Chhattisgarh. Anshul Gupta led from the front with a 105 for Services against Kerala. Here are the scores at the end of day two of the current round of Ranji Trophy 2016-17:
Brief Scores:
Tripura v Haryana – Haryana lead by 239 runs
Haryana 231/10 (Bishnoi 52, Tewatia 35, Murasingh 3/52, Majumder 3/53)
Tripura 178/10 (Smit Patel 102, B Ghosh 36, Harshal Patel 5/27, Tewatia 2/10)
Haryana 186/4 (Nitin Saina 104, Rohilla 47, B Roy 2/25)
Punjab v Mumbai – Mumbai Trail by 460 runs
Punjab 468/10 (Sidhana 115, U Kaul 86, S Yadav 4/47, Shardul 2/44)
Mumbai 8/2
Baroda v Uttar Pradesh – Baroda trail by 239 runs
Uttar Pradesh 481/10 (Kuldeep 117, S Kumar 105, Mangalorkar 3/89, B Pathan 3/116)
Baroda 242/5 (Devdhar 120*, Irfan 51*, I Ahmed 3/58)
Madhya Pradesh v Bengal – MP trail by 456 runs
Bengal 475/9 (Goswami 225*, Easwaran 80, Datey 4/105, Sakure 3/105)
Madhya Pradesh 19/1
Tamil Nadu v Gujarat – TN trail by 153 runs
Gujarat 307/10 (Panchal 113, Axar 44, Natarajan 3/86)
Tamil Nadu 154/2 (A Mukund 99, Kalaria 2/34)
Saurashtra v Delhi – Saurashtra lead by 89 runs
Saurashtra 92/10 (Mankad 33, Snell 26, Sangwan 4/25, Narwal 4/27)
Delhi 237/10 (Sangwan 75, Pant 40, Kushang Patel 5/72)
Saurashtra 234/5 (Parmar 141*, Jackson 40, Rana 2/20)
(Shikhar Dhawan & Gautam Gambhir scored 16 runs each)
Maharashtra v Karnataka – Karnataka lead by 150 runs
Maharashtra 163/10 (Motwani 32, Gugale 25, Vinay Kumar 5/46, Aravind 2/32)
Karnataka 313/9 (Deshpande 70, Samarth 64, Sanklecha 3/69)
Vidarbha v Rajasthan – Rajasthan lead by 34 runs
Rajasthan 140/10 (MN Singh 27, R Bhatia 26, Sarwate 3/22, Wagh 2/23)
Vidarbha 116/10 (Wath 50, Tanveer Ul-Haq 6/21, P Singh 3/52)
Rajasthan 10/0
Hyderabad v Andhra – Hyderabad trail by 109 runs
Andhra 190/10 (Manyala 63, Hebbar 52, Milind 5/28, R Kiran 4/33)
Hyderabad 81/5 (Anirudh 26*, Vijaykumar 2/18)
Himachal Pradesh v Goa – HP trail by 126 runs
Goa 380/10 (Misal 106, Kamat 104, A Chauhan 3/80)
HP 254/2 (P Chopra 144*, Sumeet Verma 70, Pandrekar 1/70)
Chhattisgarh v Jammu and Kashmir – JK trail by 337 runs
Chhattisgarh 370/10 (Khare 106, Mandal 74, Beigh 5/94, Sofi 3/44)
JK 33/2
Kerala v Services – Kerala trail by 291 runs
Services 322/10 (A Gupta 104, GR Singh 71, Ashraf 4/60)
Kerala 31/1