Ranji Trophy 2017-18, Round 2 – Day 3 Review
Himachal crossed the 500 mark in their first innings with ease and needed a good finish. In came Pankaj Jaiswal at number 9 and spanked 63 off just 20 balls.
Updated - Oct 16, 2017 7:24 pm
979 Views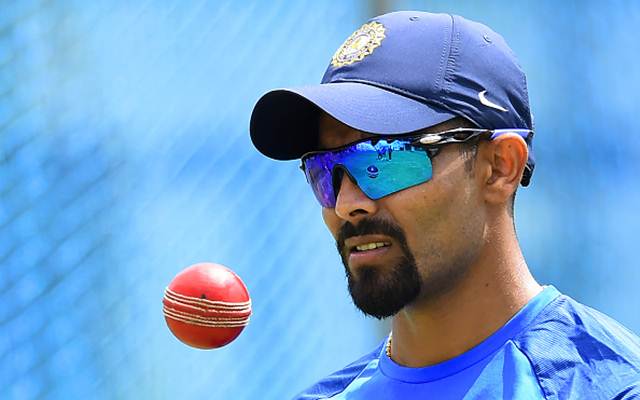 The second round of this year's Ranji Trophy hit the penultimate day and Saurashtra and Vidharbha have registered comprehensive victories. Vidarbha won their game quite convincingly against a strong Punjabi unit and after Ravindra Jadeja scored a double ton on day 2, he picked up 7 wickets in the match to help Saurashtra win the game by an innings and 212 runs.
Defending champions Gujarat are on the verge of completing a simple win on the final day. After gaining a 99-run first innings lead, Kerala got bowled out for 203 in their second innings. Chasing down the 105-run target, they've lost their first wicket and scored 22 runs on board.
Delhi is another team which looks all set to dismantle their opponents on day 4. After posting 447 on day 1, they bowled Railways out for a paltry 136 runs, enforcing a follow-on. Currently, they have 157 runs on the board and trail by 154 runs. Given nothing miraculous happens, Delhi should pick up the final four wickets soon and earn the bonus point.
Unfortunately for Tamil Nadu, they might've missed out on a golden opportunity to register a win. Rain halted the day's play in Chennai and only 8 overs of play was possible. It was an eventful little session in the end as Tamil Nadu lost two wickets in this short span and finished day 3 on 357 for the loss of 4.
Hyderabad – Yet to get on the field
What can be worst than sitting out in the green room and waiting ages for an opportunity to get on the field? Well, Hyderabad is currently being suffering a similar fate as adverse weather conditions in their city hasn't allowed any cricket since the commencement of the tournament. Technically, its been 7 days in the tournament and they didn't get on even for the toss.
Mumbai fought their way hard to gain 6-run first innings lead in the game against Madhya Pradesh. Suryakumar Yadav and his men put on a solid show on day 3 as they somehow crawled towards the 415 run mark, losing 8 wickets. Jay Gokul Bista scored 135 off 140 balls, whilst skipper Suryakumar missed out on a well deserved hundred (91 off 149 balls).
On of the most brilliant moments in the day came in the game against Himachal Pradesh and Goa. With centuries from Ankush Bains and Nikhil Ganta, Himachal crossed the 500 mark with ease and needed a good finish. In came Pankaj Jaiswal at number 9 and spanked 63 off just 20 balls, including 7 sixes and 4 fours. Himachal finished at 625/7 and in reply, Goa scored 131 without losing any wicket.
Bengal needs 5 more wickets on the final day and they have 190 runs to trade with for the bonus point. Manoj Tiwary's troops will definitely want to wrap this up as soon as possible as they have managed to reduce their opponents to 229/5 in their second innings, after managing to bowl them out for 110 in the first innings and enforcing follow-on.
Brief Scores
Chattisgarh v Bengal
Bengal first innings: 529/7 declared in 147.3 overs
Chattisgarh first innings: 110 all out in 39.5 overs (Ashok Dinda 7/21)
Chattisgarh second innings (F/O): 229/5 in 71 overs (Abhimanyu Chauhan 115; Mohammad Shami 4/45)
Himachal Pradesh v Goa
Goa first innings: 255 all out in 85.5 overs
Himachal Pradesh first innings: 625/7 in 144 overs (Ankush Bains 143, Nikhil Gangta 127)
Goa second innings: 131/0 in 32 overs
Punjab v Vidarbha (Vidarbha won by an innings and 117 runs)
Punjab first innings: 161 all out in 42.2 overs
Vidarbha first innings: 505 all out in 153.2 overs (Ganesh Satish 164, Sanjay Ramaswamy 161)
Punjab second innings: 227 all out in 72.1 overs (Akshay Karnewar 6/47)
Tamil Nadu v Tripura
Tripura first innings: 258 all out in 96.1 overs
Tamil nadu first innings: 357/4 in 88 overs (Washington Sundar 159, Baba Indrajith 89)
Madhya Pradesh v Mumbai
Madhya Pradesh first innings: 409 all out in 144.3 overs
Mumbai first innings: 415/8 in 123 overs (Jay Gokul Bista 135, Suryakumar Yadav 91, Siddesh Lad 82)
Baroda v Andhra
Baroda first innings: 373 all out in 128 overs
Andhra first innings: 505/9 in 139.4 overs (Hanuma Vihari 150, Ricky Bhui 145; Atit Sheth 5/77)
Gujarat v Kerala
Kerala first innings: 208/10 in 66.5 overs
Gujarat first innings: 307 all out in 106.3 overs
Kerala second innings: 203 all out in 76.3 overs (Arun Karthik 69; Siddharth Desai 6/80)
Gujarat second innings: 22/1 in 13 overs
Rajasthan v Jharkhand
Rajasthan first innings: 423 all out in 141.5 overs
Jharkhand first innings: 265 all out 97.3 overs (Saurabh Tiwary 83; Pankaj Singh 4/48)
Jharkhand second innings (F/O): 102/1 in 27 overs
Saurashtra v Jammu & Kashmir (Saurashtra won by an innings and 212 runs)
Saurashtra first innings: 624/7 in 135 overs
J&K first innings: 156 all out in 60.5 overs (Dharmendrasinh Jadeja 6/68)
J&K second innings (F/O): 256 all out in 84.1 overs (Vandit Jivrajani 6/79)
Karnataka v Assam
Assam first innings: 145 all out in 59.1 overs
Karnataka first innings: 469/7 in 126.4 overs (Krishnappa Gowtham 149, Samarth Ravikumar 123)
Assam second innings: 169/6 in 63 overs (Gokul Sharma 62*; Krishnappa Gowtham 3/39)
Railways v Delhi
Delhi first innings: 447 all out in 144.5 overs
Railways first innings: 136 all out in 59.4 overs (Manan Shara 4/50, Ishant Sharma 3/20)
Railways second innings (F/O): 157/6 in 61 overs (Nitin Bhille 54; Vikas Mishra 2/27)