Ranji Trophy 2018-19, Round 4, Day 2 – Round Up
Punjab are well on their way towards an innings victory against previous season's runners Delhi in their Group B fixture.
Updated - Nov 29, 2018 6:13 pm
4K Views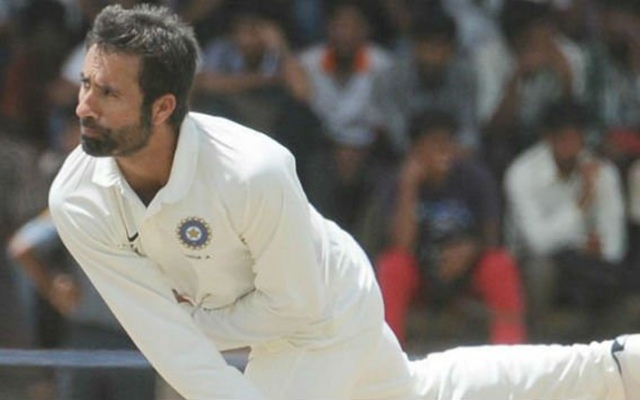 Follow us on Google News
Another interesting day in the domestic circuit saw 41-time Ranji Trophy champions Mumbai end with a slender advantage against Gujarat in their Group A game at the Wankhede. Maharashtra, on the other hand, find themselves in deep trouble against Karnataka as that game certainly is heading towards a result.
After getting bundled out for just 113 runs batting first, Maharashtra gave Karnataka a 73-run advantage in the first innings. Shreyas Gopal and Dega Nischal chipped in with crucial contributions for Karnataka. In reply, Maharashtra's top order once again fell in Shreyas Gopal's trap as they find themselves going into day 3 at 48/3 still trailing by 25 runs.
Mumbai managed to put Gujarat on hold and are favourites to win the first innings advantage. In a game where the over-rate has been pretty bad, Dhruv Raval's fifty almost brought Gujarat close to their opponents' first innings score, but some quick wickets towards the end saw them finish with 232/8 on Day 2.
Saurashtra hammer Baroda in the Gujarat derby
In the all Gujarat affair in Rajkot, Saurashtra batsmen hammered Baroda to a humongous first innings total. Aarpit Vasavada and Jaydev Shah notched tons as Prerak Mankad and Dharmendrasinh Jadeja chipped in with fifties, which propelled Saurashtra to 521 runs. Baroda completed day 2 at 10/0 in four overs.
Punjab are well on their way taking an innings victory against previous season's runners Delhi. After posting 282 in their first innings, Punjab already had a 175-run advantage ahead of Delhi's second innings. Despite Gautam Gambhir's fifty, they could only register 106 runs for the loss of six wickets and still trail by 69 runs.
In another big game south in Chennai, Tamil Nadu took pole position in the Group B encounter against Bengal. In reply to Tamil Nadu's 263, Bengal gave away a 74-run first inning lead to the hosts after getting bowled out for 189. Tamil Nadu finished the day in their second innings at 12/1 in 3 overs. Here are all the scores from the other games happening across the country.
Brief Scores
Group A
Saurashtra vs Baroda
Saurashtra first innings: 521 all out in 168.2 overs (Aarpit Vasavada 120, Prerak Mankad 85, Jaydev Shah 165)
Baroda first innings: 10/0 in 4 overs
Mumbai vs Gujarat
Mumbai first innings: 297 all out in 80.3 overs (Shivam Dubey 110, Siddesh Lad 62)
Gujarat first innings: 232/8 in 80.2 overs (Dhruv Raval 60; Royston Dias 3/52)
Maharashtra vs Karnataka
Maharashtra first innings: 113 all out in 39.4 overs
Karnataka first innings: 186 all out in 84.2 overs (Shreyas Gopal 40; SS Bachhav 3/43)
Maharashtra second innings: 48/3 in 34 overs
Chhattisgarh vs Vidarbha, Elite Group A
Chhattisgarh first innings: 232 all out in 109 overs (Harpreet Singh 63; Aditya Thakare 5/56)
Vidarbha first innings: 119/3 in 46 overs (Faiz Fazal 53*, Akshay Wadkar 48*)
Hyderabad vs Himachal Pradesh
Himachal Pradesh first innings: 351 all out in 126/4 overs (Prashant Chopra 110)
Hyderabad first innings: 146/1 in 51 overs (Akshat Reddy 86*)
Group B
Kerala vs Madhya Pradesh
Kerala first innings: 63 all out in 35 overs
MP first innings: 328/9 in 120 overs (Naman Ojha 79, Yash Dubey 79)
Kerala second innings: 38/4 in 12 overs
Delhi vs Punjab
Delhi first innings: 107 all out in 42.5 overs
Punjab first innings: 282 all out in 91.5 overs (Mandeep Singh 90; Simarjeet Singh 4/45)
Delhi second innings: 106/6 in 41 overs (Gautam Gambhir 60; Vinay Choudhary 3/23)
Tamil Nadu vs Bengal
Tamil Nadu first innings: 263 all out in 106 overs (Baba Aparajith 103)
Bengal first innings: 189 all out 63.5 overs (Abhishek Raman 98; Rahil Shah 5/46)
Tamil second innings: 12/1 in 3 overs
Group C
Assam vs Haryana
Assam first innings: 310 all out in 117.3 overs (Gokul Sharma 96)
Haryana first innings: 97 all out in 27.2 overs (Arup Das 5/52)
Haryana second innings (F/O): 78/7 in 24 overs (Arup Das 4/23)
Odisha vs Tripura
Tripura first innings: 122 all out in 43 overs (Suryakant Pradhan 7/40)
Odisha first innings: 212 all out in 59.2 overs (Biplab Samantray 89)
Tripura second innings: 130/5 in 50 overs (Bishal Ghosh 48)
Goa vs Jharkhand
Goa first innings: 364 all out in 140.2 overs (Amit Verma 154)
Jharkhand first innings: 147/2 in 37 overs (Nazim Siddique 71)
Services vs Jammu & Kashmir
JK first innings: 95 all out in 31.5 overs
Services first innings: 252 all out in 91.4 overs (Anshul Gupta 59; Parvez Rasool 8/85)
JK second innings: 115/6 in 51 overs (Parvez Rasool 53*)
Uttar Pradesh vs Rajasthan
Rajasthan first innings: 311 all out in 112.4 overs (Robin Bist 96, Amitkumar Gautam 93)
Uttar Pradesh first innings: 146/7 in 43.5 overs (Aniket Choudhary 4/34)
Plate
Bihar vs Sikkim
Bihar first innings: 288 all out in 90.5 overs (Ashutosh Aman 85; Ishwar Chaudhary 6/78)
Sikkim first innings: 81 all out in 39.4 overs (Ashutosh Aman 5/19)
Bihar second innings: 150/4 in 48 overs (MD Rahmatullah 66)
Manipur vs Meghalaya
Manipur first innings: 211 all out in 64.1 overs (Prafullomani Singh 64)
Meghalaya first innings: 326 all out in 87.4 overs (Puneet Bisht 92, Raj Biswa 87)
Manipur second innings: 125/8 in 34 overs (Gurinder Singh 5/21)
Mizoram vs Puducherry
Mizoram first innings: 92 all out in 55.4 overs
Puducherry first innings: 163/3 in 33 overs (Vikneshwaran Marimuthu 79*)
Arunachal Pradesh vs Uttarakhand
Arunachal Pradesh first innings: 105 all out in 46 overs (Mayank Mishra 4/23)
Uttarakhand first innings: 470/4 in 108.4 overs (Arun Kartik 208*, Rajat Bhatia 152*)
Arunachal Pradesh second innings: 98/2 in 30 overs
Follow us on Telegram