Ranji Trophy 2019-20: Round 1, Day 2 – Round-Up
Arslan Khan's double-ton and Sanjay Yadav's 9/52 remained the biggest talking points of Day 2.
Updated - Dec 10, 2019 9:01 pm
176 Views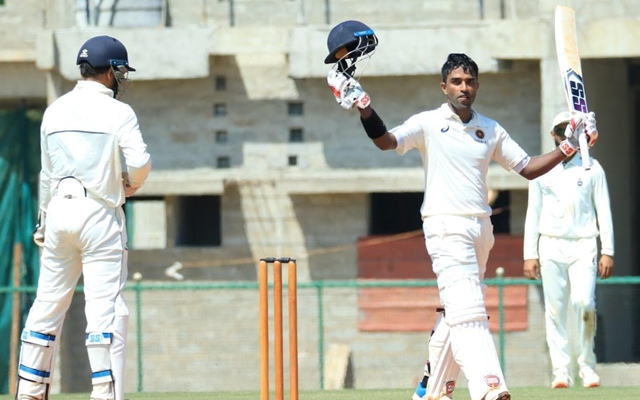 Follow us on Google News
In what is turning out to be a dramatic round 1 of the Ranji Trophy this edition, Karnataka tightened the screws in their fixture against Tamil Nadu whilst Mumbai have a clear advantage in their game against Baroda. Kerala registered a thumping score against Delhi whilst Himachal Pradesh and Saurashtra's battle is nearing an end already.
Defending champions Vidarbha established firm control on their fixture against Andhra. Ganesh Satish chipped in with a century for the side whilst Mohit Kale got in a brilliant 83 as they finished day 2 at 268/4 in 97 overs. They currently have a 57 run lead.
Sachin Baby, Robin Uthappa smashed hundreds on day 2 to help Kerala go past the 500 mark. They finished with 525 runs before declaring their innings. Delhi got off to the worst possible start, losing two wickets already in their innings. They finished day 2 at 23/2 and have a mountain to climb in the next two days.
Chandigarh made a mockery of Arunachal Pradesh's bowling attack, with three of the top four smacking hundreds for the side. Arslan Khan finished with 233 whilst Shivam Bhambri and Manan Vohra chipped in with centuries at a strike rate in excess of 100. They registered 502 runs for the loss of just 2 wickets. Arunachal Pradesh lost 6 wickets already in their second innings and trail by 195 runs.
Tamil Nadu and Karnataka are facing off each other yet again and the battle, as usual, is intriguing again. Karnataka got bowled out for 336 runs earlier on day 2 and in reply, Abhinav Mukund and Baba Aparajith's cameos helped Tamil Nadu finish the day at 165/4 in 58 overs. They trail Karnataka by 171 runs.
Here are the scores from the other games that happened today.
Brief Scores
Elite Group A & B
Andhra vs Vidarbha
Andhra: 211 all out in 74 overs (Hanuma Vihari 83; Aditya Sarwate 4/50)
Vidarbha: 268/4 in 97 overs (Ganesh Satish 113, Mohit Kale 83)
Vidarbha lead by 57 runs
Mumbai vs Baroda
Mumbai: 431 all out in 106.4 overs (Shams Mulani 89, Ajinkya Rahane 79, Prithvi Shaw 66)
Baroda: 301/9 in 69 overs (Kedar Devdhar 154*; Shams Mulani 5/99)
Mumbai lead by 130 runs
Railways vs Uttar Pradesh
Railways 1st innings: 253 all out in 85.3 overs (Dinesh Mor 91; Yash Dayal 5/48)
Uttar Pradesh 1st innings: 175 all out in 53.1 overs (Almas Shaukat 91; Amit Mishra 4/51)
Railways 2nd innings: 58/5 in 18 overs
Tamil Nadu vs Karnataka
Karnataka first innings: 336 all out in 110.4 overs (Devdutt Padikkal 78, Pavan Deshpande 65; R Ashwin 4/79)
Tamil Nadu first innings: 165/4 in 58 overs (Abhinav Mukund 47; Krishnappa Gowtham 3/61)
Tamil Nadu trail by 171 runs
Himachal Pradesh vs Saurashtra
HP first innings: 120 all out in 42.3 overs (Prerak Mankad 3/13)
Saurashtra first innings: 141 all out in 36.3 overs (D Jadeja 47; Vaibhav Arora 6/48)
HP second innings: 182 all out in 38.3 overs (Ankush Bains 74; Jaydev Unadkat 6/51)
Saurashtra second innings: 96/3 in 28 overs (Harvik Desai 48)
Saurashtra need 66 runs to win
Hyderabad vs Gujarat
Hyderabad 1st innings: 233 all out in 88 overs (Kolla Sumanth 69; Piyush Chawla 3/61)
Gujarat first innings: 295/9 in 83.2 overs (Manprit Juneja 94, Rujul Bhatt 65)
Gujarat lead by 62 runs
Report:
Gujarat took a 62-run first-innings lead in the match against Hyderabad by end of the 2nd day. The 2016/17 Ranji Trophy champions ended the day at 295/9. Indian pacer Mohammed Siraj struck early to dismiss the Gujarat skipper Priyank Panchal. Hyderabad had the visitors 104/4 before the second session didn't yield a wicket like on the opening day of the match. Siraj provided the breakthrough by dismissing Manprit Juneja who struck 16 fours and a six on his way through to a 145-ball 94.
Juneja added 149 runs for 5th wicket along with Rujul Bhatt (65). Mehdi Hasan, who took two wickets in the first session, took a couple more to keep down the Gujarat domination. He got Axar Patel caught in the slips while Piyush Chawla was caught behind on the very next ball. The left-arm spinner nearly got the wicket of Roosh Kalaria on the hat-trick ball as edge off his bat flew inches away from short leg fielder. Chama Milind dismissed Rujul and Chintan Gaja on the last ball of the match.
Mehdi, who nearly became the 2nd Hyderabad player to take a Ranji hat-trick, said that it was tough for the spinners to bowl on the Hyderabad track. Speaking after the day's play, he explained how the pitch has played so far and what he expects in the following days. "The wicket was good to bat on. In the morning the ball was a little bit harder and was more bounce off the wicket. It (pitch) will get slightly slower but still will be a good wicket," said Mehdi Hasan.
Kerala vs Delhi
Kerala first innings: 525/9 declared in 165 overs (Sachin Baby 155, Robin Uthappa 102, Ponnam Rahul 97)
Delhi first innings: 23/2 in 12.5 overs
Delhi trail by 502 runs
Rajasthan vs Punjab
Rajasthan first innings: 257 all out in 79.4 overs (Ashok Menaria 60, Mahipal Lomror 60; Siddarth Kaul 4/69)
Punjab first innings: 290/6 in 83.5 overs (Mandeep Singh 122, Anmol Malhotra 68*)
Punjab lead by 33 runs
Elite Group C
Chhattisgarh vs Odisha
Chhattisgarh first innings: 134 all out in 52.2 overs (Ajay Jadav 47; Rajesh Mohanty 6/47)
Odisha first innings: 215 all out in 76.4 overs (Sujit Lenka 56; Puneet Datey 4/58)
Chhattisgarh second innings: 45/1 in 17 overs
Chhattisgarh trail by 36 runs
Haryana vs Maharashtra
Haryana first innings: 401 all out in 124.2 overs (Shubman Rohilla 142, Shivam Chauhan 117)
Maharashtra first innings: 88/4 in 44 overs
Maharashtra trail by 313 runs
Uttarakhand vs Jammu & Kashmir
JK first innings: 182 all out in 49.2 overs (Shubman Khajuria 47; Rahil Shah 3/18)
Uttarakhand first innings: 84 all out in 31 overs (Mohammad Mudhasir 5/13, Ram Dayal 4/28)
JK second innings: 304 all out in 65.4 overs (Fazil Rashid 73; Rahil Shah 5/74)
Uttarakhand second innings: 18/3 in 9 overs
Uttarakhand need 385 runs to win
Assam vs Services
Services first innings: 164 all out in 62.2 overs (Riyan Parag 66; Diwesh Pathania 5/48)
Assam first innings: 130/4 in 45 overs (Mumtaz Qadir 39)
Assam trail by 34 runs
Tripura vs Jharkhand
Tripura first innings: 289 all out in 81.2 overs (Milind Kumar 59, Harmeet Singh 56)
Jharkhand first innings: 136 all out in 43 overs (Virat Singh 47; Rana Dutt 4/42)
Jharkhand second innings (F/O): 91/2 in 20 overs
Jharkhand trail by 62 runs
Plate
Nagaland vs Meghalaya
Meghalaya first innings: 285 all out in 96.5 overs (Puneet Bisht 95, Sanjay Yadav 61; Imliwati Lemtur 7/34)
Nagaland first innings: 136 all out in 44.1 overs (Sanjay Yadav 9/52)
Meghalaya second innings: 89/9 in 33 overs
Meghalaya lead by 238 runs
Manipur vs Mizoram
Mizoram first innings: 65 all out in 16 overs (Taruwar Kohli 34; Rex Singh 8/22)
Manipur first innings: 289 all out in 80.1 overs (Rex Singh 65, Chingangbam Singh 89)
Mizoram second innings: 290 all out in 75.1 overs (KB Pawan 124)
Manipur needs 67 runs to win
Chandigarh vs Arunachal Pradesh
AP first innings:: 147 all out in 44.2 overs (Techi Neri 45; Shresth Nirmohi 5/26)
Chandigarh first innings: 503/2 in 76 overs (Arslan Khan 233*, Manan Vohra 124*, Shivam Bhambri 105)
AP second innings: 164/6 in 45 overs (Rahul Dalal 75*)
Arunachal Pradesh trail by 192 runs
Goa vs Sikkim
Sikkim first innings: 136 all out in 58.2 overs (Lee Yong 56; Lakshay Garg 3/23)
Goa first innings: 436/6 declared in 105.4 overs (Snehal Kauthankar 134, Amit Vema 113)
Sikkim second innings: 22/2 in 8 overs
Sikkim trail by 278 runs
Bihar vs Puducherry
Bihar first innings: 173 all out in 68.3 overs (Sagar Udeshi 6/50)
Puducherry first innings: 300 all out in 79.3 overs (Paras Dogra 70)
Bihar second innings: 61/4 in 27 overs (Vinay Kumar 2/26)
Bihar trail by 66 runs
Follow us on Telegram