Rashid Khan calls for peace as Taliban forcefully capture Afghanistan territories
On August 15, the Taliban entered Afghanistan capital Kabul in what was a massive setback for the nation.
Updated - Aug 15, 2021 5:35 pm
3.7K Views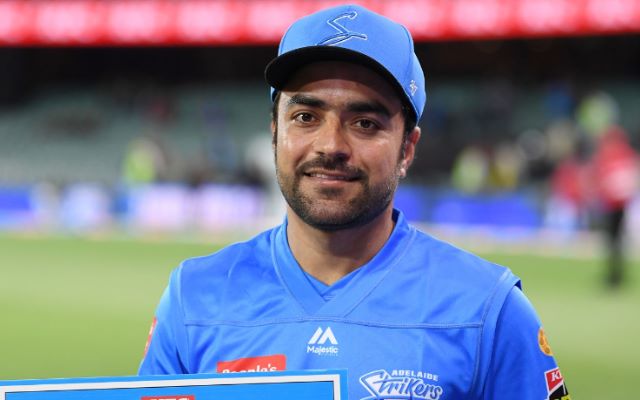 Follow us on Google News
Amidst the rapidly escalating violence and forceful takeover by Taliban insurgents in Afghanistan, the country's premier leg-spinner Rashid Khan has called for peace amongst all. On August 15, the Taliban entered Afghanistan capital Kabul in what was a massive setback for the nation. As per reports in the international media, President Ashraf Ghani is going to step down from his position, with Ali Ahmad Jalali set to serve the interim government.
As per a report on Bloomberg, the media reported a frenzy of helicopter flights ferried passengers from the U.S. embassy in Kabul on Sunday. The U.S. will completely pull out all embassy personnel within three days, CNN reported, citing people familiar with the situation. It added that a core of U.S. officials would remain at Kabul airport, currently the only route out of the country.
Fighters from the militant group reached the outskirts of Kabul on Sunday as the U.S. and other nations raced to evacuate their citizens, the culmination of a three-week offensive in which the Taliban seized the bulk of territory in the country. Taliban forces now hold all of Afghanistan's border crossings, the Associated Press said.
"The Islamic Emirate instructs all its forces to stand at the gates of Kabul, not to try to enter the city," the Taliban said in a statement on Sunday, referring to the group's formal name. "Negotiations are under way to ensure that the transition process is completed safely and securely, without putting the lives, property and honor of anyone in danger."
"It was unclear exactly how the talks would take place. The AP reported that Taliban negotiators were heading to the presidential palace in Kabul to prepare for a transfer of power. Yet Bismillah Mohammadi, Afghanistan's acting defense minister, said "the president has extended all the authority to a delegation that is heading to Doha tomorrow for talks with the Taliban."
Rashid Khan calls for peace
Afghanistan National Cricket Team player Rashid Khan had even earlier tweeted and urged the "world leaders" to stop destroying Afghanistan. "Dear World Leaders! My country is in chaos, thousand of innocent people, including children & women, get martyred everyday, houses & properties being destructed. Thousand families displaced.. Don't leave us in chaos. Stop killing Afghans & destroying Afghanistan. We want peace," his tweet from August 10 read.
Peace 🤲🏻🤲🏻🤲🏻🇦🇫🇦🇫🇦🇫

— Rashid Khan (@rashidkhan_19) August 15, 2021
Follow us on Telegram