Rashid Khan keeps his expensive car in auction to raise funds for Bushfire victims
Rashid Khan played for Adelaide Strikers in Big Bash league 2019-20.
Updated - Feb 4, 2020 11:54 am
2.4K Views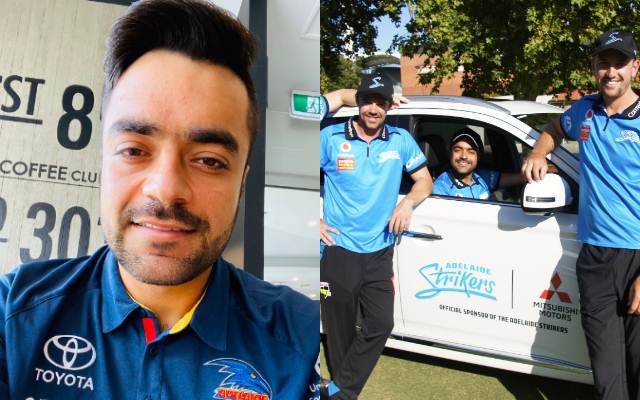 Australia has been severely hit with the natural calamity of bushfires and thousands of people went homeless due to the same. The lives of the residents have become quite miserable. In such a difficult situation, many countries have come forward to support Aussies. Even the cricketers are also working quite hard to raise funds for the affected people. Now, Rashid Khan, the talented spinner has shown his serious concern and he kept his expensive car for the auction to help out the needy, who are struggling to bring their daily life back on track.
The Bushfire danger period season normally starts around October. But, it got off the mark quite early in September that has burnt forests to millions of hectares and destroyed thousands of houses. Recently, Cricket Australia scheduled two charity games that will feature several legendary players like Ricky Ponting, Adam Gilchrist and many more. This has been planned to raise funds for all the Aussie natives, who have been severely hit with the adverse effects of Bushfires.
Rashid Khan's sincere effort for the SA Bushfire Appeal
Now, Rashid Khan, the leg-spinner, who plays for Adelaide Strikers has kept his expensive car Mitsubishi Outlander PHEV for auction to raise some good funds for the South Australia Bushfire Appeal. Strikers have also come up with once in a lifetime offer and according to that, the highest bidder will get an opportunity to watch the next season's New Year BBL game from the corporate suite with his/her eleven other friends. The owner of the car along with his/her squad will also get food and beverages worth $133 per person for free during the game.
Mitsubishi Outlander PHEV is an electric car that was driven by none other than Rashid Khan. The car is fully equipped with all the latest technologies that a person requires. Moreover, Strikers have evaluated the price of the car near and around $47,500. So, they have set the minimum bid at $39,100.
They also gave detailed information about the car saying that it is a loan vehicle that has so far covered 3,900 km. The BBL team has appreciated the sincere effort of their overseas player, who did exceedingly well in this season of Big Bash League. He grabbed 19 wickets and amassed 124 runs in his 15 games.
Watch: Irfan Pathan's interview post his retirement