Rating ODI jerseys of all international teams
The coloured jersey was never in tradition before the 1992 World Cup.
Updated - Feb 8, 2020 11:23 am
29.8K Views
Cricket is a gentleman's game and what the players wear on the field makes a lot of difference from the perspective of fans and their country. If a player takes the field then he is not representing just himself but his nation as well. So, his jersey always turns out to be a status symbol for the country. And, no country leaves a single stone unturned in making their cricket uniform unique and fascinating.
The coloured jersey was never in tradition before the 1992 World Cup. However, certain modifications ditched whites for the coloured ones and each country picked their preferred colours for their cricket team. However, this modification was kept limited to the ODIs followed by T20Is. It produced an essence of familiarity for the fans as they can seamlessly support their players wearing that colour during the games.
Every year, the cricket board of different countries comes out with some different and unique modifications in their ODI cricket uniform. Sometimes, it receives applauds from the fans but if there is any flaw, then fans hit back to the cricket council to remove that feature from the jersey.
Recently, the culture similar to football was also introduced based on the jerseys. Taking the same into the account, many countries have embraced home and away cricket uniform. But, this move still needed to be encouraged so that it can get into the picture as soon as possible.
Here's rating the ODI jersey of top 10 teams in ODIs:
10. Bangladesh – 5.5/10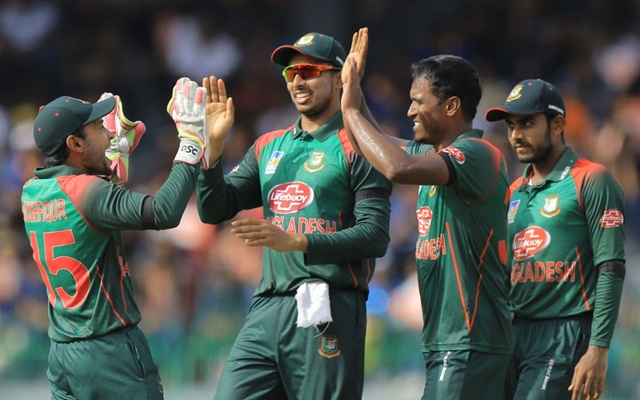 Bangladesh cricket team ODI jersey is not glittery and it looks quite simple and sober. It is totally green in colour that denotes the fertile land in the country with red colour portrayed horizontally. It gives a flashy look to the fans from the front. Moreover, the cricket board has also added zig-zag transitions in the lower half of the shirt to give a fascinating look.
Earlier in 2019, the board was brought under scrutiny for not using red colour in the national jersey with only green dominating the uniform. They also urged to add some red tone that signifies the Sun. The thought behind Tigers' jersey is to try and resemble it with the country's flag that is green in colour with a red circle.
If their fans are not happy with the national cricket uniform then the cricket board should come out with something new that can reap praises from their followers. There is nothing bad in bringing new changes that will make their players look more presentable on the cricket ground.