Ravi Shastri reacts to Kerry O'Keefe's remarks on Mayank Agarwal
Agarwal, meanwhile, gave a fitting reply to O'Keefe by scoring an impressive 76 on debut as India piled up 443 for 7.
Updated - Dec 28, 2018 10:25 am
2.1K Views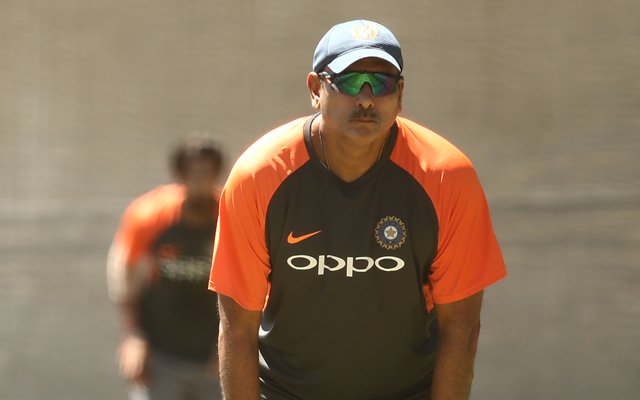 Former Australia cricketer Kerry O'Keefe had caused a stir with his unpleasant remark for Mayank Agarwal before the start of the ongoing third Test in Melbourne. Agarwal was about to make his Test debut after amassing a staggering amount of runs in domestic cricket in the last year or so.
The youngster from Karnataka had scored over 1,000 runs in the last edition of the Ranji Trophy. One of the highlights of the season was his stunning unbeaten triple century against Maharashtra. However, O'Keefe was seemingly not impressed with Agarwal's run-scoring spree and ended up making a shocking comment.
The cricketer-turned-commentator, who had played 24 Tests and two ODIs for Australia between 1971 and 1977, said Agarwal "apparently got his triple hundred against railway canteen staff" and that the bowlers from the said team were "chefs and waiters".
It led to a fierce backlash from the cricketing fraternity as pundits and fans berated the senior commentator for his humiliating dig at India's premier first-class tournament. With matters getting out of hand, O'Keefe later issued an apology while insisting that he did not want to belittle India's domestic competition.
"I was mentioning the runs Agarwal got in first-class cricket in India and there's been a reaction. There was no way I was demeaning the standard, it was tongue in cheek. There are lots of runs scored so apologies if anyone out there took offence," O'Keefe was quoted as saying by news.com.au.
Indian head coach, Shastri reacts
Surprisingly, there was no reaction from the Indian camp on the comment. None of the players or the backroom-staff was asked about the comment by the reporters. But on Thursday, head coach Ravi Shastri finally reacted to the incident and came up with a cheeky comment to make it clear Agarwal was not at all happy with the remark.
Speaking to Fox Cricket, Shastri said: "He [Mayank] has got a message for Kerry… 'when you do open your canteen, he wants to come and smell the coffee. He wants to compare it to the ones back in India…coffee here's better or the ones back home'."
Here is a clip showing Shastri's reaction:
Ravi Shastri responds to Kerry O'Keefe's "joke" pic.twitter.com/WWtXnO7oK3

— Thejas (@Jazz_CB) December 27, 2018
Agarwal, meanwhile, gave a fitting reply to O'Keefe by scoring an impressive 76 on debut as India piled up 443 for 7.