Ravi Shastri walks onto the field after Sri Lankan players interrupt the game
Eventually, India declared their innings at 536/7.
Updated - Dec 3, 2017 5:02 pm
3.3K Views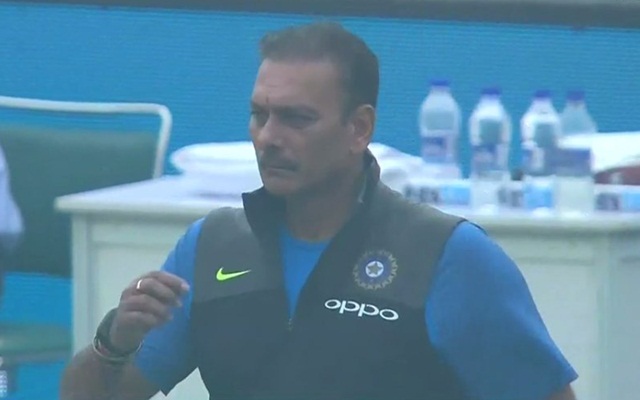 Follow us on Google News
We've heard about play being stopped because of rain or bad light. Today for some change we heard about the play being stopped for some unbelievable reason. When Kohli and Sharma walked in to bat on Day 2, Indians were well in command. And well, the juggernaut continued as Kohli kept batting on and on to score runs freely. Soon, the skipper registered his sixth double hundred. He went past Windies legend Brian Lara in terms of most double hundreds as a captain of the side. Remarkably, he has hit all the double centuries in his career in his captaincy tenure.
Smog stops play
Rohit Sharma looked good during his stay in the crease but he was dismissed on the stroke of lunch where he was caught by Dickwella behind the wicket. After lunch, a few of Lankan players were spotted with masks on their faces. Sri Lankan fast bowler Lahiru Gamage seemingly looked uncomfortable as he went down after delivering a ball.
Sri Lankan skipper Chandimal was seen speaking with both the umpires Nigel Llong and Joel Wilson. He probably wanted to take the team out due to poor conditions of the air. Sri Lankan players, all gathered at middle while skipper Chandimal continued to show his displeasure with the umpires. Match referee Boon and TV umpire had words with a doctor in the box.
The play started with Lahiru Gamage bowling but he eventually went out because of the trouble he was facing. Suranga Lakmal replaced to finish the over but soon he left the field as well because of the same reason as of Gamage.
The play was halted for more time as skipper Chandimal kept showing his displeasure but umpires continued the match. Sri Lankan manager rushed onto the ground to have a word with the umpires. Following him, came the Indian head coach Ravi Shastri to show India's displeasure for the regular interruptions.
Eventually, India declared their inning as there was another interruption from the Sri Lankans as they were fielding a player short. Kohli weaved at the Indian batsmen asking them to come in.
Here's how Twitter reacted to Ravi Shastri rushing onto the field
More trouble. Sri Lanka don't have a seamer left with Gamage and Lakmal both going off. Manager out. Ravi Shastri out (and he isn't the manager!). Not good

— Harsha Bhogle (@bhogleharsha) December 3, 2017
Can Ravi Shastri even go out to the field when the play is in progress?

— Raghavan Mohan (@raghavan_mohan) December 3, 2017
* Gamage, Lakmal fell sick, leave pitch!

* Ravi Shastri comes out on field to discuss situation with umpires.

Has this ever happened in Test cricket before?https://t.co/DZINrxTfth

— Express Sports (@IExpressSports) December 3, 2017
Ravi Shastri came in ground for a chat ! #Cricket #INDvSL pic.twitter.com/01pQmDnnGq

— CricFit (@CricFit) December 3, 2017
Ravi Shastri came and told the umpires animatedly, "Agar khel ruka toh abse fokat ki daaru pi lena fir." That scared the hell out of the umpires, they are starting the play now.

— Abhishek (@Sajjanlaunda) December 3, 2017
Ravi Shastri looks damn angry. His entry gave me chills. ??#INDvSL

— Rahul Sharma ? (@CricFreakRD) December 3, 2017
Ravi shastri was told to GTFO#INDvSL

— The Cricket Brain (@TheCricketBrain) December 3, 2017
Ravi Shastri looks like he's going to beat someone up.

— Thejas (@Jazz_CB) December 3, 2017
RAVI SHASTRI: Can't you dumb idiots get all those who are causing delays out of the field?
UMPIRE: But sir, even you are doing the same!!#INDvSL Sri Lankan out cold? pic.twitter.com/oy2kOBjtaY

— Kiran A (@ashkir2001) December 3, 2017
"Play must go on, conditions are safe." I think that's what Ravi Shastri told the umpires. Coz he knows what the Doctors order.?#INDvSL pic.twitter.com/X15saZwrIf

— Chinmay Jawalekar? (@CricfreakTweets) December 3, 2017
Ravi Shastri is the correct Choice to speak on behalf of team!!!,because he was the manager when India played in more hazy conditions.

— Anoop Sriram (@ramuanoop) December 3, 2017
Never seen a coach waking in ground during a play of test match seems like he's angry ? #INDvsSL angry @RaviShastriOfc pic.twitter.com/2c8zF2AC7G

— balaji ghadge (@balajiKNGofHRTS) December 3, 2017
Ravi Shastri walks up to the Srilankan players like he will start beating them black and blue if they don't take the field now.

— LOLendra Singh (@LOLendraSingh) December 3, 2017
Ravi shastri is out..He'll offer drink to each of the player which will help them to fight wid the pollution #INDvSL

— 18? (@Crichipster) December 3, 2017
Ravi Shastri walked up to the umpires to tell them what the doctor ordered.

— Khichdi (@bagrat15) December 3, 2017
After Ravi Shastri has taught Indians to lip read. pic.twitter.com/x53n61Nrpf

— Bahadur (@my2bit) December 3, 2017
What right does @RaviShastriOfc have to step on to the field like that.#rude #arrogant #IndvSL

— Charanjd (@Charanjd75) December 3, 2017
Follow us on Telegram