Reaching the 8th spot in Test ranking is Bangladesh's biggest achievement: Shakib Al Hasan
Shakib made a short trip back home amidst representing SRH in the IPL 2018.
Updated - May 4, 2018 4:14 pm
252 Views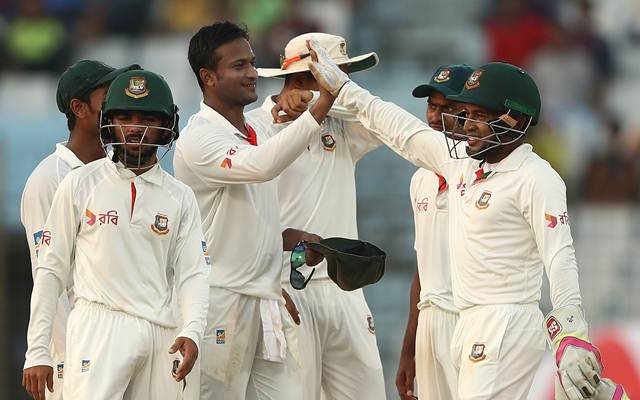 In the annual ranking update released by International Cricket Council (ICC) on May 1, Bangladesh managed to climb to the 8th spot of the Test rankings. Captain Shakib Al Hasan considers this a far bigger success than the 6th or 7th position in the ODI Rankings. He went as far as calling it their biggest achievement ever as a cricket playing nation.
Shakib thinks it is of more weightage to have achieved a higher ranking in the longer format of the game, especially because their performance in Tests was far below the par. He made a shot trip home amidst representing the Sunrisers Hyderabad in the ongoing Indian Premier League (IPL).
"I think it can certainly be considered as our biggest achievement so far," Shakib said on Thursday, May 3. "I think it certainly carries more weight than reaching sixth or seventh place in ODI's because we were not good at playing Test cricket, let alone performing well consistently," he added.
Going up in the rankings because of consistency
Shakib also defines the meaning of this success for the Bangladesh cricket team, and that it is an indicator of the toil the boys have done to reach this position.
"Our going upwards in the ranking only suggests that we are learning to perform consistently. Doing well consistently in Tests is quite a hard job. Our struggle and hardships are indicated by the time frame that we needed to reach eighth place in the ICC Test ranking," he said. "It is a huge accomplishment for us as we have eventually started to move forward in the longer format," the all-rounder added.
Eventually, Bangladesh have taken a long time to become the 8th ranked Test-playing team. They got their full-member status way back in 2000 but failed to improve on their performance up until a few years back.
Since 2015, they have won 3 Tests, drawn 5 and lost 10 among the 18 they played. In the calculation, it brought their points up to 75, placing them above their closest competitor West Indies. It is in the last five years or so that they have finally managed to bring their win tally up to a higher number than their defeats. They even defeated bigshots like England, Australia and Sri Lanka once each, cementing their place further in the circuit.
Shakib thinks it is the change of the mindset and approach towards the game that has brought the results. And he is hopeful that this will bring them more support from the already dauntless Bangladeshi fans.
After the IPL, Bangladesh is scheduled to play West Indies in the Caribbeans and Shakib will be at the helm. Incidentally, this will be his first appearance on the field as a skipper after he was handed over Test captain for the second time. He had missed out on the Sri Lanka Test series due to a finger injury sustained in a tri-series preceding that.