Ready to bat at No. 4 if required, says Indian skipper Virat Kohli
"I'm more than happy to do it."
Updated - Mar 1, 2019 6:13 pm
4.7K Views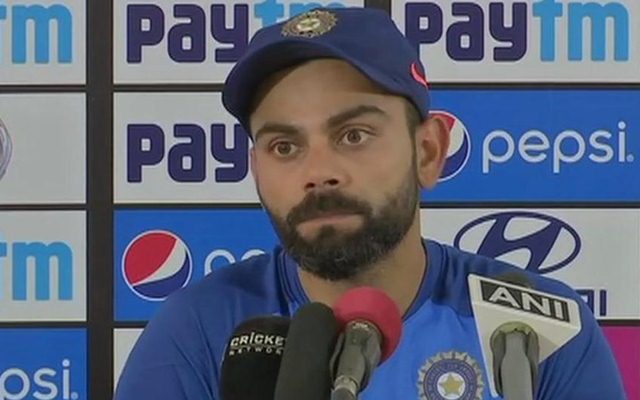 Follow us on Google News
As the World Cup is closing in, all teams are getting their seatbelts on to be all set for the ride. Every team and its management is trying to figure the correct approach and mix for the biggest event in the world of Cricket. Two times World Cup winning champions, India are also brainstorming towards the right decisions. Indian captain Virat Kohli has come forward to say that he would take up the number 4 position if he has to.
One of the greatest concerns over several months has been the conundrum over the aforementioned batting position. While the no. 4 batsman is vital in maintaining the balance in the mix, India has been really wary of making the final decision yet. There have been myriads of speculations over the past months over the No.4 spot. While Ambati Rayudu was being considered for that position, many came up – including the likes of Rohit Sharma- advocating MS Dhoni as the correct candidate for the said spot.
However, all these talks haven't unfurled the correct stance for India as of yet. After all, it's the World Cup at stake and maintaining the balance in the batting line-up is of top priority. After the conclusion of the T20I series in which KL Rahul was seen to return to form, Kohli has in fact hinted toward the inclusion of the top-order batsman. What Kohli likes best in Rahul is that he's capable of consistently scores big runs at a quick pace.
Kohli ready to bat at No. 4
We have seen the former captain and legend Sourav Ganguly giving up his opening position for Virender Sehwag, and the rest it history. As a captain, even Kohli might have to make such sacrifices for the wellness of the team. The Indian captain has asserted that he's open to batting at number four if absolutely required. "If that's the requirement of the team at a particular stage in the game or before a particular game, I am more than happy to do it," Kohli said ahead of the first ODI against Australia, to be held in Hyderabad.
Saying his batting template won't change much if he switches batting spots, Kohli said, "I have batted a lot of time at No. 4 and so I don't necessarily need to try it out because I have done that a lot in the past. My game doesn't change much from No. 3 to No. 4 because the template is quite similar and in any given situation I back myself to play the game that I know. If a team wants it at any stage, I'm more than happy to do it."
[interaction id="5c78d9d3c31fa11422274068″]
Follow us on Telegram