From a really deep place in my heart, I feel for Steve Smith: Faf du Plessis
"Obviously the penalty is quite hard on him" - Faf.
Updated - Mar 29, 2018 5:30 pm
13.6K Views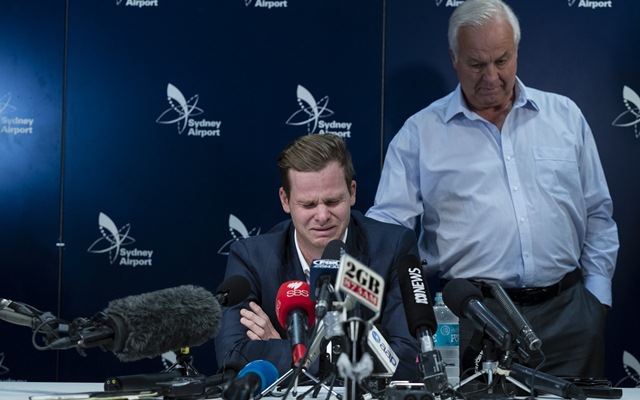 David Warner and Steve Smith are currently facing the toughest phase of their life after being banned by Cricket Australia for one year. Smith faced the media after arriving in Australia and termed his act as 'regretful moment of his life'. David Warner came up with a tweet for the shameful ball-tampering act.
The opposition team skipper Faf du Plessis has his say on the regretful act and he has confirmed that he sent a text message to the banned Aussie skipper and felt very bad for Smith's hard life in the coming days.
"I did send him a text," Du Plessis confirmed to Sport 24. "From a really deep place in my heart, I feel for the guy. You don't want to see guys going through that and it's going to be incredibly hard for him over the next days."
Faf also went on to reveal the message he sent to Steve Smith and the latter reacted to it in a positive way, "I just sent him a message of support saying that he'll get through this, he must just be strong. He appreciated the message. There is a lot of respect between the two of us. He's a good leader for Australia."
Steve, one of the good guys – Faf du Plessis
Du Plessis further added that Steve was "one of the good guys" in cricket, "I think he is one of the good guys and he's just been caught in a bad place," said Du Plessis. "He's obviously taken responsibility for that. We're not sitting in a glass house where we think we are better than them in that aspect. It's a mistake that was made and I feel that it's easier said than done, but they can move on now."
Cricket Australia's verdict of the one-year ban didn't go well with Faf du Plessis and he felt that the penalty is a hard one on Smith. Disappointed Faf concluded the media conference by feeling very sorry for the Aussie skipper.
"Obviously the penalty is quite hard on him, but I do have quite a bit of compassion for what he's going through. It's not nice. You don't want to see any cricketer or person go through that amount of pain."
"I know as a leader he would have tried to have his identity put into the Australian team and perhaps now that that chance has been taken away from him, that's not nice. To be a captain of your country is a huge honor and you can see the disappointment. I feel really sorry for him," concluded Faf du Plessis.
Stay updated on 'today's cricket news' with CricTracker.com