Reports: Royal Challengers Bangalore to change their name and logo for IPL 2020
Reports say that the announcement is to be made on February 16th.
Get every cricket updates! Follow us on
Indian Premier League 2020 season is just a couple of months away from its commencement. And, Virat Kohli-led Royal Challengers Bangalore's latest activity on Social Media has hinted towards a big change ahead of the IPL 2020. It is not related to any new recruitment or any injury. But, it is about their name that they might change in the upcoming days.
Royal Challengers Bangalore have a massive fan following across the globe due to their star-studded lineup. They have players like Virat Kohli, AB de Villiers, who are rated as the superstars of the game. RCB is yet to win their maiden IPL trophy as they have failed to won it in the last twelve seasons.
It is known that RCB hs not won IPL for once but every year they come out as one of the favourites to win the trophy. Season after season, they have failed to live up to the expectations of the fans. However, they are likely to take a major step in their pursuit to delight their fans.
RCB to make the important announcement on February 16?
Actually there were reports that a certain group of followers was not happy to call their side Bangalore as it is the old name of Silicon Valley. So, after some discussions, it is noted that the franchise has come onto a conclusion to change its name from "Bangalore" to "Bengaluru" ahead of the upcoming edition of the cash-rich league.
On Tuesday, they removed pictures from their Twitter, Facebook and Instagram account. They also changed their name to Royal Challengers. As per Hindustan Times, the Bengaluru-based franchise will soon announce their new name along with a new logo. And, the official announcement might be done on the 16th of February.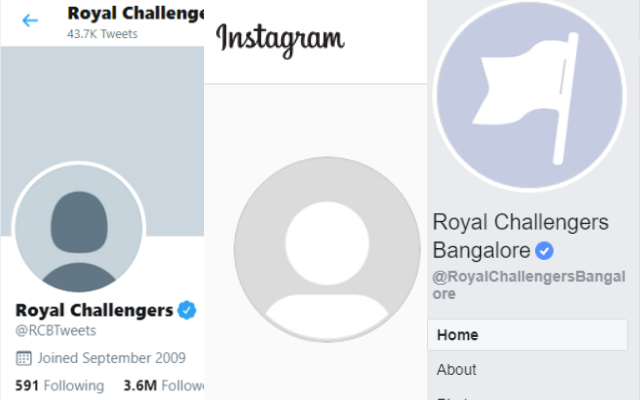 The franchise had recently announced its association with Muthoot Corp. as its title sponsor for the 2020 season. Royal Challengers Bangalore Chairman, Sanjeev Churiwala was quite happy over the same. And said that they are eagerly waiting to channelize their association in the right direction.
"We, at Royal Challengers Bangalore are pleased to be associating with Muthoot Fincorp Ltd, Muthoot Blue, as our title sponsor, as they bring passion and core values that we as a brand believe in. We are positive that both Royal Challengers and Muthoot Fincorp Ltd, Muthoot Blue, will be able to channelize this collaboration in a brilliant way," Sanjeev Churiwalaas quoted by Outlook India.
Watch: Irfan Pathan's interview post his retirement