Reports: US President Donald Trump to inaugurate world's largest cricket stadium in Ahmedabad
The ground is likely to have its first match in April or May.
Updated - Feb 12, 2020 3:00 pm
5.7K Views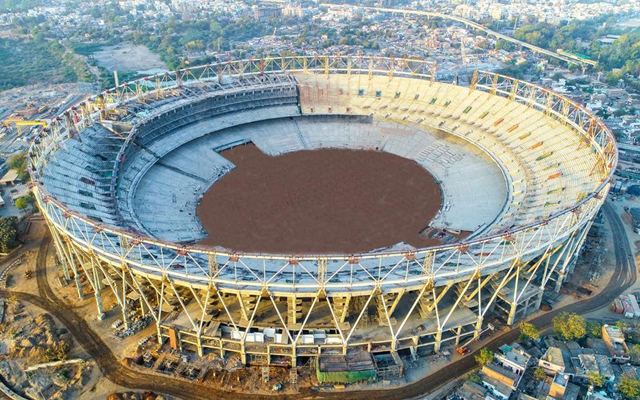 The Motera stadium in Ahmedabad- renamed as the Sardar Vallabhbhai Stadium- will be the world's largest cricket ground with a capacity of 1.10 lakh people. The previous 53000-seater Motera Stadium was demolished back in 2015, as part of a dream project of India's Prime Minister Shri Narendra Damodar Modi.
The newly-built stadium has been in the news in the past few months. And, now if the reports are to be believed, Donald Trump- the President of the United States of America- will inaugurate the grand stadium during his visit to India on February 24 and 25.
It is believed that both the Head of States will then hold a massive joint rally from the stadium where millions are set to be in attendance. Trump joked with reporters that he is not going to feel good since he normally addresses a rally of 40,000 to 50,000 people.
"He (Modi) said we will have millions and millions of people. My only problem is that last night we probably had 40 or 50,000 people… I'm not going to feel so good… There will be five to seven million people just from the airport to the new stadium (in Ahmedabad)," Trump said as quoted by The Wire.
He added, "And you know (it) is the largest stadium in the world. He's (Modi) building it now. It's almost complete and it's the largest in the world."
The stadium is estimated to be built at around USD 100 million 
Built at an estimated amount of US$ 100 million, the stadium is set to trump the Melbourne Cricket Ground as the largest cricket stadium in the world. The ground will not only play host to cricket but to a variety of sports including football, hockey, basketball, kabaddi, boxing, lawn tennis, athletic track, squash, billiards, badminton, and swimming.
Meanwhile, the people in Ahmedabad will get benefitted with the visit of Trump and the succeeding inauguration of the stadium after the roads were badly damaged due to the ongoing construction work of Metro.
Apart from the roads getting smooth, the entire route from the airport to the Motera Stadium will be beautified with 1.5 lakh flower pots. Earlier the BCCI had decided to host an Asian XI vs World XI match to inaugurate the stadium but the plan was scrapped after last-minute delays in the completion of the work. That said, the ground is likely to have its first match in April or May.