Rewind: Why isn't Mark Pettini's 27-ball century among record books?
Updated - Sep 23, 2015 7:56 am
3.3K Views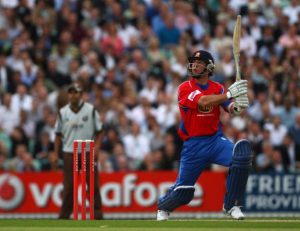 Follow us on Google News
Rewind: Why isn't Mark Pettini's 27-ball century among record books?: When asked about the fastest century recorded in professional cricket (FC, List A and T20 combined) we expect answers of 30-ball century from Chris Gayle. Of course, it is right as the fastest in respective formats are 31-ball century by AB de Villiers in List A and 34-ball-hundred in FC by D. W. Hookes. However, there are 2 instances where centuries have been recorded inside 30 deliveries with both in first class cricket but doesn't come under this record. For further, you need to read our story regarding the recent of the 2 centuries that have been recorded inside 30 deliveries.
On 23rd September 2006, Essex's Mark Pettini, during their 2nd innings of the game against Leicestershire at Leicester, struck an unbeaten 114 in just 29 balls with help of 12 fours and 11 sixes. He brought up his century in just 27 balls.
What happened before the innings?
Essex were situated 2nd in the County Championship's Division Two before their last game of the tournament against Leicestershire. Essex needed to win to keep their position in their division and move to Division One.
With the help of centuries from Alastair Cook and James Foster, Essex posted a total of 486 in their first innings. At end of day 2, Leicestershire were 226 for 4 and moved to 290 for 4 at end of 3rd day's play as only 18 overs were possible on a respective day. After playing 16 overs on day 4, Leicestershire declared at 372 for 5, who were still trailing by 114 runs. Soon after John Sadler and Jim Allenby complete their centuries, Leicestershire ripped off their innings.
Later for producing a "fair result" Essex's captain Ronnie Irani and Leicestershire's captain Darren Robinson made a deal. According to it, Essex will be batting for the certain amount of overs and 2 worst bowlers from Leicestershire chosen to bowl those overs with rubbish full tosses and long hops.
What happened later?
As a result, Essex milked 186 in 9.4 overs against full tosses of Paul Nixon and Leicester's captain Robinson, with Cook scoring 66 in 32 balls along with Pettini.
Essex set a target of 301 to Leicestershire in the 70 odd overs which are possible only with light permitting. To Essex's embracement, Leicestershire chased down the target in 70.1 overs losing 5 wickets as the debut batsman Jim Allenby scoring a quick fire knock. As a result, with this loss Essex fell down to 4th in the table and remained in Division Two in the following season as well.
Criticism:
As Pettini's century came against pre-planned bowling to make fair result out of the rain effected match, the record books do not count it among the fastest tons ever recorded in First Class or professional cricket.
Many objected this type of activities on the cricket field, which can be considered as match fixing as well. However, it wasn't for the first time this has happened in England County.
Forgetting that it was scored against rubbish bowling, Pettini's century is the jointly the fastest ton recorded in First Class cricket, which equaled Glen Chapple' century for Lancashire against Glamorgan in 1993, also came against rubbish bowling, which also doesn't considered under official record books. Interesting, Pettini's century was also last such century recorded against rubbish bowling, which is good for the sport.
Here are few centuries recorded in first class cricket against rubbish bowling containing full tosses and long hops which do not be considered under official records:
| | | | | | |
| --- | --- | --- | --- | --- | --- |
| Player | Team | Opposition | Balls taken for century | Minutes taken for century | Year |
| Mark Pettini | Essex | Leicestershire | 27 | 24 | 2006 |
| Glen Chapple | Lancashire | Glamorgan | 27 | 21 | 1993 |
| Murray Goodwin | Sussex | Middlesex | 32 | 25 | 2006 |
| Tom Moody | Warwickshire | Glamorgan | 36 | 26 | 1990 |
| Steve O'Shaughnessy | Lancashire | Leicestershire | – | 35 | 1983 |
| Chris Old | Yorkshire | Warwickshire | 72 | 37 | 1977 |
| NFM Popplewell | Somerset | Gloucestershire | – | 41 | 1983 |
Follow us on Telegram