Richard Kettleborough lands in a mini-controversy after wearing a smartwatch during Southampton Test
The ICC is unlikely to take actions against him.
Updated - Aug 15, 2020 9:05 am
1K Views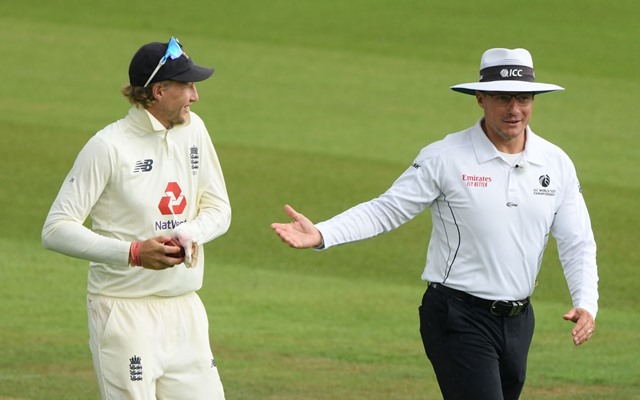 Richard Kettleborough, one of the on-field umpires in England's Test against Pakistan at the Rose Bowl in Southampton, has gotten involved in a controversy. During the first session of the match, he was seen, wearing a smartwatch. Soon after realising the error, he took it off and hasn't used it.
Richard reported the mishap to ICC's anti-corruption unit (ACU) as well. The ACU has already spoken to Kettleborough regarding the error. The body spoke to him, also a former first-class cricketer, and made him aware of the obligations under the Player and Match Officials Area Regulations (PMOA).
As per ESPNcricinfo, it was a violation of the regulations on the 47-year-old's part, but actions are unlikely to be taken against him. In the past, corruption threatened to mar the sanctity of the game quite a few times, and the apex cricket board had to take charge and curb the unruly activities.
Richard Kettleborough not the first one
The players and the officials are now required to hand over their phones and other transmitting devices to the anti-corruption officials before the start of a match. The devices can then be locked away and can be returned to the respective owners after the conclusion of the day's play.
The ICC also has the power to download the contents in the phones, confiscating them for monitoring purposes. Kettleborough isn't the first to have worn smartwatches during a match. During the 2018 Lord's Test, the Pakistan cricketers were also reported to have done the same. Though the devices were disabled, the players were iterated about the regulations.
Earlier this year, the England and Wales Cricket Board (ECB) banned the players from wearing smartwatches during play. The step was taken due to the growth of live-streaming services of county cricket in England. For Kettleborough and the ICC, the recent development can be embarrassing.
As far as the ongoing Test match is concerned, it has been marred by rain in the first two days. Only 86 overs have been possible with Pakistan's score at 223 for the loss of nine wickets. Mohammad Rizwan's unbeaten 60 and Abid Ali's 60 have guided the visiting team thus far.