Ricky Ponting was not focussing on the ball but getting out just by watching my face: Harbhajan Singh
Bhajji holds the record of dismissing Ponting for the most number of times in Test cricket i.e 10 times.
Updated - Jul 5, 2020 5:03 pm
366 Views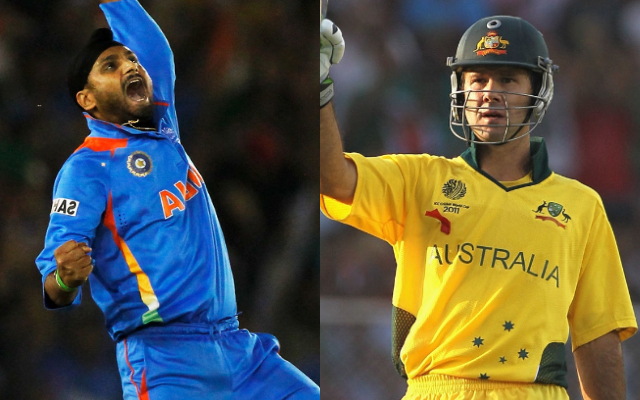 Indian off-spinner Harbhajan Singh recently talked about his rivalry with arch-rival Ricky Ponting. Harbhajan revealed that the former Australian captain was so terrified by his deliveries that the latter had stopped concentrating on the ball. Bhajji holds the record of dismissing Ponting for the most number of times in Test cricket i.e 10 times.
Ponting was one of the best Test batsmen of his time. He had an excellent overall Test average of 51.85. However, his average would drop down to 22.30 when he was to face the Indian spinner. Also, the former captain could score just 10 runs in 5 innings at a mere average of 3.4, with Harbhajan Singh dismissing him on each of the five occasions during the 2001 Australia tour of India.
Speaking on the latest episode of the Star Sports show Cricket Connected, Harbhajan recalled the first time he dismissed the Australian legend. Harbhajan felt scared after dismissing Ponting as he thought that the latter was going to hit him with a bat. Also, the off-spinner got into trouble for saying a word to the former captain.
"First time I dismissed Ricky Ponting was in Sharjah. It was an ODI match and I got him stumped. After dismissing him, I said something to him that I didn't know much about. My English wasn't too good at that time, I had heard that word from a lot of people, so I also said that.", the spinner pointed out.
He added, "Because of that I got banned from the next match. But my memory is that when he got out and I signaled him to go out, he came towards me with his bat as though he was going to hit me. So, I got a bit scared if he would really hit me."
An Eighteen year old Harbhajan Singh deceives Ricky Ponting with his Doosra.
This is when it all started, Bhajji vs Ponting.

This match is famously known for Sachin's 143. #HappyBirthdayHarbhajanSingh @harbhajan_singh pic.twitter.com/lIuNduoQcE

— Parth (@NotThatArcher) July 3, 2020
Ricky was not focusing on the ball: Harbhajan Singh
During the interaction, the wily off-spinner also talked about the popular 2001 Test series against Australia he had tricked Punter with his terrific bowling.
The 40-year-old revealed, "After that when the 2001 series happened it felt like he was not playing the ball but getting out just by watching my face. He was not focusing on the ball at all, if he was focusing on the ball I don't think anyone would get out so many times and that too so easily."
The Jalandhar born star also shared the secret behind the special celebration he did after dismissing Ponting for a duck at the first ball. The incident took place during the 2nd innings of the Sydney Test in 2008.
"My special celebration for Ricky Ponting was in Sydney. Because he had said that I have dismissed him a lot of times in India but it would be difficult to do so in Australia. There also I dismissed him off the first delivery, so I accompanied him almost to the pavilion, doing somersaults all along the way," Bhajji pointed out.