Rishabh Pant babysits Australian skipper Tim Paine's kids to make it the best ending for a banter
Pant and Rishabh's conversations were heard on the stump-microphones.
Updated - Jan 1, 2019 1:47 pm
15.9K Views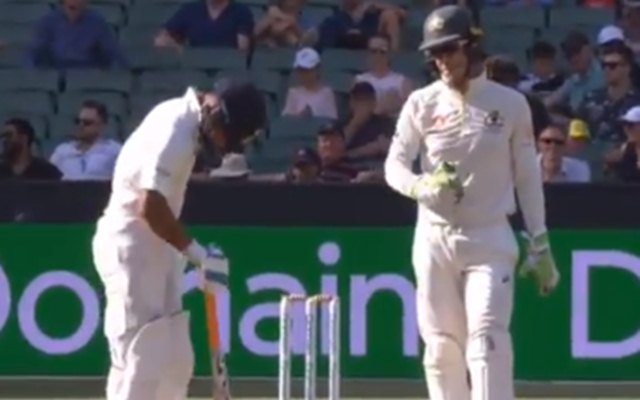 The ongoing Test series between Australia and India has turned out to be an exciting one for the fans. India are currently 2-1 ahead in the four-match series with one match remaining at Sydney Cricket Ground (SCG), starting January 3. The third Test in Melbourne that India won by 137 runs was also a witness to some on-field altercations between Aussie captain Tim Paine and Rishabh Pant.
Both Paine and Pant have the propensity to say something or the other while plying their trade behind the wickets. Both hurled some words at each other in the match. Their conversations were clearly heard in the stump-microphones and it added some spice to the already riveting encounter. When Pant came to bat in the first innings, Paine, also the Australian captain, called him a 'babysitter'.
Paine's wife comes up with a hilarious post
Paine said, "I tell you what, big MS (Dhoni) is back in the One-Day squad, we might get (Pant) down to the Hurricanes, this bloke. We need a batter. Fancy that, surely, extend your little Aussie holiday, Beautiful town, Hobart, too. Get you a nice apartment on the waterfront. Have you over for dinner you Babysit? I'll take the wife to the movies one night and you'll look after the kids?"
Pant didn't sit back and gave it back to the Aussie skipper when he came to bat in the fourth innings and called him a 'temporary captain'. Pant said, "We've got a special guest today…..have you heard of a temporary captain ever? You don't need anything to get him out boys. He loves to talk, that's the only thing he can do, only talking talking,"
In the meantime, Bonnie Maggs, to whom Paine has been married ever since 2016, decided to post something hilarious on the Indian wicketkeeper. She posted a picture on her Instagram story where Pant can be seen smiling, carrying her children. The on-field banters were severe, but Paine's better-half added a humorous angle. Moreover, she captioned the pictures and wrote, "Best babysitter @rishabhpant,"
Here is the screenshot of the post