Robin Uthappa's transformation will give you fitness goals!
He got all shredded in a matter of 6 months.
Updated - Mar 16, 2018 9:49 pm
11.5K Views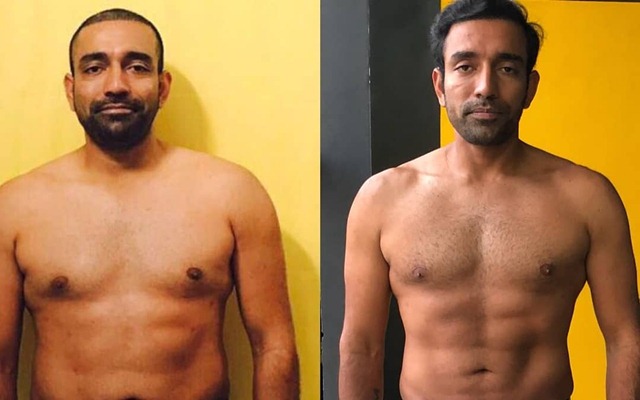 He was never really unfit or extremely out of shape but Robin Uthappa knows the importance of fitness. He had gained a few extra kilos and was a little flabby the Karnataka cricketer set the corrective action in motion and today shared an image of his transformation on social media.
He had visible abdominal structure but with layers of fat on top of it. Now he's a lot more muscular having got rid of the fat and added lean muscle mass on his body. Though just his torso is visible in the picture he has dropped considerable levels in terms of body fat percent.
His face looks pretty puffed up in the before image and has a very much defined jawline in the most recent image. Uthappa has been sharing his progress on Instagram with videos and images. He often posted snippets from his workout sessions.
To get shredded like he has needs to be a combined effort. One has to balance the diet – be in a calorie deficit. It should have sufficient amount of protein to gain muscle mass and the rest of the calories can come from carbohydrates as well as fats.
As far as the workout is concerned, he mixed it up well. It was both weight training and cardiovascular exercises that he relied upon. Uthappa from time to time shared videos of some of his compound lifting that helped him gain the muscles. He also worked on the endurance with cardio.
Based on his social media posts, the transformation took him around 6 months (he started it in September as per his post) which is a good enough time to bring about such a change in the body. It requires a lot of discipline. A clean diet fuels your body with all the nutrients required and a well-crafted workout hits two muscle groups each day for optimum results.
Uthappa's workouts:
His first post in the series was in June 2017, a video of him working out on the glutes with 'hip thrusts'.
This one is from the cardio session, running on the treadmill and most probably he followed a HIIT pattern with the cardios.
Robin shared an image of his back in August, 2017 and the upper back does look pretty well structured and the shoulders as well.
Biceps! Almost every guy's favourite workout. He's doing hammer gurls in this video.
The shoulder workouts take quite a toll on the body. And lateral raise is tough!
This one is from the back day. Dumbell rows work well to get structure for the back.
Chest day is another favourite. And here he's performing the inclined dumbbell press.
Leg day! Yes, the one that most skip. But let's admit it a well built upper body needs strong legs to compliment it. Uthappa goes for the tougher front squats. He has a bar bell on his shoulders with at least 60-80lbs of weights on it. He then goes for the leg-press, leg-extension and oh! Lunges with dumb bells and finishes it off with calf raises.
This is a picture from September 2017, 'getting there' he said.
And this is the before after picture. He mentioned in the caption that he started with it in September 2017 and this is where he's got by March 2018.