Rohan Prem – The leader in Ranji 2015-16 scoring table
Updated - Nov 12, 2015 8:52 am
59 Views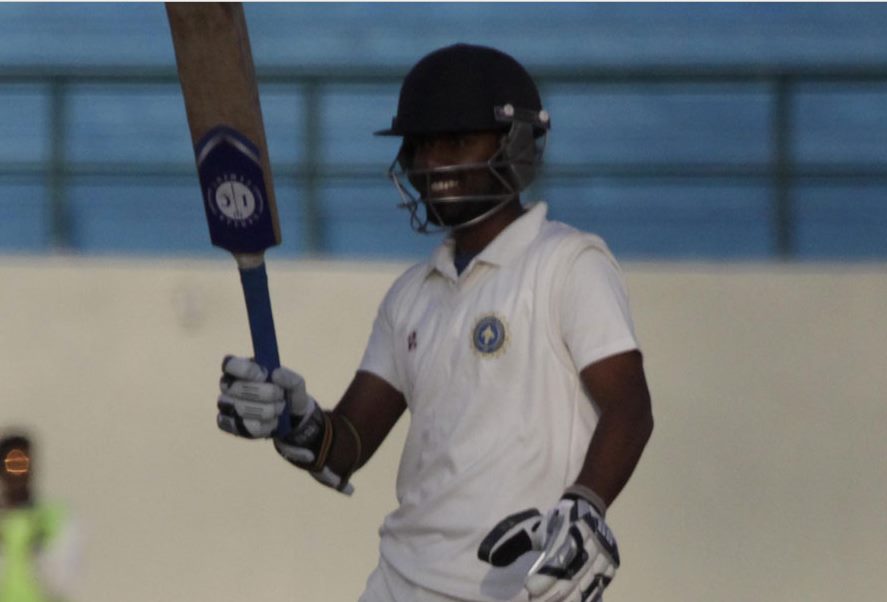 Rohan Prem – The leader in Ranji 2015-16 scoring table: After five rounds of the league stage in the ongoing Ranji Trophy 2015-16 tournament, there is a clear leader in the 'Top Scorers' table.
Having featured in five games (9 innings), Preambhastn Rohan Prem, playing for Kerala, leads the table with a tally of 650 runs at an average of 92.85 with 208 runs (592m, 452b, 19*4, 3*6), which he scored in the first innings against Hyderabad in Oct 2015, as his individual best. He also has 3 centuries and 3 half-centuries to his credit.
Dispatching the 'red cherry' 55 times to the ropes (55*4) and 11 times beyond (11*6), Prem has accumulated 286 runs (44%) of his total tally by big hits.
The 29-year old, left-hand batsman, made his First Class Debut in the game against Rajasthan, played at Sawai Mansingh Stadium, Jaipur, in December, 2005.
In the first innings, chasing Rajasthan's total of 332 runs, going in to bat at No 6, Prem put up a 66-run fifth wicket partnership with the innings centurion and former India International, Sadagopan Ramesh (118, 323m, 225b, 15*4).
Prem went on to score 42 runs (narrowly missing his debut half-century) after being at the crease for 151 minutes, facing 126 deliveries and striking 4 fours, helping his team, Kerala, to take a vital 38-run lead and collected 2 points in the drawn match.
In the on-going tourney, Prem has scores of 69 and 3 (against J&K), 208 (against Hyderabad), 52 and 9 (against Jharkhand), 101 and 18* (against Services), 118 and 72* (against Tripura).
Thus far, Prem has featured in 62 games (92 innings) scoring 3.428 runs at an average of 41.30 with 208 as his personal best. He has 10 centuries and 14 half centuries to his credit.
Being a right-arm offiie, he has also picked up 45 wickets, having bowled in 72 innings, at an average of 36.33 and 2.82 economy rate. His best bowling figure has been 4/44 in an innings and 5/119 in a match. He has one 'four-wicket' haul.
In the first innings of the game against Services in Oct 2015, Prem picked up the wickets of Ravi Chauhan, the wicketkeeper, Shashank Sharma, Muzaffaruddin Khalid and Raushan Raj, giving away just 44 runs in his spell of 13.4 overs.
In the same match he had notched up 101 runs (360m, 267b, 7*4, 2*6) in his team's first innings tally of 322 runs.
Having been in the domestic circuit for a decade now, Prem could not make much of impact to grab the attention of the national selectors.
However, the ongoing Ranji series seems to be auguring well for this Kerala all-rounder and if he is successful in churning out reasonably good performances in the remaining games, he might, possibly, be within the 'striking distance of the BCCI's selection committee radar.
The current national selectors have been fair enough to recognise and reward remarkable domestic performances and Prem might just find himself within the selectors'  'scheme of things.'
Prem is closely followed on the heels by Shreyas Santosh Iyer, in the Top Scorers List of Ranji Trophy 2015-16, with a tally of 633 runs from 5 games (7 innings).