Rohit Sharma in the relaxed company of four die-hard Asian fans
Rohit who sat out of the match against Afghanistan looks pretty calm ahead of the Asia Cup final.
Updated - Sep 26, 2018 8:51 pm
735 Views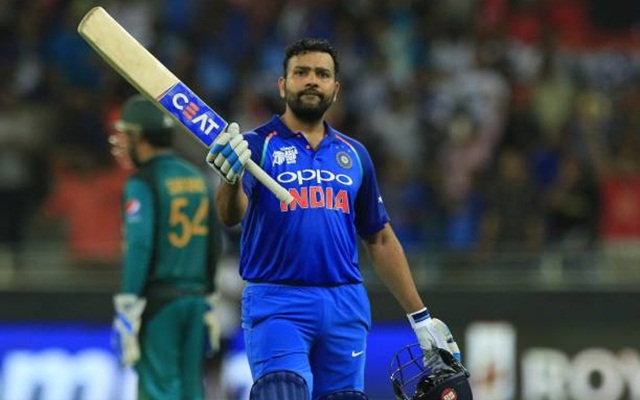 Follow us on Google News
The Asia Cup 2018 is nearing its end and with India waiting for their opponents to be decided in the virtual semi-final between Pakistan and Bangladesh being played in Abu Dhabi on Wednesday, the ambience is likely to be electric for two more days. Meanwhile, everybody is going ga-ga over defending champions India's performance in the tournament and some of South Asia's best –known fans were seen huddling together with India's captain for this tournament Rohit Sharma.
The awesome foursome
Rohit, who led from the front with the bat against Pakistan in the Super Fours game on September 23, posted a photo of him with some of the best cricket fans people have known from these parts on his Instagram account and it received a huge response. In the photo taken in a restaurant, the 31-year-old dashing batsman was seen sharing a table with Gayan Senanayake, Mohamed Nilam, Sudhir Gautam and Basheer Chacha.
While the first two are die-hard fans from Sri Lanka, Gautam is known for his undying love for former Indian great Sachin Tendulkar and Basheer Chacha, who is a US-based Pakistani and an ardent cricket fan.
"So much love for the sport in one picture," is how the Indian captain captioned the photo. Those true followers of the game are not divided by nationalities becomes amply evident when we see the four fans joining Rohit. Though Sri Lanka crashed out of the tournament in the preliminary stage and Tendulkar no more plays for India, these fans' passion for the game hasn't dipped a bit and they will enjoy the final in Dubai on Friday with equal craze.
These die-hard fans are never like to miss a game when their team is playing and all have a favourite team in common which is India. The Men in Blue though had a shaky start to their campaign with a hard-earned win over qualifiers Hong Kong, they gained a massive momentum in the next few games – comprehensively defeating Pakistan twice and Bangladesh once.
On Tuesday, they, however, failed to defeat Afghanistan in their academic final Super Fours game which ended in a tie. India did not play a number of their frontline players in the game and were led by Mahendra Singh Dhoni, of whomBasheer Chacha is a die-hard fan.
Here is the picture:
Follow us on Telegram